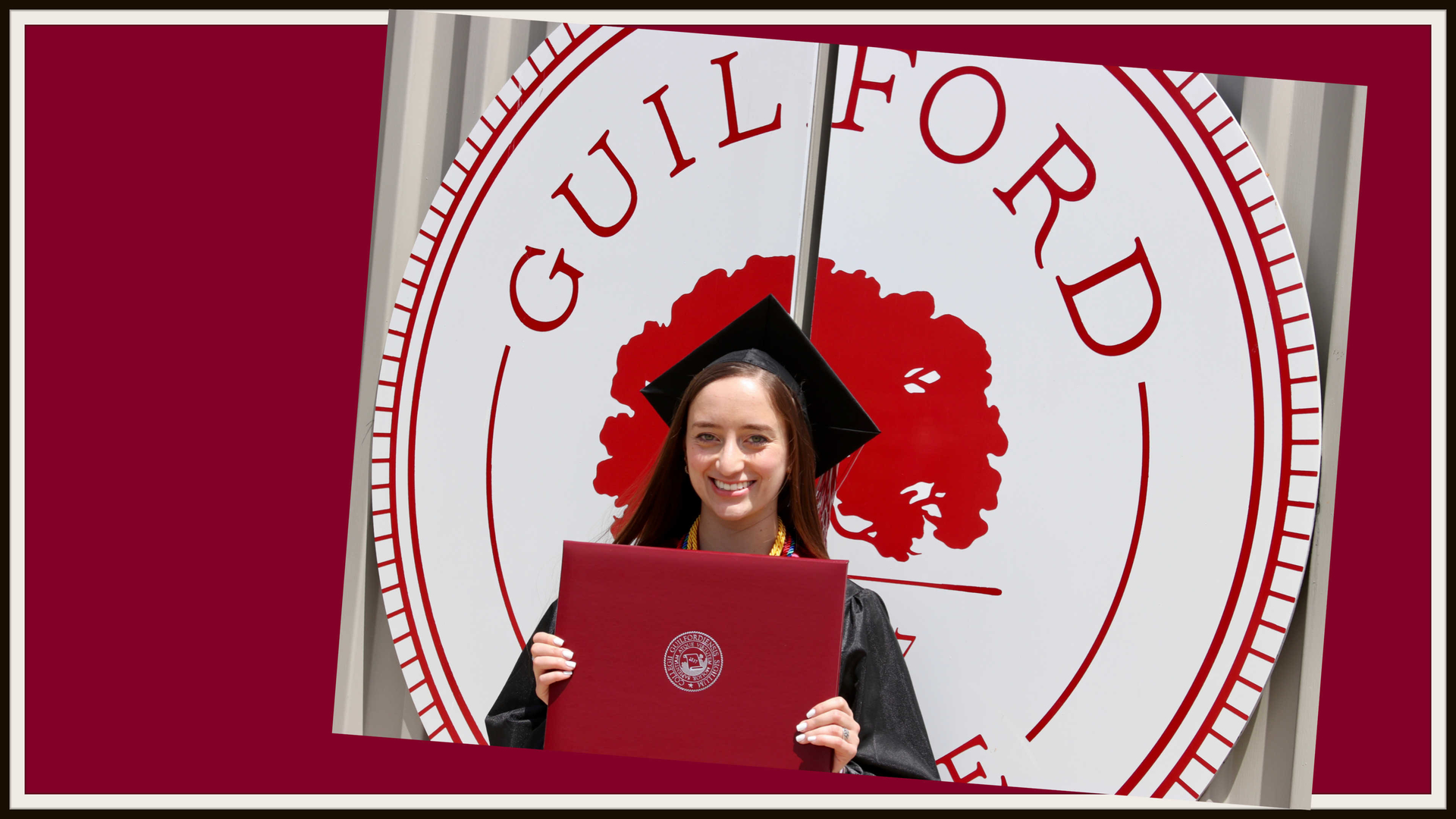 "Heather Hayton (Honors Program Director) and Chris Henry, who served as my thesis adviser, guided me through the arduous task of writing a thesis and applying to graduate school during a global pandemic. They provided me with so much clarity during my senior year, and I am extremely grateful for all the advice and time they generously gave me."
"I have always been interested in Psychology, and this major seemed best aligned with my professional goal of becoming a therapist. I want to eventually work with children and families, so an Education Studies minor allowed me to better understand how children learn," says Jillian, a native of Kentucky. "Finally, Spanish seemed like an obvious addition so that I can interact with various populations without a language barrier."
Her calling runs deeper than an interest and aptitude for these subjects. Currently studying for a master's degree in social work at the University of Pennsylvania, Jillian hopes to become a medical social worker at a children's hospital upon graduation. 
"My sister was diagnosed with cancer when she was five, and that experience greatly impacted my academic and professional goals," she says. "I would like to be there for families as they go through the unimaginable task of finding care for their sick child and then help them heal from the trauma."
Gaining Experience
During her undergraduate years, Jillian completed an internship at the University of Kentucky's Families, Adoption, and Diversity Lab where she learned the value of qualitative research. The experience influenced how she conducted her senior thesis. During summer 2020, she interned with Gilda's Club Kentuckiana (GCK) as a digital programming intern. She credits her time at GCK for inspiring her interest in medical social work, which she's now pursuing.
In March 2021, Jillian won the Hege Library Research Award for her thesis in which she examined the effect of dog ownership on loneliness during the COVID-19 pandemic using both qualitative and quantitative research.
"The qualitative study showcased the various ways dogs adopted during the pandemic improved their owners' mental and physical health," Jillian says. "Together with the quantitative results, the study sheds light on the unique pandemic experience and offers a snapshot of loneliness levels within the context of COVID-19."
Jillian notes the support she received during this challenging project.
"Heather Hayton (Honors Program Director) and Chris Henry, who served as my thesis adviser, guided me through the arduous task of writing a thesis and applying to graduate school during a global pandemic," she says. "They provided me with so much clarity during my senior year, and I am extremely grateful for all the advice and time they generously gave me."
Enjoying Campus Life
Guilford's Quaker values were a major reason she chose the school. "When I visited, the Admission team made me feel special and took the time to answer all of my questions," Jillian says. "I appreciated this experience so much that I ended up working in the Admission Office throughout the majority of my time at Guilford."
She was also involved in a variety of campus activities. She was a resident adviser, the president of Active Minds (a mental health advocacy club), a Psychology and Spanish teaching assistant, a Principled Problem Solving Scholar, an Honors Scholar, and a Community Scholar. Her giving spirit came through in her volunteer work as an ESL tutor, an educational intern, and a child-care assistant at local elementary schools and day-care centers in Greensboro. "These activities helped me connect to the community," she says.
Because she was heavily involved in various aspects of campus life, Jillian built meaningful relationships with countless staff members and professors. 
"Sonalini Sapra, Mark Justad, and Terra Roane were the best mentors I could ask for during my time with CPPSET and the Admission team," she says. "I am also very appreciative of Karen Spira. She guided me through the study-abroad process when I lived in Spain for four months and helped me learn Spanish on a deeper level than I thought was possible." 
The Psychology Department also impacted Jillian in various ways. "Eva McGuire served as my academic adviser even when she was on sabbatical, which I am still thankful for," she recalls. "Rachel Riskind helped me find and apply to the internship at UK, which piqued my research interest. And finally, I started and ended my Psychology education in Sarah Estow's classroom. It was here where I gained the confidence to commit to this major and start the academic journey I'm on now."
Jillian advises students that there's no correct time to go to graduate school and that it's okay if you choose not to go even if it seems expected of you. "I worked with a lot of cancer patients with terminal illnesses in my internship, so I know those experiences have impacted my perspective," she explains, "but I would encourage all Guilford students to live in the present as much as possible and enjoy the now instead of worrying about and over-planning for the future."
Are you looking for a liberal arts college in North Carolina with an excellent Psychology major? Or are you looking for a way to study Psychology or Spanish and pair it with an Education Studies degree? Schedule your personalized visit to Guilford College to meet the professors who are dedicated to helping you meet your goals. Contact the Office of Admission at 336.316.2100 or admission@guilford.edu to learn more, or begin your Guilford College application today.
---