Bonner Center for Community Service and Learning
---
The Bonner Center for Community Service and Learning brings together the campus and the community and provides students with an opportunity to understand and articulate ways in which they can give back.
Each year, 60 Bonner Scholars and Bonner Leaders at Guilford perform more than 24,000 hours of community service as part of their commitment to the program. One of the first Bonner Scholars programs in the country, we pride ourselves on having sustained commitments to our core partners in community groups and specific high-need neighborhoods.
While the Bonner Center serves as the administrative hub for our Bonner Scholars and Bonner Leaders program, it serves a much wider and more integrated purpose for our campus. Primarily, the center connects students with service opportunities within our immediate community, across the country, and around the world.
For example, our students have a meaningful relationship with the Church Under the Bridge program, where they reach out to Greensboro's homeless community, and every year new Bonner students take a trip to the Gullah Islands to help the citizens there address environmental challenges.
The Bonner Center offers:
assistance and resources for faculty members who wish to include service learning in their courses, sometimes providing assistance in getting grants, stipends, and workshops for service learning course development
service-oriented internships or independent study courses for academic credit
alternative break service projects where students spend spring and/or fall break focused on a service project
non-credit service through ongoing campus groups or placement in service agencies off campus
forums and panels with community partners
extensive service learning library with general information, as well as discipline-specific literature
---
Bonner Scholars and Bonner Leaders
Every semester, each Bonner Scholar and Bonner Leader completes 140 hours of service work, as well as 280 hours during each of two summers. Students selected as Bonner Scholars have demonstrated, through their application for admission process, an extraordinary commitment to and engagement with community service. Scholars are expected to demonstrate a high level of financial need as determined by the Free Application for Federal Student Aid (FAFSA). (Learn more about scholarships.)
Bonners attend monthly meetings that focus on service and community issues, as well as the productive accomplishments of their peers. Bonners also meet weekly with their class to progress through the Bonner Programming Model.
---
Ongoing Service Sites and Programs
Change Through Art and Theatre (C.A.T.) Kids
Community AIDS Awareness Project (CAAP)
Gear Up Program at Oakwood Forest
Glenhaven Multicultural Afterschool Tutorial
Glenwood Library ESOL With Adult Immigrants
Latino IMPACT
Lunch Buddies at Newcomer's and Jefferson Elementary Schools
Pathways Tutoring and Enrichment Program
Project Community (projectcommunity@guilford.edu)
Servant Center
---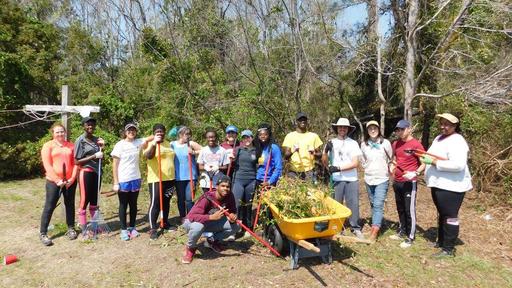 Community Scholars
The Community Scholars program provides students with the opportunity to earn Federal Work-Study (FWS) awards by working with a partner in Guilford County. The purpose of the program is to encourage students receiving FWS to participate in community service activities and encourage a sense of social responsibility. During their service work, students learn more about their community, impact the lives of local residents and earn part of their financial aid award.
These jobs are paid positions. Both on-campus and off-campus jobs can qualify, however, on-campus jobs must involve a program, project or service that is provided to the general public. On-campus jobs that serve only the College community do not qualify.
Job categories that are considered community service include: health care, child care, literacy training, education/tutoring, welfare, social services, transportation, housing and neighborhood improvement, public safety, crime prevention and control, recreation, rural development and community improvement, supporting educational and recreational activities, counseling, career counseling and support services to enrolled students with disabilities.
---
Community Scholars FAQ
Am I eligible to participate in the Community Scholars Work-Study Program?
If you have been awarded FWS as part of your financial package, you are eligible to participate.
What is the process for utilizing my award?
Bonner Center staff will approve your request to be a Community Scholar and help you find appropriate placement.
How do I find a work-study job?
You're encouraged to serve at one of the Bonner Center's committed sites or find an opportunity at the Volunteer Fair held the first week of school.
How are my work-study funds disbursed?
You can sign up for direct deposit of your monthly pay through human resources once your contract is signed.
Can I have more than one Work-Study job at a time?
Yes. More than two jobs at any given time isn't recommended, however, so that you can maintain focus on your academics.
How many hours a week may I work?
This depends on your award. In order to make sure your money last through the academic year, you should stick with the suggested hours per week on your contract.
Can my award carry over from one year to another?
No. Remaining work-study awards do not carry over from one academic year to another.
What are the tax implications of having a work-study job?
Work-study wages are subject to the same federal, state and local income taxes as any other earned income.
---