Guilford College Graduate School
---
Go farther in your career.
Accomplish your professional goals.
Earn an affordable graduate degree from a remarkable college that combines the best of the liberal arts with the ethical leadership training and problem-solving skills that you need to change the world.
Earn your degree from the Guilford College Graduate School.
---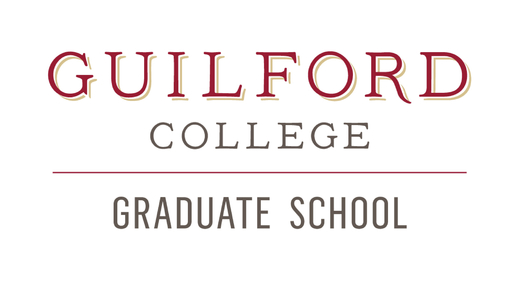 Guilford College is proud to offer master's degrees grounded in interdisciplinary thinking, rigorous academics, creativity, and collaboration. In the Guilford College Graduate School you'll receive personalized attention, advising, and research opportunities to take your career to the next level.
Located in the historic yet vibrant city of Greensboro, N.C., you'll have direct access to your professors and the flexibility to learn on your own time. Full-time students can complete their chosen programs in 12 months (Master of Business Administration and Master of International Sport Management) to 18 months (Master of Criminal Justice). This makes Guilford College graduate programs an excellent option for students who are just starting out — and those who are several years into their careers and are ready to advance.
College Triples Graduate School Enrollment: Read more about the success of Guilford's graduate programs.
Thank you for your interest in the Guilford College Graduate School. We encourage you to reach out any time to the Office of Admission at 336.316.2100 or admission@guilford.edu to set up a chat with a program coordinator, to ask questions, or to begin your application.
---
---
---
---
---
Financing Your Remarkable Guilford College Graduate Education
Guilford College is committed to making graduate education affordable and accessible for all students. We realize that graduate school is a major investment at a time when you may be balancing many other priorities. Guilford's Office of Financial Aid is here to help you discover the resources that are available to graduate students, all of which can make your education more affordable.
Guilford graduate students may qualify for unsubsidized loans up to $20,500 per academic year. File your free application for federal student aid at FAFSA.gov, and include Guilford's school code of 002931.
For more information, please contact the Office of Financial Aid at 336.316.2354 or financialaid@guilford.edu. You can visit the Graduate Student Financial Aid webpage to learn more about Guilford's graduate school tuition rates and available financial aid.