The Pursuit of Excellence
The Honors Program at Guilford College provides a supportive community for students who have demonstrated a commitment to achieving academic excellence.
Through seminars, extra-curricular activities and one-on-one collaboration with faculty members on coursework and research, the program provides opportunities to develop your knowledge and skills. It also allows you to explore the love of learning, culminating in a public presentation of a thesis project in your senior year.
In addition, you're strongly encouraged to attend professional and undergraduate research conferences and take advantage of hands-on learning opportunities like internships and study abroad.
Senior stipends of up to $1,000 are available to provide funding for presenting your research or creative projects at conferences, applying to graduate programs, taking graduate entrance exams, or for research expenses related to your senior thesis.
College Catalog
For more information about the Honors Program, visit the online, searchable College Catalog. In addition to the Undergraduate Catalog, information includes academic department and major information as well as academic regulations and resources; admission standards and requirements; and tuition, fees and financial aid information.
Honors Program News and Events
Meet Guilford's Honors Students
Meet Guilford's Honors Students
Read about their research, travels, and dreams — and find out what makes them tomorrow's leaders.
Three Weeks on the Edge: Fantastic Journeys [VIDEO]
Three Weeks on the Edge: Fantastic Journeys [VIDEO]
The Guilford Edge provides incredible opportunities for hands-on, collaborative learning. "Fantastic Journeys," led by English Professor and Honors Program…
Securing the Future
Securing the Future
What inspired a group of Honors Program students to create, plan and host TEDx Guilford, "Securing Our Future"? It's simple — community.
About the Honors Program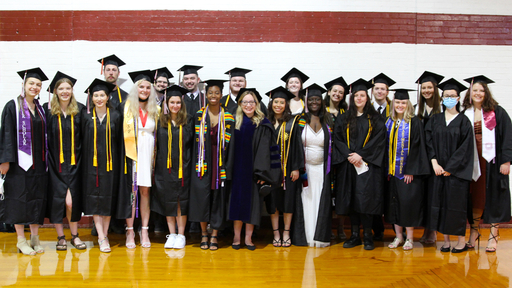 Opportunities
Participate in Honors seminars with award-winning professors each year.
Take HON 200: Fantastic Journeys in your sophomore year and travel somewhere amazing with your Honors cohort!
Attend special events for Honors students and engage in a different kind of learning.
Work with faculty members to develop your research, and then present it at academic conferences or at the Guilford Undergraduate Symposium.
Explore your passions through internships or study abroad experiences.
Complete a senior thesis project with a public presentation.
Apply for an Honors Senior Stipend and gain up to $1,000 to follow your dreams after graduation.
Eligibility
The Honors Program is open to all full-time, degree-seeking students majoring in any department or program of the College. Successful completion of the Honors Program is noted at graduation and on your transcript.
Most students are admitted to the Honors Program as entering first-year students. Based on a combination of high school achievement, standardized test scores, writing samples and recommendations, students are invited to apply to the program.
In addition, current full-time first-year students who have earned a cumulative GPA of 3.5 or higher are invited to apply to the program in January. Transfer students with fewer than 54 credits, or those coming from another Honors Program, are also invited to apply.
Contact Honors Program Director Heather Hayton at honors@guilford.edu or 336-316-2397  for more information. You can also find additional information in our FAQ. Current Honors students and faculty can find program documents, resources and requests for senior stipends on the Honors canvas site.
Hands-on Learning
Guilford Honors students have many opportunities to engage in hands-on learning, from researching nest predation alongside an ornithology professor, planning a successful TEDx event on campus, studying abroad in the Italian Alps, teaching English to Nepalese refugees, or interviewing a Japanese punk band for an Honors thesis.
Contact Us
The Honors Program office is on the first floor of Hege Library. For more information, contact faculty and staff listed below and follow the Honors Program on Facebook. You can also make a donation to the program by using this form.
Honors Admission Liaison
Kyle Wooden
woodenwk@guilford.edu
336.316.2383