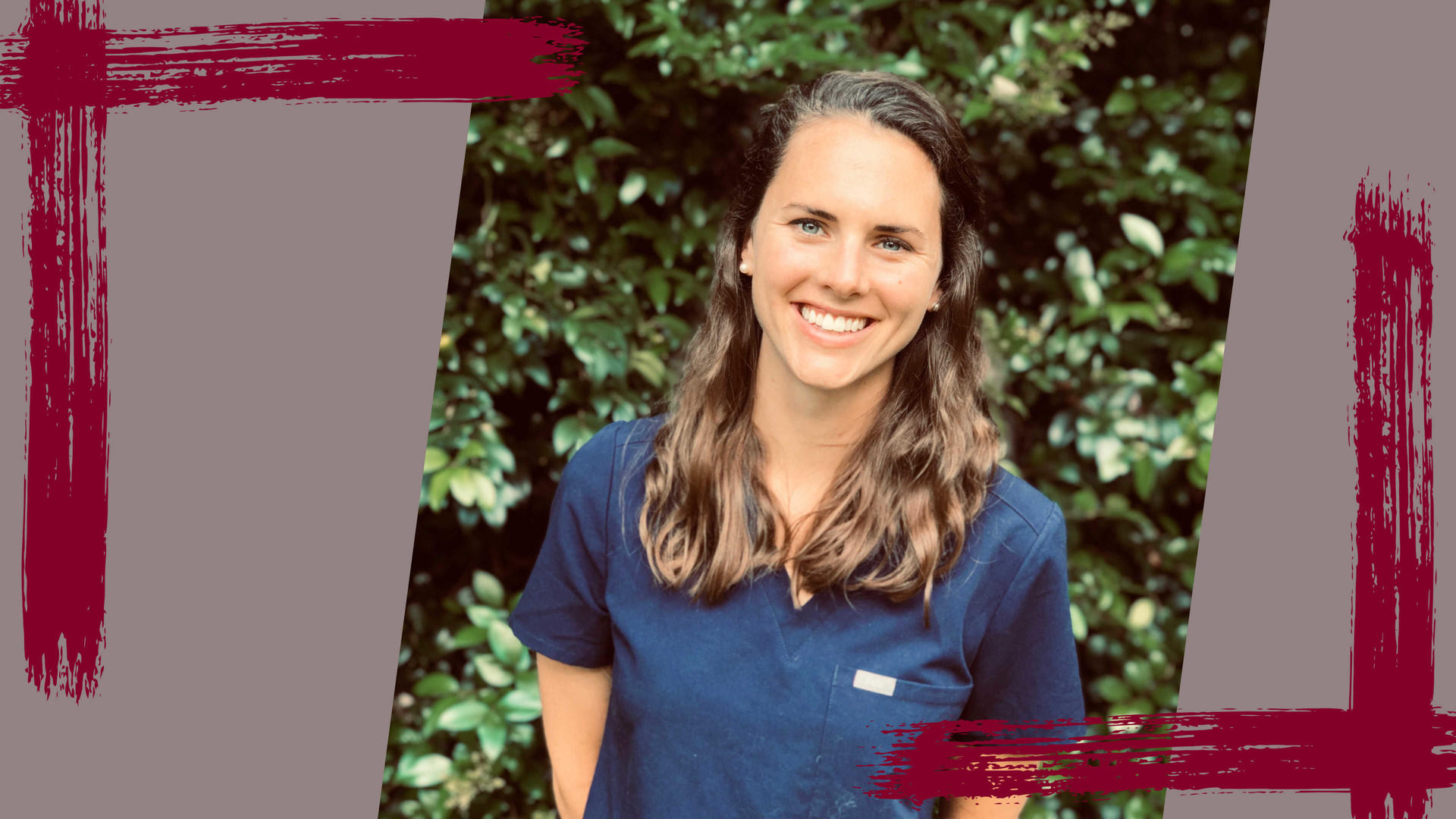 Exercise and Sport Sciences and Health Sciences double major Meredith Dunzweiler '13 has always had a passion for helping people. With this passion and her unwavering drive, Meredith has journeyed from Guilford to nursing school to the front lines of COVID-19 and beyond.
When Meredith first started at Guilford, she was drawn to the small class sizes, family-like atmosphere, and the ability to play volleyball while getting a great education. "I knew at Guilford I would be more than a number, and I wanted to feel embraced by my college community," she says.
Meredith quickly built supportive relationships with faculty, staff, and coaches, including volleyball Coach Emily Gann, Associate Professor of Sports Medicine Craig Eilbacher, and Professor of Sport Studies Lavon Williams. 
"They challenged me to be a better student, utilized hands-on learning, and encouraged active career exploration. They were so supportive in helping me figure out the path I would take and how I would get there. They continue to be supportive throughout all of my journeys and keep up with me to this day," Meredith says.
As her education progressed, Meredith found herself drawn to the vast opportunities of nursing and found that its approach to patient care was most in line with her values. "For me, there is no greater form of fulfillment than to help others," she says. "Patients and families may not remember your name, but they remember how you made them feel." And nursing gave her an opportunity to build relationships and care for others in their most vulnerable moments.
Following Guilford, she attended nursing school at Duke University; practiced as a critical care nurse and flex team nurse, filling staffing needs throughout the hospital; worked on phase II and III clinical drug trials; and performed hospital and community-based research to improve evidenced-based practice. 
Recently, Meredith has been on the front lines in fighting the coronavirus pandemic. "Working with COVID-19 patients has been challenging, but I am so happy that I am able to serve my community," she says. Meredith has faced many difficulties while helping patients survive this new virus, and to her, the most disheartening thing has been watching patients have to fight for their lives without family. In many cases, nurses like Meredith are the only support for these patients at their sickest moments. Yet she always looks for the positive. 
"How lucky I am to have a career that reminds me how precious life is and how lucky I am? This experience only intensives the meaning of that for me," Meredith says. Despite the challenges, she appreciates the teamwork she has experienced with her co-workers, her community, and her state to overcome COVID-19, and she credits Guilford with teaching her the skills she needed for success.
"While at Guilford, I learned lessons of teamwork, resilience, leadership, balancing priorities, and building relationships with a variety of people. These lessons have helped me work better with coworkers, be a better advocate for my patients, and learn to leave it all at work when I come home to my family," she says.
Meredith just completed her Doctorate of Nursing Practice with an Adult-Gerontology Nurse Practitioner specialty at University of North Carolina at Greensboro. She will soon be transitioning into a new role as a nurse practitioner with Asheboro Dermatology and Skin Surgery Center. 
"Guilford opened my views to the world and encouraged me to continually seek knowledge, challenge my perspective, and build relationships."
With a Guilford education, you, too, can save lives and be a part of life-changing medical research. Schedule your personalized chat with an admission counselor today to learn more.
---