---
A Summer Institute for Rising High School Seniors
June 25 - July 14, 2023
Guilford College, Greensboro, N.C.
---
---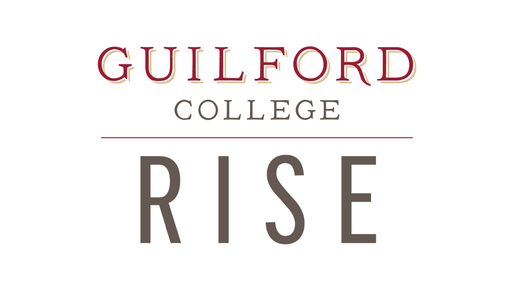 Guilford College Rise is a three-week, residential experience that allows rising high-school seniors to earn college credits while living and learning in Greensboro, N.C. Taking part in the program allows them to interact with a diverse group of students from across the United States.
This selective program provides a unique curriculum that integrates experiential learning with community-building. In summer 2023, Rise will focus on "Exploring Topics in International Affairs and Entrepreneurship." During courses led by a team of Guilford College faculty, Rise will introduce you to:
Peace Studies
Humanitarian Affairs and Migration
Global and Environmental Studies
Characteristics of Entrepreneurs
Skill Explorations in Starting and Managing a New Business
Developing a Business Model
Participants in Rise will receive six college-level credits. These credits will be awarded by Guilford College and may be transferrable to other institutions. Apply at this link.
In addition to coursework, you'll experience the excitement of Greensboro and the surrounding region through engaging daily activities including baseball games, dinners in the city's expansive food scene, exploration of the area's variety of museums and historical sites, and more.
While on campus, you're also invited to apply to Guilford. You may receive an acceptance letter hand-delivered from your admission counselor! In fact, several students were accepted during the 2022 program — an exciting time for the students and their families!
The application to attend Guilford College Rise 2023 is now open at this link. It includes an optional section to apply for a program scholarship. You're encouraged to apply early for best consideration.
Thank you for your interest in Rise, and we look forward to learning more about you!
Guilford College is a nationally distinguished liberal arts school in Greensboro, N.C. Empowering students to design a personalized education focused on their interests and passions, Guilford emphasizes real-world learning for every student, every semester. Established in 1837, Guilford is the only Quaker-founded college in the Southeast. The principles of our founders are reflected in the College's seven Core Values: community, diversity, equality, excellence, integrity, justice, and stewardship.
---
---
"I enjoyed being able to experience living in a dorm with a roommate. I also really enjoyed the baseball game and the other off-campus extracurricular activities." — 2022 Participant
Meet students from across the United States.
Live and learn on a college campus.
Earn six college-level credits.
These credits will be awarded by Guilford College and may be transferrable to other institutions.
"INTR-150 is good for students who are not used to college courses. … (It) was very informational and eye opening because a lot of the topics are based on real world problems." — 2022 Participant
---
---
Guilford College Rise FAQ
The program fee includes all fees for off-campus activities, on-campus lodging, and all meals during the three weeks, some in the Dining Hall and some off campus.
For more information, please contact Jon Bohland, Director of Rise and CAPE Adviser, at gcrise@guilford.edu.