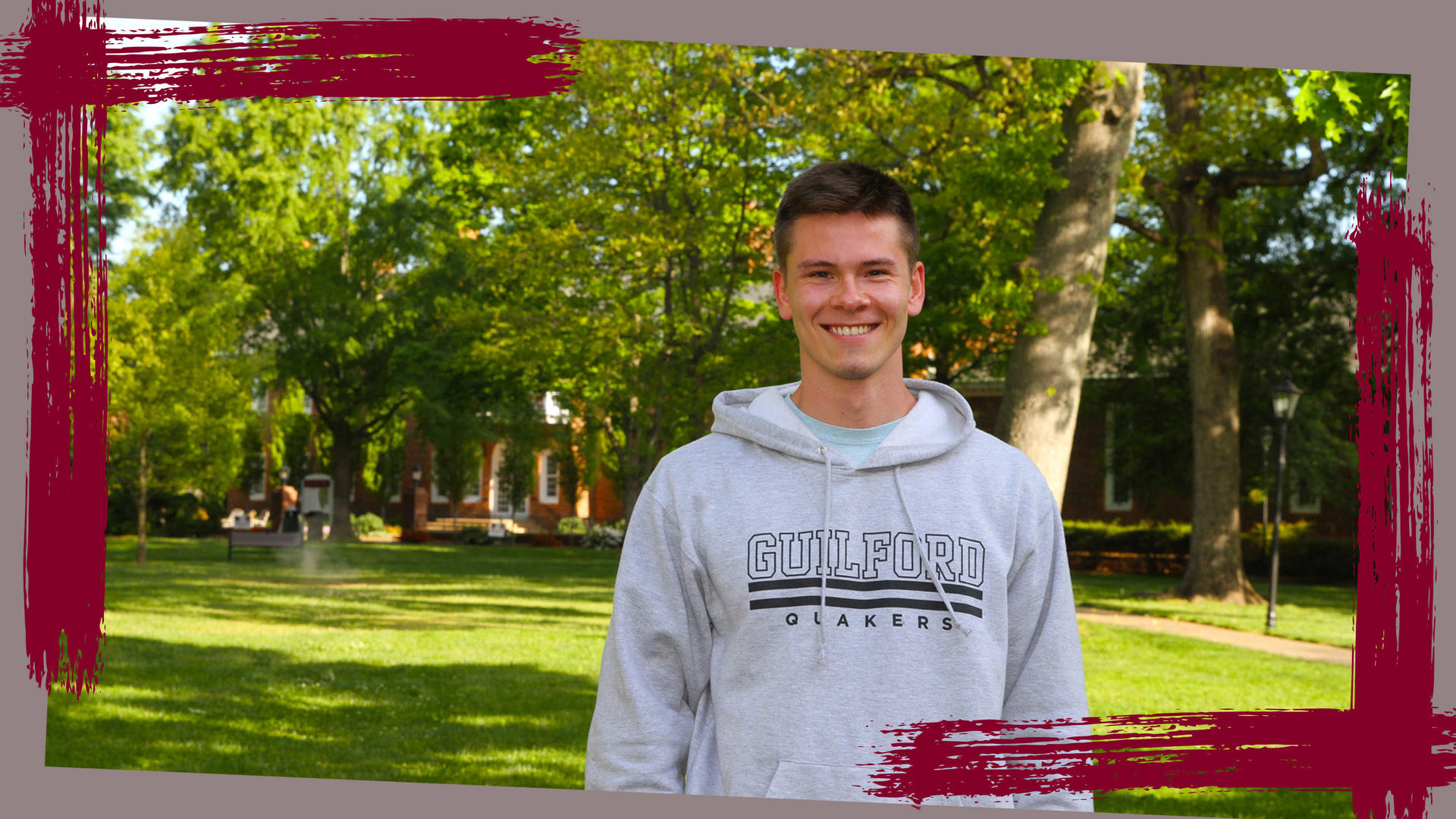 Two weeks before graduation and Don McTaggart '21 was on "on cloud 9" — with good reason. The Chemistry major with minors in Math and Computing, Technology, and Information Systems has much to celebrate. For one thing, he recently presented the defense of his senior thesis and earned the committee's approval. It was the culmination of a stellar academic career at Guilford, where he grew in wisdom and friendship with others.
After growing up in Mars Hill, a small town outside of Asheville, N.C., the Honors scholar thought he wanted to attend a big state school. However, his tours of larger campuses didn't sit right with him. He decided to stop at Guilford College on the way home from the Raleigh area. It immediately felt like home, and his Spring Into Guilford on-campus stay sealed the deal.
Academic Arc
For his thesis, Don researched cell receptors with the goal of getting closer to stemming the progression of Alzheimer's disease. He worked with Dr. Patricia Reggio at UNC Greensboro on a protein receptor called GPR3, which is involved with relaying messages from the outside of the cell to inside the cell. 
"The reason this receptor is important is that it's been implicated in the modulation of what's called beta amyloid plaque, which is what's thought to make Alzheimer's progress. If we can figure out ways to control the activity of this receptor then we might be able to control the amount of beta amyloid plaque that's being produced. Overall, this might be able to help stop the progression of Alzheimer's disease. I didn't get quite that far — to stopping Alzheimer's — but it was a first step."
Don also spent a summer studying at Virginia Commonwealth University through a Research Experience for Undergraduates (REU) in which he was provided with an apartment and a $5,000 stipend in exchange for 10 weeks of work.
"We worked with lasers, and we're trying to make catalysts for a reaction that is involved in a pharmaceutical pathway," he says. 
[Read more about a presentation Don gave with Honors Director Heather Hayton.]
There was a poster presentation at the end, and Don went on to present the research at three conferences: the Southeastern Regional Meeting of the American Chemical Society, the Honors College Symposium at N.C. State University, and the UNCG Honors Symposium.
Active Campus Life
For three years, Don has served as a tutor for the Chemistry Department, including two as head tutor. He notes that professors Anne Glenn and Rob Whitnell were key to his own academic success.  
"Inorganic chemistry and physical chemistry have probably been the most difficult classes I've had here, but the way Professor Whitnell taught was that we'd only move forward at the pace of our understanding," Don explains. "We would spend as much time as we needed on certain topics. I think that the depth of understanding we all received by going at that pace really made the class a lot more beneficial and a lot better in terms of how to engage in learning."
Building Relationships
During his time at Guilford, Don has enjoyed pickup soccer games with friends, worked as a residential adviser, and went on trips as part of the Outdoors Club. 
He has been accepted into a doctoral chemistry program that's focused on renewable energy at UNC Chapel Hill. Upon completion, he plans to seek work at a company that produces renewable or solar energy products, an industry he expects to "explode" over the next five or six years. 
Don advises aspiring Chemistry academics to spend time building relationships and enjoying leisure time. He gained this perspective during a year that's been more difficult than most. 
"Throughout much of my life, I've placed too much value on achieving academically, and I think this past year, I quickly realized that you have to set aside time to do things that are fun and that bring you closer to other people," he says. "Science is really cool, but it doesn't resonate with the humanity that you need by interacting with people."
Are you passionate about science, particularly chemistry? Is your goal to head to graduate school after your undergraduate career? Schedule your personalized visit to Guilford to meet with the Office of Admission to learn more.
---