The Solution for Success
As the science of matter and change, Chemistry is the discipline at the base of many interdisciplinary subjects, including nanotechnology, pharmacology, materials science, molecular biology, biochemistry and environmental science. An understanding of Chemistry is necessary for intelligent decision-making on such issues as stem cell research, the use of the anthrax bacillus as a biological weapon, the ozone holes and potential remedies for the underlying causes of climate change.
Guilford's Chemistry courses explore the fundamental principles of the science and examine how those are applied to the observable world, while developing the chemical reasoning, research, experimental, teamwork and communication skills that prepare you for academic and professional success. A Chemistry major can lead to various careers outside of chemical or biochemical research, including teaching, medicine and other health professions, patent law or business.
Our approach to studying Chemistry emphasizes research and direct student access to instrumentation, with state-of-the-art lab facilities available to you in the Frank Family Science Center. The wide range of research experiences you'll have working side by side with faculty, as well as through internships at organizations like Syngenta, PharmaCore and Duke University, will give you a competitive advantage in the job market and when applying to graduate school.
The bachelor of science, the bachelor of arts and the minor in Chemistry build a solid foundation for success no matter where your path takes you.
Major/minor requirements and course descriptions are available in the online version of the Guilford College Catalog. Use the keyboard shortcuts Control F for PC or Command F for Mac to search the document for your program.
Hands-on Learning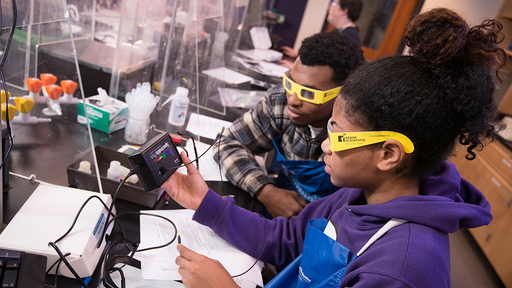 Guilford students build impressive résumés through prestigious internship opportunities at companies and organizations including:
Syngenta Crop Protection
PharmaCore
Duke University
Georgetown University
University of Kentucky
Universities of Bristol and Bath, England
University of Southern Mississippi
Medical College of Wisconsin
Greensboro Water Department