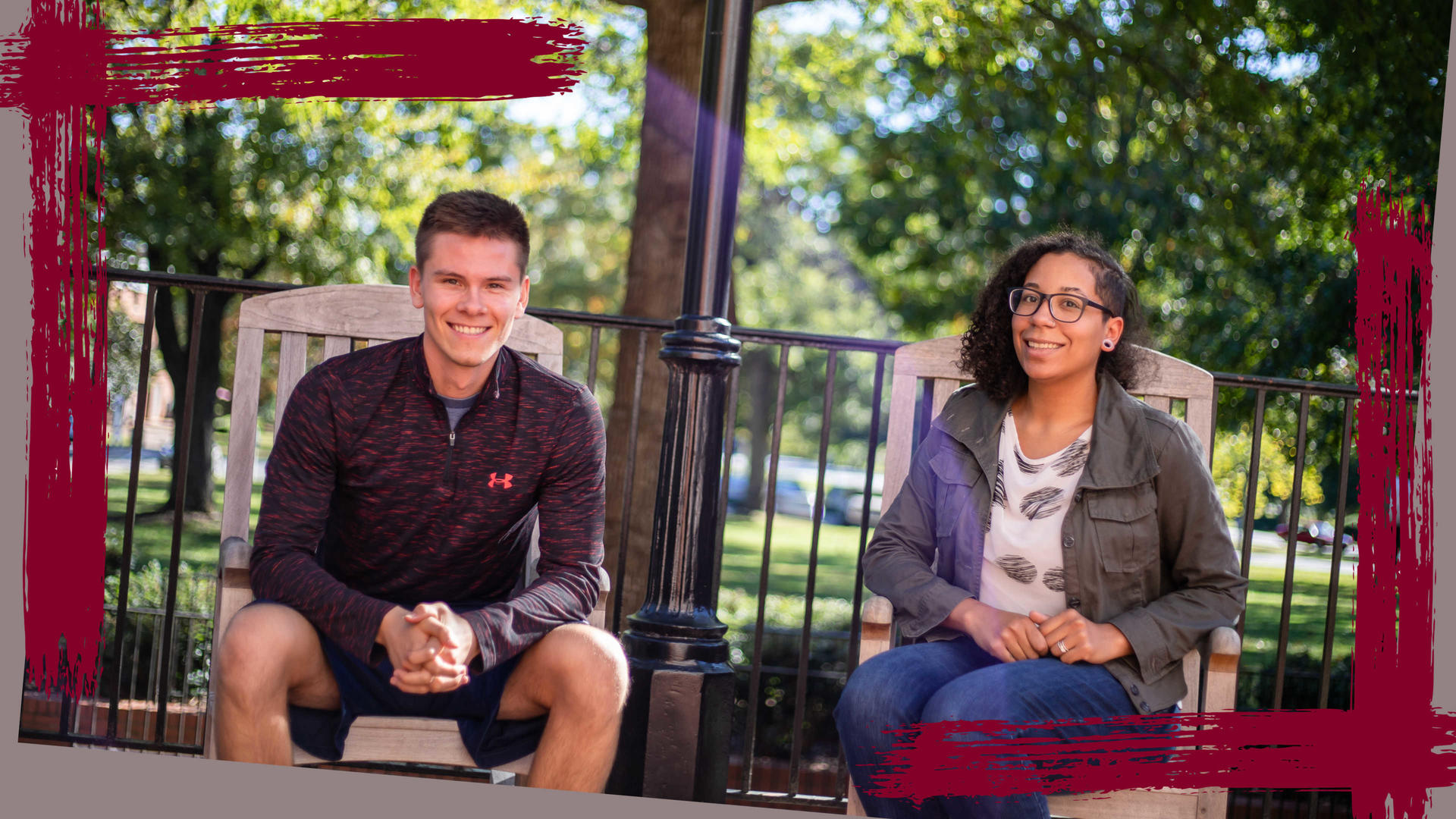 By Jhanna Vasser '19
"Chemistry has helped me indirectly understand many other systems, which for me is where its beauty lies. Exploring the world from its atoms up is a fascinating journey."
Their program, "Practices and Perspectives in Nanoscience and Chemical Biology," was designed to provide an experience that combines practical training in specific research techniques (practices), with activities that put the research into the context of the larger goals of modern science and technology (perspectives), specifically in the fields of nanoscience and chemical biology.
 
The program also provides each applicant with career-planning components through collaboration with local industries. The program presented 12 research projects, and each project offered experience in chemical synthesis, data analysis, and/or computer modeling.
Both students say they're drawn to the natural element of discovery that is innate to chemistry.
 
"My passion for chemistry comes from an interest in medicine and a love for discovery," Takisha says.
 
"Chemistry has helped me indirectly understand many other systems, which for me is where its beauty lies," Don says. "Exploring the world from its atoms up is a fascinating journey."
[Don, also an Honors student, recently presented at the N.C. Honors Association Conference.]
Takisha applied for and participated in the New Organic Synthetic Methodology for Stereo-controlled Synthesis and Bioactive Compounds project. In simpler terms, she says, "It's research into finding new ways to make cheaper versions of medicine."
 
"I was assigned to a physical chemistry lab with projects working on palladium-catalyzed reactions," Don explains. "My project encompassed developing physical support systems which were used to create pharmaceutical intermediates."
"I would love to continue researching and finding ways to create affordable medicines for people dealing with conditions that call for currently expensive medicine."
An Invaluable Experience
Building new and exciting skills was a big part of their summer, as was meeting those who could be their future colleagues. 
 
"A major part of my project was vaporizing compressed-powder targets with a high-power laser under high pressures and temperature gradients," Don explains. "This technique, called laser vaporization-controlled condensation (LVCC), is not widely used, and the lab I interned at is at the forefront of this type of research."
Independent research, planning, and problem solving also played a role in their enrichment projects.
"If my [instructor] wanted me to test something, it was often discussed without the experimental steps, and it was up to me to formulate how to test what was asked about," Don adds. "I also sometimes got results that didn't make sense, in which case I needed to backtrack and figure out what went wrong, or if nothing did, how to explain the results that I received."
Both students were well-prepared for the work they were handed because of the guidance they've received from Guilford's Chemistry Department.
 
"I learned how to perform flash chromatography and use a glove box (oxygen-free box with chemicals inside)," Takisha says. "Most of the techniques I used were skills I learned taking Organic Chemistry at Guilford."
An Amazing Opportunity
Both Takisha and Don are sure about one thing — chemistry is definitely their thing.
 
"I don't have specific goals for where I would like to end up," Don says, "but I would love to end up in a chemical research environment."
 
Takisha shares a similar sentiment. "I would love to continue researching and finding ways to create affordable medicines for people dealing with conditions that call for currently expensive medicine."
 
And for both of them this was the chance of a lifetime.
 
"I am very grateful," Don says. "All variables that would have made it more difficult logistically were taken care of, like housing, transportation, and food. We were given $5,000 for the summer, which allowed us to focus solely on our projects and developing our research skills."
Takisha says her favorite aspect of the experience was working with an institute that has the same goal as her — to make medicine more accessible to all people.
 
"The lab I worked for collaborates with the Medicines for All Institute, whose mission is to improve access to affordable, high-quality medicines," she says. "The team I worked with was extremely supportive and willing to share their knowledge with me. Being a part of this experience was incredible."
Are you interested in studying chemistry or engineering where your professors know you by name — and encourage you to take part in enriching summer opportunities? Schedule your visit to Guilford to learn about various science opportunities and to meet students like Takisha and Don.
---