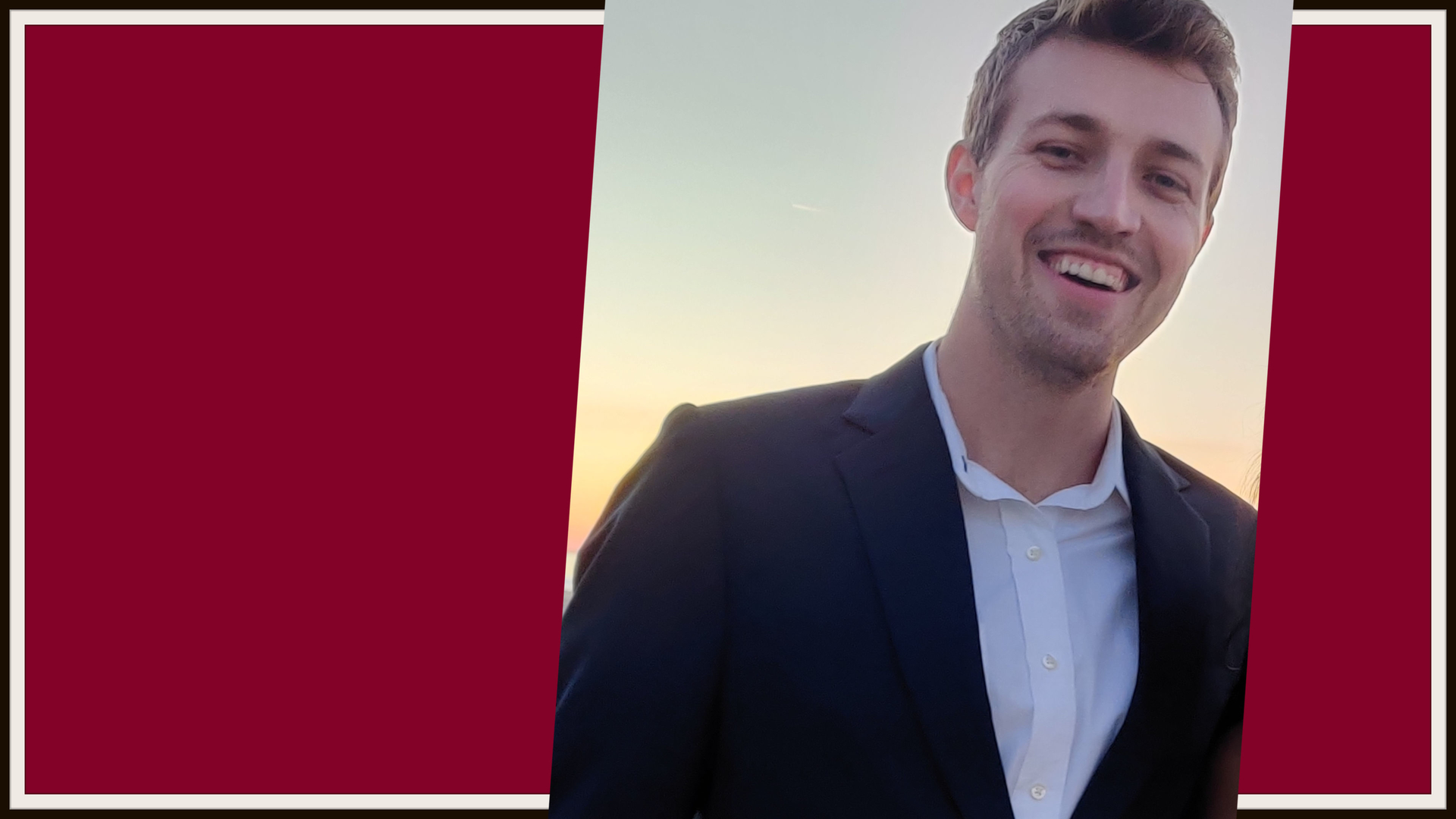 Growing up in East Asia, the climate crisis and the desire to work internationally inspired Chris Collins '19 to pursue two majors — Integrative Studies (Environmental Policy) and East Asian Studies — as well a minor in Religious Studies. "I technically built my own major through the Integrative Studies track, and I titled it 'Environmental Policy,'" he explains. Before coming to Guilford, Chris lived in Kathmandu, Nepal, and Chiang Mai, Thailand.
"Don't let the cool (Guilford) opportunities pass you by. Study abroad at least once. ... Learn how to write effectively, compellingly, and critically. And learn how to collaborate. You'll do it the rest of your life."
Now he's working at the U.S. Institute of Peace (USIP) as a research assistant on the Climate, Environment, and Conflict team while studying for a master's degree in international development at The George Washington University. He plans to graduate in May 2022.
A Nurturing Environment 
Drawn to Guilford for its proximity to family, its small size, and opportunities to work closely with professors, Chris made the most of his time as an undergraduate. He was a member of the Honors Program, the International Club and Outdoors Club as well as a resident adviser, a Principled Problem Solving Scholar, and a Multicultural Leadership Scholar. 
He notes professors Eric Mortensen, Zhihong Chen, Heather Hayton, and Bob Williams for shaping his academic career and preparing him for the work he does now at USIP. His role involves working with internal and external teams in peace-building, environment, security, and climate topics. He's also involved with writing policy papers, collaborating with interagency organizations, and a variety of other projects. Thanks to his broad range of studies at Guilford — and getting to know his professors as experts in their fields — Chris says he's well suited for this job where no two days are the same. 
Balancing all of that with graduate school is ambitious, but Chris's passion carries him through.  
"The inspiration behind studying for a master of international development stemmed from wanting to work internationally but also in a practical way where I can engage with people on the ground and not just from an office," he explains. "I hope to work in a similar space where I work now: at the intersection of international development, peace-building, and the environment." 
The Guilford Difference 
He remembers his Guilford days fondly. "Don't let the cool opportunities pass by," Chris advises current and future students with goals similar to his. "Study abroad at least once. I did it twice and would've gone again. Learn how to write effectively, compellingly, and critically. And learn how to collaborate. You'll do it the rest of your life, especially if you want to work in a policy-related field."
He also recommends putting effort into building relationships with professors and taking advantage of the Bryan Series. As a student, Chris met Neil DeGrasse Tyson, Malcolm Gladwell, Kareem Abdul Jabbar, and many other notable speakers.  
"You have to pay for that kind of thing after you leave school and it's not cheap," he says. "Everyone will tell you college is the best four years of your life. I guarantee it probably won't feel that way every day, especially during exam week. Take advantage of the opportunities that you have but don't forget to take care of yourself, too."
Do you have a passion for peace-building and international relations? Visit Guilford to learn more about the opportunities you have to explore those interests — both in the U.S. and abroad. And if you're a rising high-school senior, consider applying for Guilford College Rise, a summer institute focused on international affairs in 2022. For more information, contact the Office of Admission at admission@guilford.edu or 336.316.2100.
---