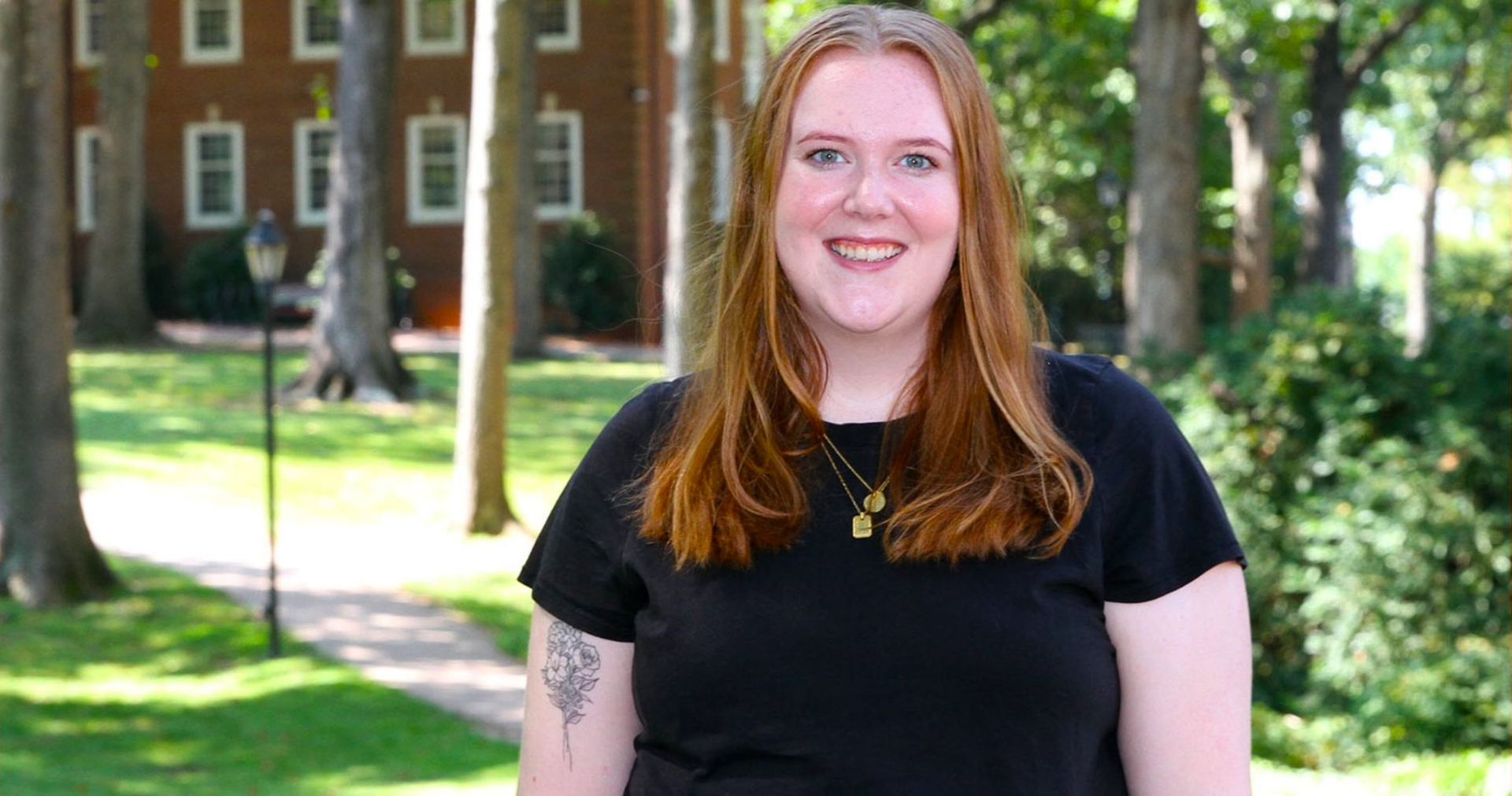 Drawn to Guilford for its values and the opportunity to have close relationships with professors, Honors student Taylor Calloway '23 of Hendersonville, N.C, aspires to be a professor. However, the double major in History and Political Science and minor in Education Studies arrived at Guilford with a different plan.
"Lean on faculty members and form those relationships as quickly as you can. ... My advisers helped me figure out what I want to do after college, and they guided me toward certain programs."
"I was unsure of what I really wanted to do, and then sometime in my first year I decided that I missed taking history classes. They were always my favorite in high school, so I decided to take a few, and I immediately fell in love," she says. "History is something I'm passionate about, and Guilford's faculty members are just incredible. They inspire me to continue learning and researching to find out things I wouldn't have otherwise."
Historical Perspective
Her mentor and adviser, Associate Professor of History Sarah Thuesen, has been her biggest influence. "She's amazing and has been there with me since freshman year, helping me along the way," says Taylor, who also worked as a research assistant for Sarah.
 
"She inspired my history capstone," Taylor explains. "I took her Title IX class sophomore year, and the next thing I know I'm writing about how Title IX does not serve black female athletes the same way it does white female athletes."
 
Taylor's research into the topic continues. For her thesis, she's conducting a case study about Title IX at Guilford — its implementation, successes, and aspects that weren't as successful.
 
Taylor has also put her history studies to use outside of the classroom while working in the Quaker Archives with the College's Quaker Archivist and Special Collections Librarian Gwen Gosney Erickson.
 
"I'm working hands-on with artifacts from Guilford's past. It's allowed me to better understand Guilford prior to me being here. It's also given me the opportunity to better understand the school I'm in and the environment it tends to have," she says. "With technology and everything, it's a little shocking to see just what life was like here 80 years ago."
Politically Inclined
Taylor says she's also always been interested in politics. As a residential adviser and assistant community director, she's had opportunities to grow such relevant skills as conflict management and working as a team.
 
"I find politics interesting and integral to our society, and the importance of being educated on this topic is something that's foundational to me," she says. "I'm continuously learning and researching and reading about politics not only in the United States but also in the world in general. It felt like a no brainer to be a double major in History and Political Science."
 
She plans to implement both areas of study in graduate school, with the intention of studying the history of women in 20th-century United States with a focus on public policy.
 
As Taylor finalizes her post-graduation plans, she reflects on what worked well for her. For all the students to come, she offers some advice.
 
"Lean on faculty members and form those relationships as quickly as you can. You never know how helpful they'll be," she says. "My advisers helped me figure out what I want to do after college, and they guided me toward certain programs. They also led me to opportunities like my work with Sarah and Gwen, which have taught me skills that are incredibly valuable."
Is it your dream to become a professor? Are you interested in Guilford's History and Political Science majors? Schedule your personalized visit to Guilford's campus to meet students like Taylor, as well as your future professors. For more information, contact the Office of Admission at 336.316.2100 or admission@guilford.edu.
---