Shape the Nation. Engage the World.
Discover what makes U.S. politics tick, and explore world politics in places like China, Ecuador, and the Galápagos Islands as a Political Science major or minor. You'll learn to solve problems through focused, long-term study of topics relevant to today's political climate in the U.S. and abroad. You'll also learn to develop and articulate strong personal values as you seek to make a positive contribution.
Specific tracks include American Politics/Public Policy and Administration, International Relations, Comparative Politics and Political Theory/Political Analysis.
Active engagement in a diverse range of experiences at all levels of politics — local, state, national and international — require Political Science majors to work collaboratively and think critically and creatively to find solutions to real-world problems.
You'll gain essential knowledge and skills for political or public service careers or continued studies. Guilford Political Science graduates are activists, congressional staffers, community organizers, Peace Corps volunteers, attorneys, journalists, pollsters, teachers, lobbyists, artists, intelligence officers, diplomats and mediators.
College Catalog
For more information about courses for the Political Science Department, visit the online, searchable College Catalog. In addition to the Undergraduate Catalog, information includes academic department and major information as well as academic regulations and resources; admission standards and requirements; and tuition, fees and financial aid information.
Hands-on Learning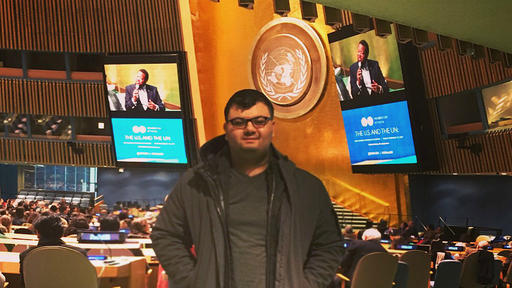 Guilford Political Science students have performed prominent politics-related internships at the following:
Greenpeace Office in San Francisco
American Civil Liberties Union
Mayor's Office, London
AFL-CIO Union Summer
Izar Capital, Washington, D.C.