As an athlete, WQFS DJ, RA, and Dean's List student, Andrew Munster '20 took advantage of the many great opportunities Guilford has to offer throughout his four years here.
He was originally drawn to the College by the strong sense of community that baseball coaches Nick Black and Chris Johnson created — making him feel like he had a group of friends from Day One — and Andrew soon found positive relationships and mentors across campus.
"Without them, I would have likely been somewhere else and would not have played baseball  in college," Andrew says. "The player-coach relationship with them at a professional level made me enjoy the game again. I can't thank them enough for that."
With the goal of pursuing a JD/MBA joint degree in graduate school, Andrew started out his undergraduate studies interested in a Business major. However, with the help of his first-year adviser, Associate Professor of Religious Studies Jill Peterfeso, he found himself on a slightly different path. "Jill is very logical and never pushed me in one direction but helped me to feel my way into where I ended up," Andrew says. "She has continued to provide me with exceptional advice since the beginning."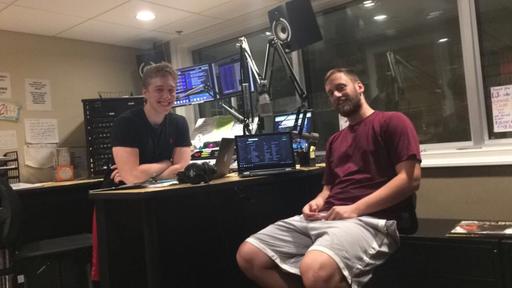 In addition to his passion for Business, Andrew quickly developed interests in Philosophy and History, transitioning his focus to a major in Philosophy with double minors in European History and Business. "Not only did Philosophy get me ready for graduate school academically, but it also allowed me time to expand my learning in other areas and make the most of my liberal arts education," Andrew says.
As he moved through his studies, Professor of Philosophy Nancy Daukas began to play a large role as one of Andrew's most encouraging and helpful advisers. "Nancy has the ability to make even the densest and most difficult philosophy sound sensical, something I was always impressed by. She is one of the most understanding professors I have ever had, and that is a very comforting feeling," Andrew says.
In addition to his academic and athletic success, Andrew took advantage of Guilford's many other opportunities. He gained leadership skills as a Resident Adviser, enjoyed his time as a WQFS DJ, and experienced a life-changing study abroad trip in Germany.
After graduation, Andrew plans to attend Cleveland State in Ohio as part of the JD/MBA joint program, with a specialization in international law and business.
---