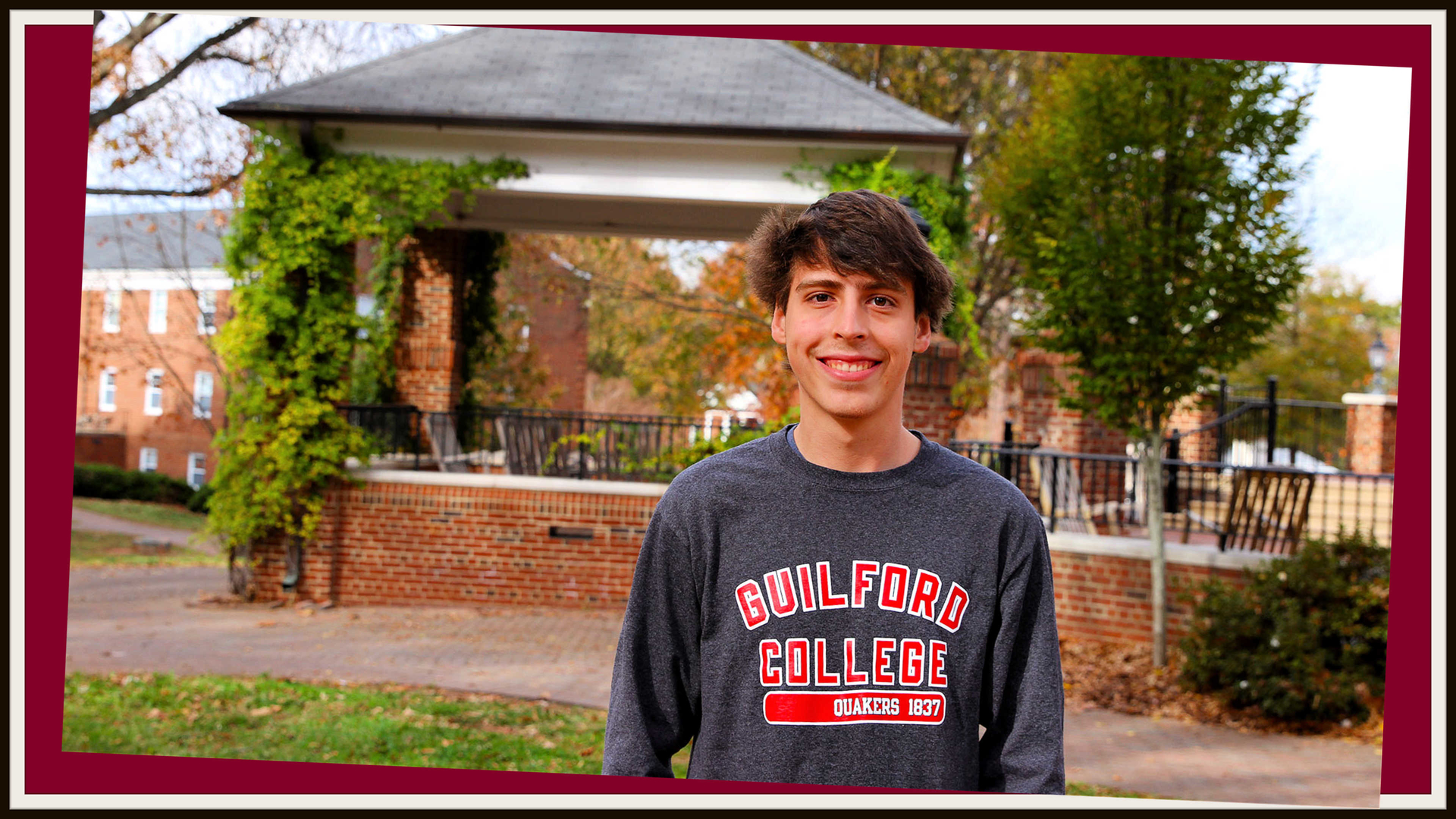 Meet Noah West '24, a Biology major and Honors student with a passion for fish and marine plants. Find out how he developed these interests and his career plans.
"I would like to work on the rearing of marine fish species. I actually have some breeding pairs at home called gobies, a genus that has many species, so I'd want to breed those for Biota."
Teeming with life, the woodland creek at the childhood home of Noah West '24 proved to be fertile ground for his passion for marine biology.
 
"Ever since I was little, I've always been outside in a creek or in the woods," the Greensboro native says. 
 
The Biology major and Honors student has a particular love for fish and marine plants.
 
"I would get a bucket and then go in the creek behind my house and catch fish, salamanders, and frogs," he says. "Both of my parents are big into biology, so they supported me, and I just love animals. I also love science, and I love being able to learn and do new things with it."
 
He comes by his passion naturally. Noah's father, Doug West '93, also majored in Biology at Guilford. His mother, Sarah West, now a teacher, worked with the snakes at the Greensboro Science Center before Noah was born.
A Career in Ichthyology 
Noah's future is in fish. He has already caught the attention of Biota, a research group that specializes in breeding such marine life as fish, coral, and clams. The company has a breeding facility in North Carolina and is interested in hiring Noah after he graduates. 
 
"They breed native species as well as a lot of fish for trade to fund their research. This includes ornamental fish for aquariums. They also release a lot of food fish back into native ecosystems to help support the populations that are dwindling due to overfishing," he explains. "I would like to work on the rearing of marine fish species. I actually have some breeding pairs at home called gobies, a genus that has many species, so I'd want to breed those for Biota."
 
His part-time job also provides hands-on experience as an ichthyologist. In addition to his coursework, Noah works at a local pet store with reptiles and fish, a job he's held for four years and will continue through graduation. 
Life at Guilford
Noah isn't letting any of the resources at Guilford's Frank Family Science Center go to waste either. He's hoping to rehabilitate some electric tanks in the basement of the building. 
 
"Along with fish, I really like botany. I like plants, reptiles, fish that whole little niche. I was talking to my Biology professor, Christine Stracey Richard, who happens to be my neighbor as well, and she said that I'd just have to get approval from the department to set up a lot of those old tanks and put plants and marine life in them."
 
Noah's advice for new college students: "Don't be afraid to reach out. I've always been kind of an anxious, awkward person, so I was always scared of reaching out and having it fall through, so I never really tried to do it. Now I'm actually doing it and seeing how it worked out," he says, "Even if it even if it doesn't work out, other opportunities will arise. I had another opportunity for a job in California and that fell through, but I kept my mind open. Then I found Biota, and that's working out well so far."
 
In the meantime, he's enjoying Guilford and is not in a rush to graduate. "I'm really excited to see how the College continues to improve in the next few years because so many people have spoken very highly about it, especially people I've met who are alums."
Are you looking for a college that offers hands-on learning to Biology majors — outside of a classroom? Schedule your personalized visit to Guilford College to learn more about the Biology Department and to meet students like Noah who share your passion. You can also start your application today.
---