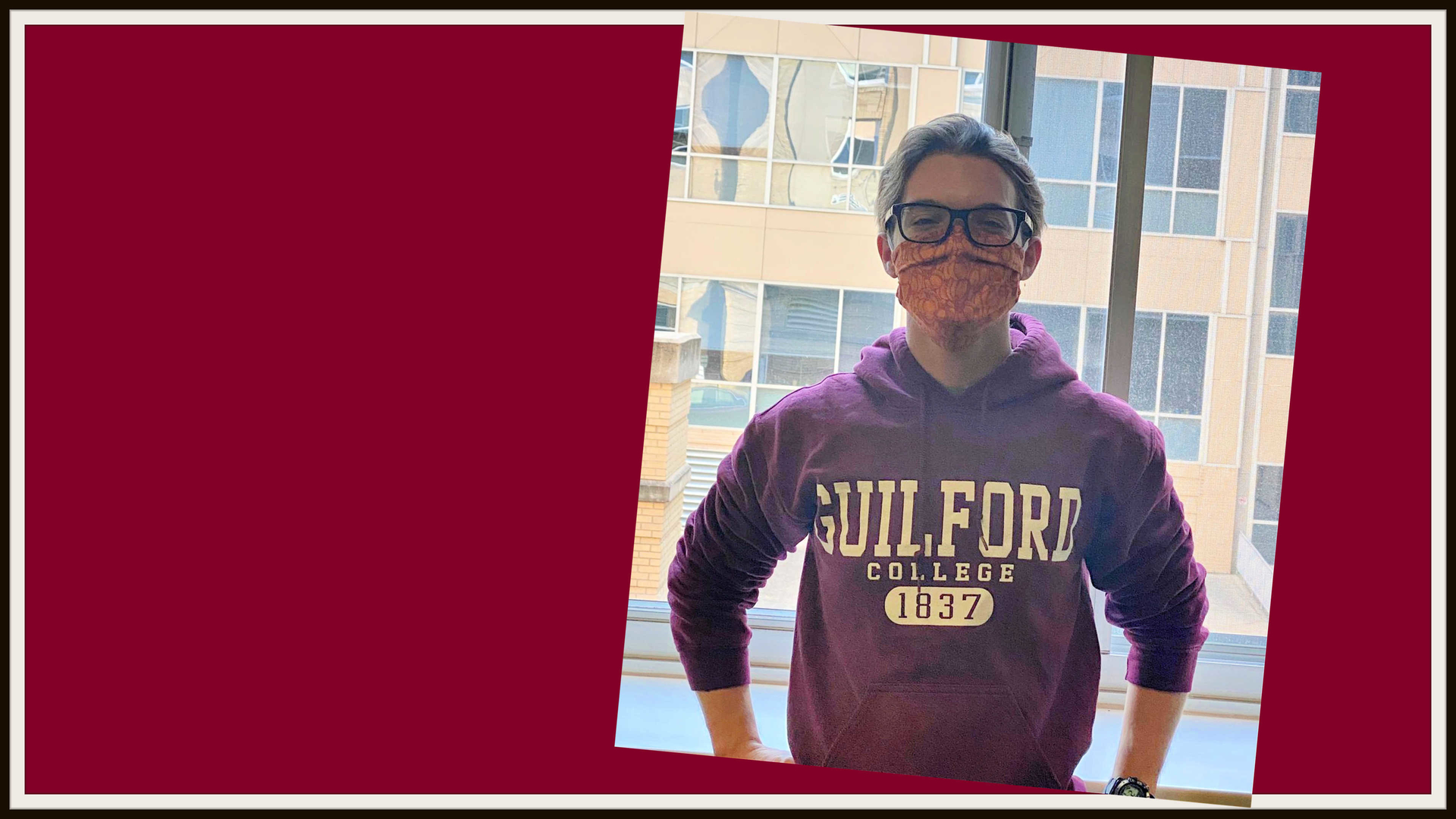 Growing up in a small town just 30 minutes from Guilford, Finn Shepherd '19 was about as local as you can get when he started attending the College. In fact, Finn even went to the Early College at Guilford for high school where he exclusively took college classes during his junior and senior years.
I was ... offered very good financial aid so it made sense financially. Plus, I liked the small community and the personalized nature of the classes and relationships with professors."
"When it was time for me to apply to colleges as a traditional student, it just made sense for me to stay at Guilford. I already had two years of credits so I didn't have to worry about losing those credits," he explains. "I was also offered very good financial aid so it made sense financially as well. Plus, I liked the small community and the personalized nature of the classes and relationships with professors."
Guilford Hearts Munich!
Guilford Hearts Munich!
In 2018, more than 100 people gathered to celebrate one of Guilford's longest running and most dearly held study abroad trips. June 2018 marked 40 years of the Guilford College in Munich program.
Maximizing His College Years
Though Guilford's nurturing environment was an instrumental part of Finn's success, he quickly found ways to challenge himself. The Psychology major began broadening his horizons, adding a German major at the recommendation of one of his Early College classmates. Finn had just completed introductory German class at the time.
"I had learned some German before this, mainly online, and I saw this as a good opportunity to learn another language that wasn't as popular as Spanish or French," he says.
In the fall of his senior year, Finn studied abroad in Munich, Germany. 
"It was my first time living away from home. I knew enough of the language and the basics — it was the beginning of my third year learning German — so I wasn't anxious about not being able to understand people or them not being able to understand me. I loved living with my host dad, whom I now consider a great friend."
Finn also adds that the professor who led his study abroad experience did a good job in structuring the three months there. They planned activities for Guilford students on the weekends to allow them more immersion into the German language and culture. 
"I also really liked the professors in Munich who taught the classes," he says. "As we didn't have classes on Mondays, I was able to travel throughout Germany and to the Netherlands, including to a small German town about 90 minutes away by train to visit my best friend."
Quaking Things Up: Finn Shepherd '19 [VIDEO]
Quaking Things Up: Finn Shepherd '19 [VIDEO]
Quakers are doing big things every day at Guilford! Meet Psychology and German double major Finn Shepherd '19, who's currently researching how those who…
Continuing German Studies
Finn loved his Germany experience so much that he returned after graduation as an au pair for a family with two young children. During this time, he was able to visit Berlin, Aachen, Antwerp, Amsterdam, and Munich to see his former host family.
When he returned to the States, Finn took a part-time job at a crisis shelter, which fit well with his Psychology major. Soon he added two other part-time jobs, including delivering pizzas. Then, after applying to a number of graduate schools, he was accepted into the doctoral German program at the University of Wisconsin–Madison. When he graduates, Finn will be the first in his family to receive an advanced degree.
"After graduate school I would love to find an assistant professor position at a university and then maybe get tenure," he says. He plans to focus his doctorate studies in German Linguistics with a minor in Dutch. He also notes a desire to possibly return to Germany, the Netherlands, or Belgium to work.
Guilford Days
During his Guilford years, Finn was a DJ for WQFS for three semesters and was a member of the German Club. He also worked at Hege Academic Commons as a STARS Desk Assistant. He notes professors Maria Bobroff, David Limburg, and Rachel Riskind for making transformative impacts on his education, serving as his advisers and offering support and encouragement in both life and his studies.
Finn's advice for current and future students is to take time to discover what you're passionate about, connect with your professors, and explore a variety of classes even if they're outside of your major. 
"I definitely recommend learning another language and actually learning it, not just taking two semesters. It has given me a big advantage and made me a competitive applicant in today's job market," he says. "And try out German! It's an interesting language."
For soon-to-be grads, he says, "Take at least a year after graduation to figure out what it is you want to do. I originally planned to go straight into grad school, but I think I would have burned out if I had done that," he notes. "Taking two years off made me appreciate learning again, and I gained some valuable life experience that I can use."
Are you a high school student who wants to be a Psychology major in college? Or are you passionate about learning a foreign language and plan to study abroad in college? Schedule your personalized visit to Guilford to learn more about these programs — and so many more. For more information, contact the Office of Admission at 336.316.2100 or admission@guilford.edu.
---