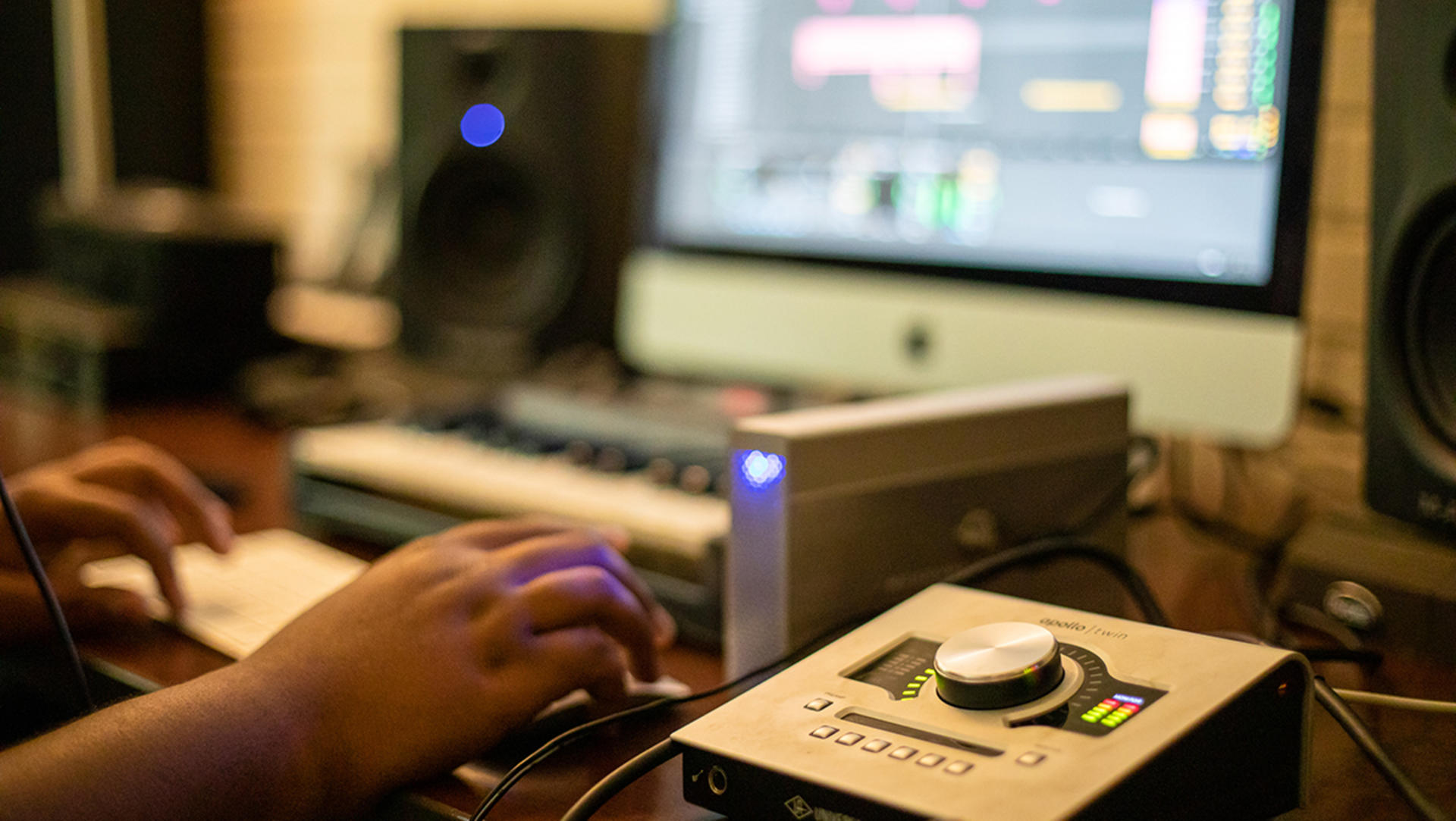 As of fall 2021, Guilford College has five Music majors in the Recording Track, as well as two graduates. Announced in early 2020, students can receive a Bachelor's Degree in Music with an emphasis on Recording, in collaboration with Guilford Technical Community College (GTCC).
"This track matches with the passions of many of our students and offers an opportunity to gain real time studio experiences and tools in recording," says Music Professor Kami Rowan, who was instrumental in building out Guilford's collaboration with GTCC.
"Our students have the ability to do internships in studios, continue their studies at institutions like UNCSA (with an MFA in sound design), or get a job right out of undergrad," Kami says. "Sound is applicable to studios, concert halls, theaters, coliseums, and other venues. Live Sound is a course they can add to the Recording track where they get experience easily transferable to all kinds of spaces. And recording gives students an outlet to express themselves through creative process in an outward way. It's one thing to sit in your room all day and make beats. It's another thing to actually produce and publish those beats and songs for the world to hear."
[Read more about the Guilford College Recording Track.]
In addition, GTCC students who have their AAS in Entertainment Technology have the opportunity to transfer to Guilford to complete their four-year degree.
Creating Movements
"Our students are going into the world and getting jobs in studios, getting their master's in music production, and putting their music out on multiple platforms," Kami says.
From new careers to graduate school, Guilford students are discovering a variety of opportunities as they complete the new track.
"One of our alums, Asa Bell '21, went on to pursue a Master's in Science in Music Technology at Temple University," Kami says. "Asa is also the executive producer of Lethal Mobb."
Another graduate, Phillip Williams '20, currently works as an assistant engineer at Blue South Recording Studios in Atlanta. He manages interns and makes sure the studio is ready for artists. "Overall, it's taking care of the business of the studio, making sure things run smoothly during sessions," he explains. Phillip, who records as YP YoungPhil, says that much of his music was actually recorded during his time at Guilford.
[Read more about Phillip's experience at Guilford College.]
Students pursuing the Recording Track work with GTCC's renowned faculty and take classes in cutting-edge facilities. They gain skills in recording, mixing, and editing in both live and studio sessions. The GTCC Larry Gatlin School of Entertainment Technology's $9 million facilities include a 66,000-square-foot space with five state-of-the-art recording studios and an outdoor amphitheater.
"We hope to continue the growth we've seen since this degree track started and get the word out to young musicians at Guilford and beyond who might be interested," Kami says. "The double major is a perfect opportunity to couple business with recording, creative writing and recording, or any other degree that could even offer contrasting skill sets. We're really excited about seeing where our graduates will go!"
To learn more about the Guilford College Recording Track, visit the Music Department webpage. You can also schedule a personalized visit to campus to chat with Music faculty, as well your Admission Counselor. Register online today, or contact Admission at 336.316.2100 or admission@guilford.edu.
 
---