Perfect and Perform Your Passion
Music stirs the mind, heart, and soul.
Guilford College is a place to follow your dreams of a career in this moving art form. Enjoy small music classes with dedicated faculty. Learn about the structure and the history of music. Practice and refine your musical craft through solo and ensemble performance. Take part in repertory and masterclasses. 
Guilford also offers a Recording Track. Students pursuing the Recording Track will work with GTCC's renowned faculty and take classes in their cutting-edge facilities, where they will learn skills in recording, mixing, and editing in both live and studio sessions. The GTCC Larry Gatlin School of Entertainment Technology's $9 million facilities include a 66,000-square-foot space with five state-of-the-art recording studios and an outdoor amphitheater.
About 20 Guilford students and alumni have albums on Spotify, Soundcloud, Apple Music, and other platforms, with one alum receiving a Grammy nomination in 2019. This program will further open many doors for students who want to work as producers and musicians.
No matter your passion, be inspired and discover those aspects of music you want to pursue as a Guilford College Music major.
College Catalog
For more information about courses for the Music Department, visit the online, searchable College Catalog. In addition to the Undergraduate Catalog, information includes academic department and major information as well as academic regulations and resources; admission standards and requirements; and tuition, fees and financial aid information.
Hands-on Learning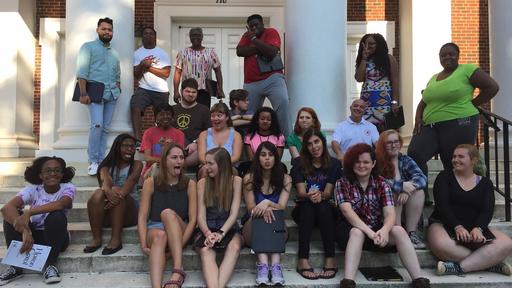 Performance Groups
Learn by doing when you join one of many music ensembles at Guilford: College Choir, Lumina Treble Ensemble, Jazz Ensemble, Jazz Combos, Guitar Ensemble and String Ensemble. Other performance opportunities include participation in the Greensboro Philharmonic or the Greensboro Concert Band.
Internships
Guilford students have served as interns in organizations including the Eastern Music Festival, Boosey & Hawkes Publishing Company, and Kindermusik.