This past spring I studied abroad in Osaka, Japan through Guilford College's partner study abroad program with Kansai Gaidai University. Thanks to this resource, I was able to study abroad at a small additional cost. 
It had been my dream to study abroad and visit Japan since I was sixteen years old. I've always been fascinated by the language and culture, so when I arrived in late January, you can imagine just how happy I was! I felt like a child once again as I anxiously tried to take in my new surroundings through the car window. From cars driving on the left side and the very clean streets, to the visual difference in infrastructure from buildings in the U.S., everything was absolutely beautiful!
I knew a lot about Japanese society and culture, but even so, it did not help me completely evade culture shock. It was my very first time traveling completely alone while also going to the opposite side of the world. One can imagine how overwhelming and slightly intimidating that can be.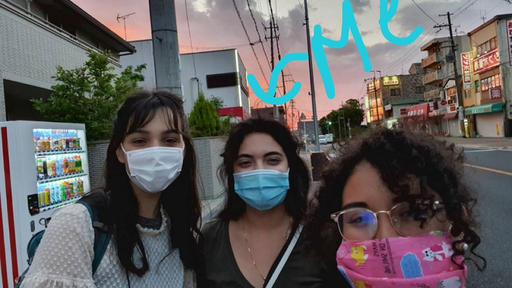 I was very blessed to already have friends that lived in Japan thanks to Guilford College's and Kansai Gaidai's partnership. My close friend, Asuka, and her family took me under their wing and gave me that familial support that I was lacking. We have so many wonderful memories together from making mochi to playing board games late at night in their home!
Kansai Gaidai University's East Asian studies program draws in students from all over the world. There were students from Finland, Germany, Canada, France, Jordan, Argentina, and so many more! We were truly a global community! I made so many amazing friends that I know will last me a lifetime. We have wonderful memories from enjoying Osaka's vibrant nightlife to doing hanami and enjoying the beautiful cherry blossoms in full bloom. 
Even though my time in Japan was cut a bit short due to the COVID-19 pandemic. I was able to stay until early May and made unforgettable memories with my friends as we quarantined together. Saying goodbye to Japan was one of the hardest things I've ever had to do. It is truly my second home and I cannot wait until I can return to continue making amazing memories!
Check out more exciting international experiences on our student authored study abroad blog, Beyond Friendly.
---