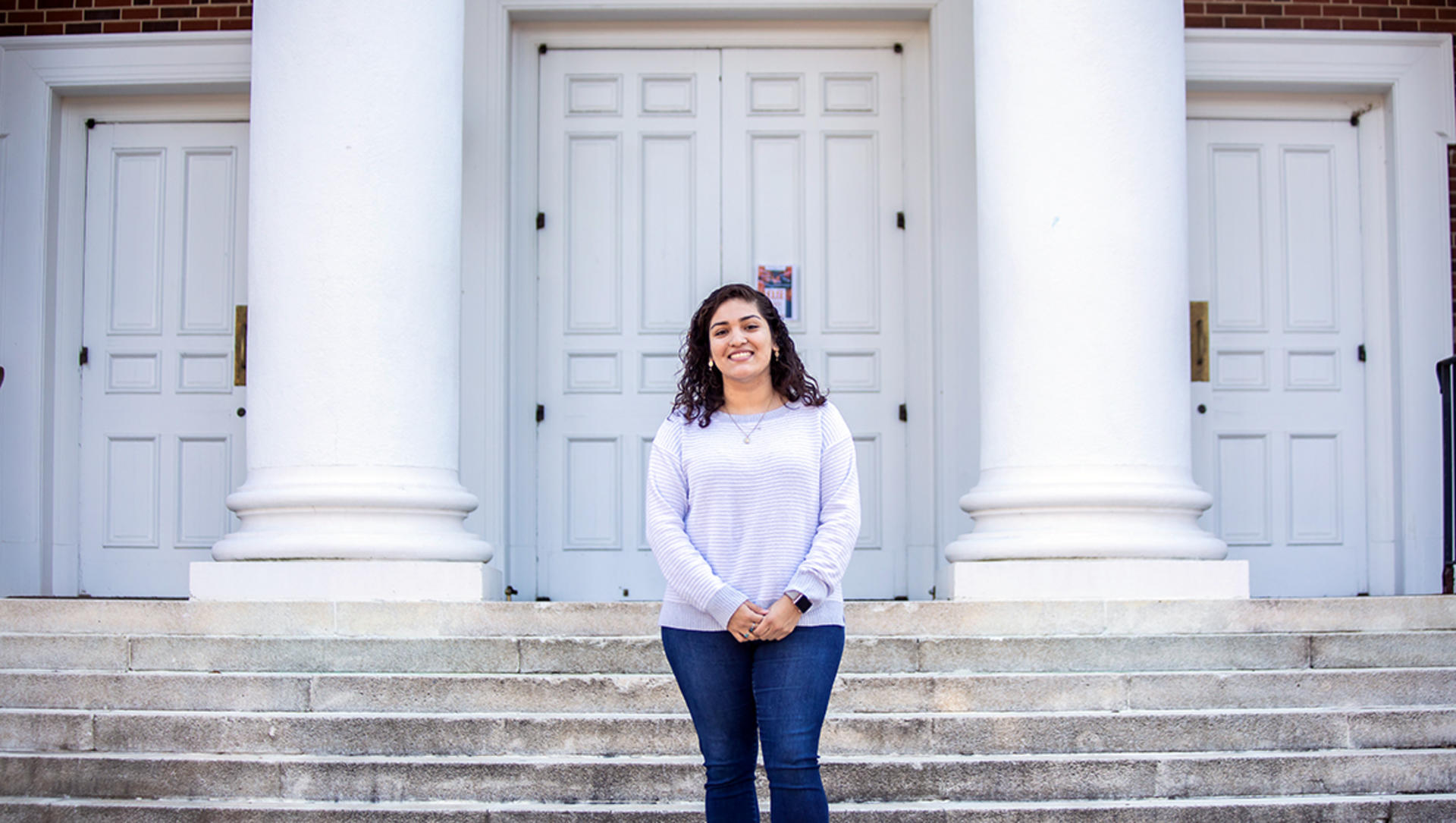 Berenice Fuentes-Juárez '20, a double major in Public Health and Biology with a minor in Spanish, has been awarded for outstanding leadership and service.
The N.C. Campus Compact, a statewide network of colleges and universities committed to community engagement, honored Berenice with the 2019 Community Impact Student Award, which recognizes students with a deep commitment to community involvement and the ability to inspire their peers.
"I'm very honored and humbled in receiving this award. Before coming to Guilford, I knew that I'd like to be an advocate and social steward in my community, but the Bonner Program has helped that passion flourish. I do the work that I do because I've realized that not only am I influencing the lives of others, but they are constantly filling my life with joy and excitement."
Berenice is one of only 22 students across the state to receive the award this year, and she joins more than 300 college students honored by the organization since the award was first presented in 2006.
Bonner Scholars Program Coordinator Meagan McNeely nominated Berenice. "Since Day One at Guilford College, Berenice has showed up as a leader among her peers," Meagan says. "Berenice is a beautiful example of how to use our developmental models to gain professional and personal experience in a number of areas to best set herself up for success for her time after college, while having an impact on the community around her." 
Berenice is leaving a legacy at Guilford with her natural leadership style. She is the Community Issue Awareness Volunteer for Soy un Líder, a college preparation and empowerment conference for Latinx and refugee high school students. She serves as a Project Manager at Latinx Impact, working to provide access to college preparation and resources for the Latinx community. Berenice is also writing a curriculum to support Latinx students that Guilford County Schools could implement, and she volunteers at the African Services Coalition and at the Montagnard Dega Association. 
"My love for advocating for higher education, mentorship, and access to health care does not stop after I graduate from Guilford," she says. "After graduation, I plan on merging my interests and passions in higher education, health care, and community organizing to become an advocate for my community in fellowship/internship opportunities. We'll see what the future holds, but one thing is for certain — I'll continue advocating for others, as there is still a lot of work to be done!"
Are you ready to become a leader in your community? For more information on how Guilford prepares students to be ethical leaders — both inside and outside of the classroom — schedule your personalized visit today.
---