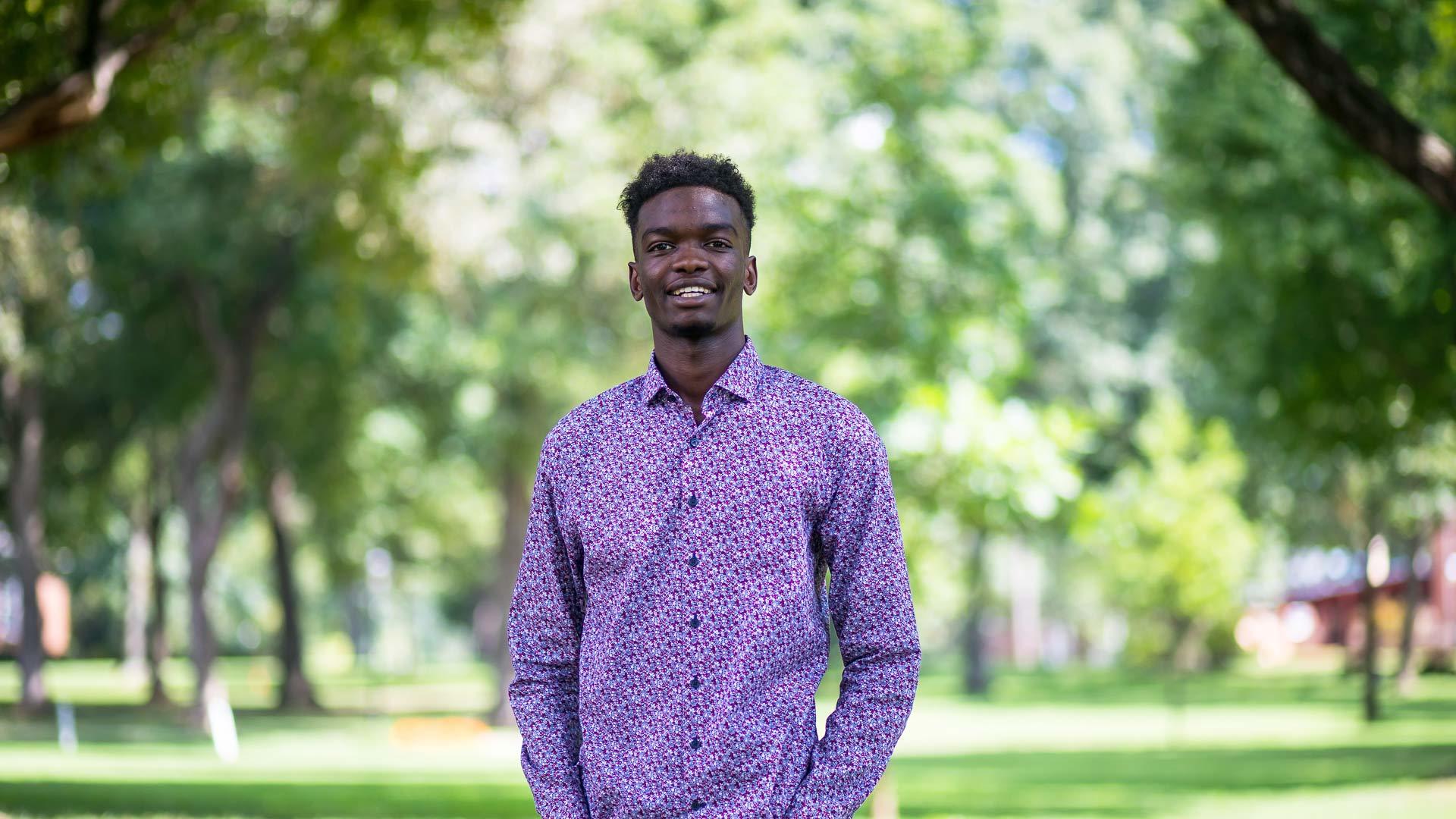 Hailing from Sabha, Libya, with familial roots in Sudan, this international student appreciates Guilford as his "home away from home." Having mentors, staying active and engaging with the community are all ways Mohamed maximizes his college experience.
Mohamed Togol '20, a Biology major and Communication Studies minor, chose Guilford for its small size and community-centered vibe. 
He initially explored Guilford after hearing about the Bonner Center for Community Learning and Service. As a full-time student and Bonner scholar, Mohamed spends plenty of time in the classroom and out in the community. His First Year Seminar (FYS) course, which focused on Crime Scene Investigation, stands out as an academic highlight. 
"I really enjoyed learning the role of science within crime-solving," Mohamed says, "and getting the opportunity so early on to discuss the relevance of science to other fields." Hands-on learning will serve this community scholar well because he has big post-graduation goals. "I plan on applying to physician assistant programs after my undergraduate degree," he says. 
Managing coursework, a social life and his community service responsibilities is tough, and Mohamed notes the importance of individual hard work and supportive community members as vital components to his successful college career. "James Shields, the Director of the Bonner Scholars program, and Kyle Wooden, Director of Admission, have both been mentors and instrumental in getting me to Guilford and ensuring my success while I'm here." 
 
While Mohamed takes his time as a student and a community scholar seriously, he knows that college should also be a fun experience. When not studying, volunteering or soaking up advice from his mentors, Mohamed loves to play soccer, basketball, Fifa and Fortnite with his friends. 
As an international student, he explains that Guilford is a place where "you interact with people from all over the world in such a small space." And while he references the close-knit community as small, Mohamed's goals and post-grad plans are clearly far from small.
Want to learn more about what it takes to be a Guilfordian? Schedule your personalized student visit to check out our dorms, learn about our 30-plus majors and our individualized team of professional and academic advisers that will give you an Edge. Are you an international student? Visit the international students page!
---