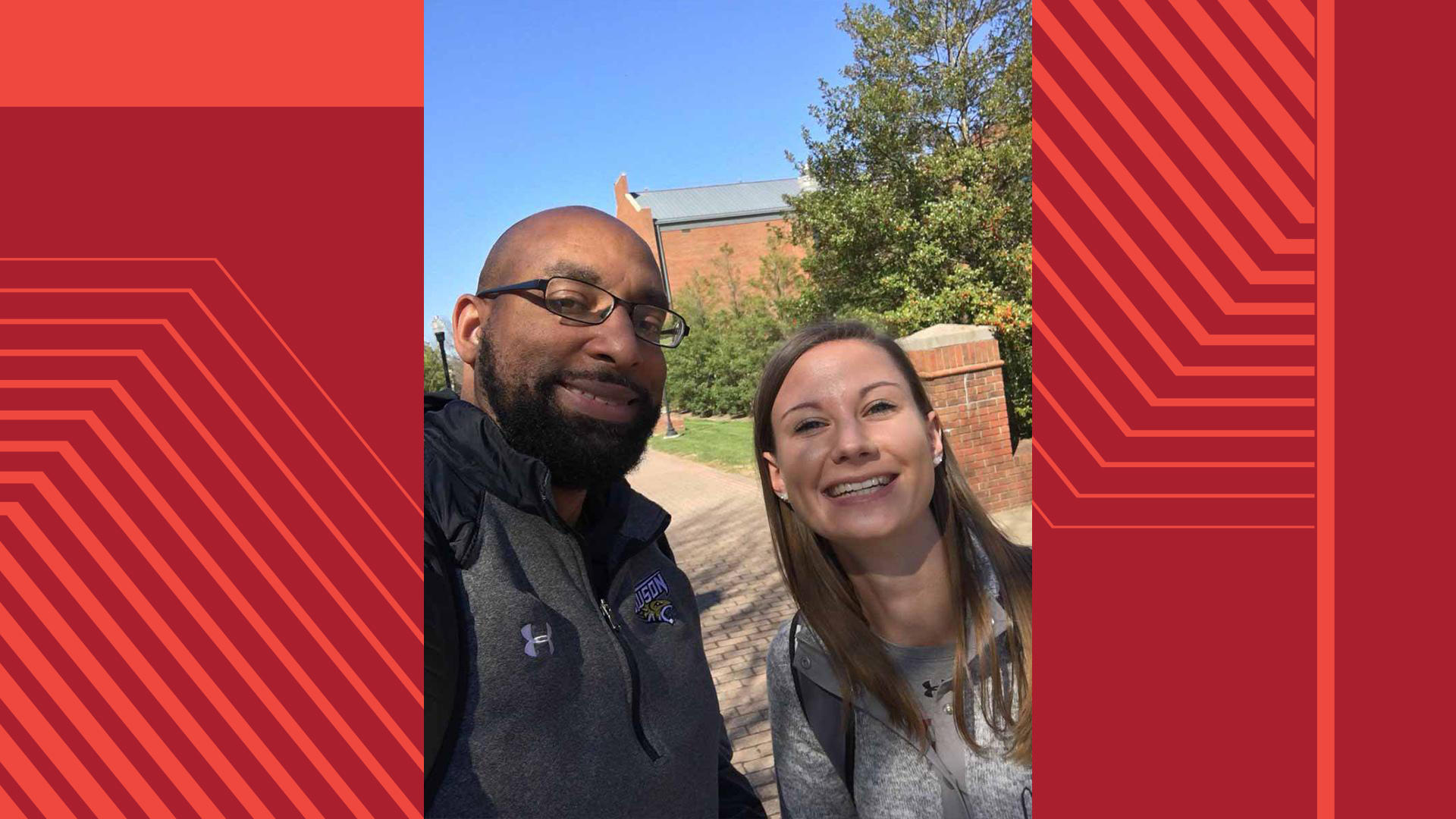 My name is Amber Dubois and I had the amazing opportunity to work in the athletic media relations office at Towson University this summer. I am a senior from York, Pennsylvania, and I will be graduating in May with a degree in Sport Management and a minor in Spanish.
You can find me In the press box at almost any Guilford athletic event as I am a student assistant in the Sport Information Office as well as an announcer and commentator. I am a three-year starting defender on the Women's Lacrosse team and I am the co-founder/president of the Exercise Science and Sport Management Club on campus.
If you want an internship but don't see any postings for a position, do not be afraid to reach out to people!
My supervisor at Guilford, Dave Walters, helped me contact Rob Knox at Towson University. I wanted to get more experience in athletic communications at a larger university and Towson was the closest institution that gave me that opportunity. Rob was very eager to meet with me about interning for him over the summer.  He was impressed by my cover letter and knew I was passionate about the profession and wanted to help me. I quickly found that Rob had a serious passion for college athletics, the WNBA, and selfies- which were all over his office wall. He was the best person I could have interned for as he was recently elected the president of the College Sports Information Directors of America.
It just so happened that the same week I contacted him he was traveling with the Tigers' Softball team for a tournament at UNC Greensboro. I was able to meet with him in person and shadow him for the game while we discussed the logistics of the internship. I sat in the press box with Rob and he walked me through the Tigers' softball game day experience. It wasn't so much an interview as he simply wanted to meet with me in person to talk about what my duties at Towson would consist of once I was back in the area.
After returning home for the summer, I did a lot of back-end work for Towson's athletics website and social media outlets. I wrote student-athlete biographies, press releases, and created graphics. Since Towson is a large Division I institution, they have a comprehensive department of athletic media relations with five staff members. Each staff member is responsible for three or four sports, which allows them to focus on those sports alone. Since Guilford is a small Division III school, we only have one sport information director and an assistant that covers all 18 sports. This situation does not give us enough time to create things such as graphics.  
I was incredibly excited to learn how to use various software's including photoshop, adobe spark, InDesign, and my personal favorite, ScoreShots; ScoreShots is an infographic program that Towson uses to create their graphics. Learning how to use these programs allowed me to create graphics, gifs, photo galleries, and record books. Rob taught me how to do basic things on each program, so I will have a basic understanding of each. This will be beneficial for me as I start looking for jobs- which is coming up way to fast!
The best part of the internship was getting to work with the student athletes, other members of the athletics media relations office, and the university's media relations office. The media relations office filmed the women's basketball team doing the "Keke Challenge" with head coach Diane Richardson. It was incredible to be a part of the process and see the team have fun outside of practice and games. The video got over 20,000 views in the first week it was posted- one of the most viewed videos at Towson.
As a sport management major I am required to take a sport communications class. This class helped me become more interested in athletic communications. We had various projects focused on public relations and social media and I fell in love with it. Having a work study as a student assistant in the sport information office gave me the ability to discover the profession on another platform outside the classroom. Ever since my first day in the sport information office, I have wanted to seriously pursue a career in athletic communications. I love being able to work with student-athletes and create their stories, highlighting things that happen both on and off the field.
 
Since the internship I have gained experience at the DI and DIII level. The goal of my internship was to see how athletic communications work at a larger DI institution. My supervisor at Towson has also helped me make connections with various people across the country in the profession. The people I met over the summer have been a huge help in planning my future in the profession. They helped me decide to go to graduate school to receive a masters while also having a graduate assistantship in sport information. This will further my education and help me gain more experience in the profession before I go out into the real world and have a job in sport information. They have also been key in guiding me along the process of applying for graduate assistantship positions.
 
Dave Walters has been a key part of launching my athletics communications career.  He encouraged me to apply for the grant and to contact Rob Knox at Towson. We have a strong relationship and he has helped me on the field, in the office, in my life, and in my career.  He has become a large part of my life and I enjoy working with him every opportunity I get. 
If you want an internship but don't see any postings for a position, do not be afraid to reach out to people! Rob was very helpful and willing to create an internship that would benefit me. Ask your mentors if they know anyone because it is all about who you know and who they might know. My connections this summer increased immensely by just simply reaching out to people in the sport information profession. I am beyond thankful I was able to have this amazing experience and I cannot wait to see what my future holds in sport information!
 
---