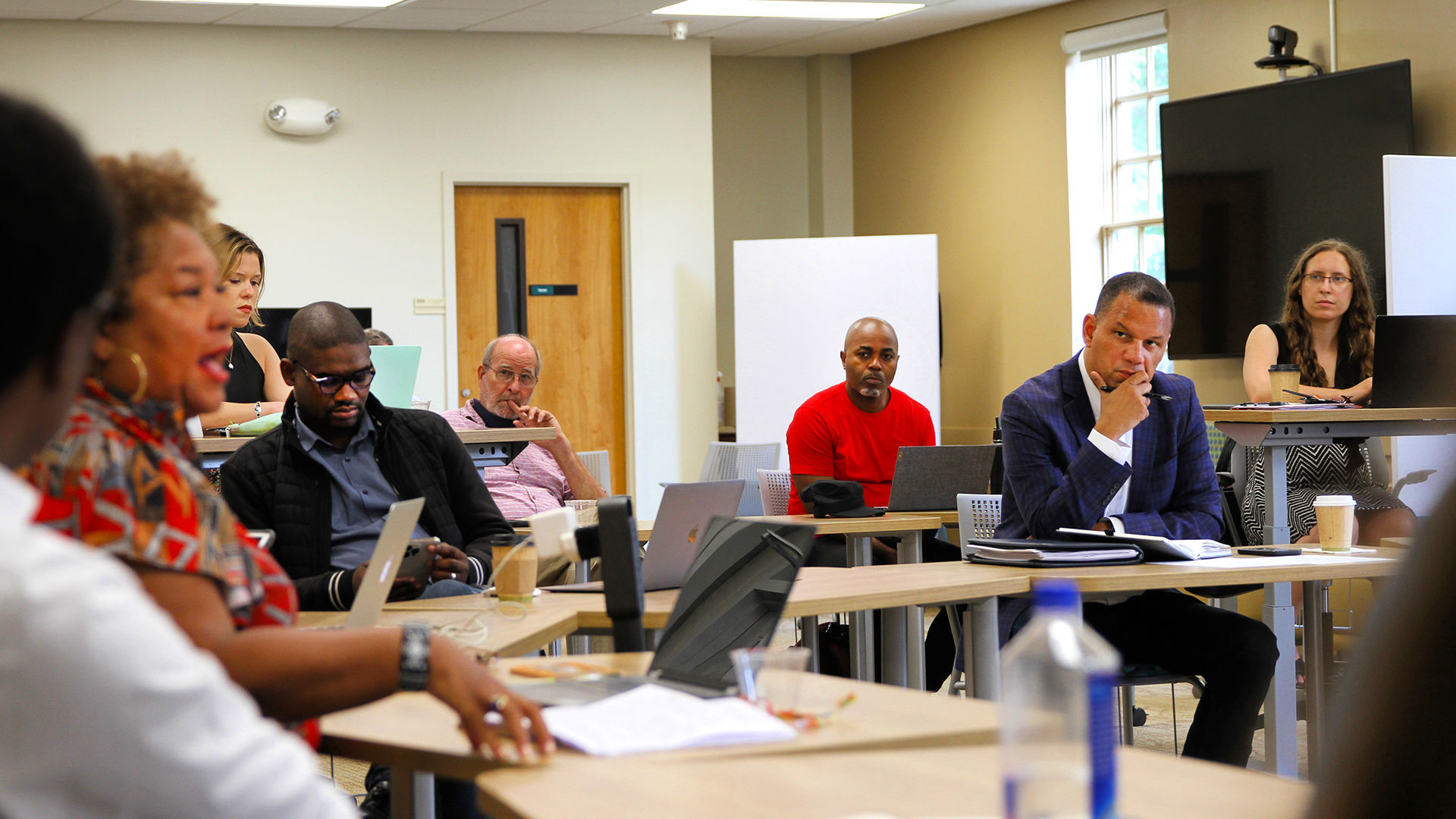 "It's exciting to see the reaction people have had and how far we've come in such a short time with this. I think that speaks to a need for Guilford Dialogues – not just this week but in years moving forward."
Officially, the inaugural Guilford Dialogues – a three-day event featuring 185 participants including 55 local, national, and international speakers, begins Wednesday, but the idea was hatched last summer.
Kyle Farmbry was still interviewing to be Guilford's 10th president when the wheels were turning. On a visit to campus late last summer, he carved out time between in-person interviews and Zoom calls to stroll the College's leafy grounds and tour its understated red-bricked buildings.
"I remember thinking how it was such a beautiful campus and how it would make a great location for convening," Kyle says. It wasn't until after he accepted the offer to be Guilford's next president that he started to play around with the idea a little more. What would an international conference tackling social issues of the day look like on a small, liberal arts campus?
"The initial idea was to keep it small – maybe 100 to 150 people maximum. But I was also comfortable if we ended up having 50," he says.
He's excited about the strong response of Guilford Dialogues registrants, who will spend the next three days addressing the issue of economic inclusion and possible solutions.
"It's exciting to see the reaction people have had and how far we've come in such a short time with this," Kyle says. "I think that speaks to a need for Guilford Dialogues – not just this week but in years moving forward."
Tapping Into Resources to Create the Dialogues
Kyle assigned Amanda Szabo-Huff '08, the coordinator of ethical leadership at Guilford, to help him with his vision. They tapped into the resources around the city as well as Kyle's many years building connections in previous jobs at Rutgers University-Newark and other universities as well as his academic connections in South Africa.
Phone calls were made, emails were sent out. In every speaking engagement, Kyle made it a point to pitch a conference that didn't even have a date yet, much less a name. 
"I talked about it with anyone who would listen to get people interested in the idea of the Dialogues. Conferences, meetings, and coffee with friends I hadn't seen in a while, family gatherings. Any place that anyone would listen to me talk about Guilford, I would talk about the Dialogues."
Momentum slowly began to build until, Kyle says, "it quickly snowballed."
"Just in the past two weeks we had speakers calling asking to be a part of things," he said. "It's really been something to witness."
Originally, the Dialogues were shaping up as an event crammed with several social, educational, health, and economic issues packed into three days before someone suggested diving deep into a single issue.
Kyle settled on economic inclusion with future Dialogues focusing on other issues. "I think it's more meaningful to take a big idea and get a lot of different perspectives," he says.
What Happens Next Is Most Important
The most important part of the Guilford Dialogues is not what happens over the next three days at Guilford. The most important part, Kyle says, is what attendees take back to their countries and communities.
That was already evident in Tuesday's pre-forum event at Hege Academic Commons where attendees met in person and on Zoom — some from as far away as South Africa — to get to know one another. Attendees were networking and relationships were slowly being forged for future projects.
Martina Jordaan, who heads community-engagement research and postgraduate studies at the University of Pretoria's Mamelodi campus in South Africa, came away from the pre-forum event with two partnerships for future projects geared toward community service or e-learning.
"The networking that's going to go on here is absolutely key in determining what we do in the future with economic inclusion," Martina says. "We haven't even gotten involved in talking about the issue and I'm already thinking the relationships made have made this week a success."
Kyle says those relationships will be important when the Dialogues wrap up Friday and attendees and speakers head home, strategies in hand.
"People right now are buzzing around with different ideas," he says. "I want people to keep an ear out for the different ideas that people are going to come up with over the next few days and see what we can put into action out of the different conversations."
The Guilford Dialogues get going in earnest with a full day of presentations and discussion on Wednesday, capped by an evening discussion on economic inclusion with Pulitzer Prize-winning columnist Eugene Robinson at Dana Auditorium. The morning and afternoon sessions are closed but Eugene's 7 p.m. talk is free and open to the public. 
For more information, visit the Guilford Dialogues webpage.
---