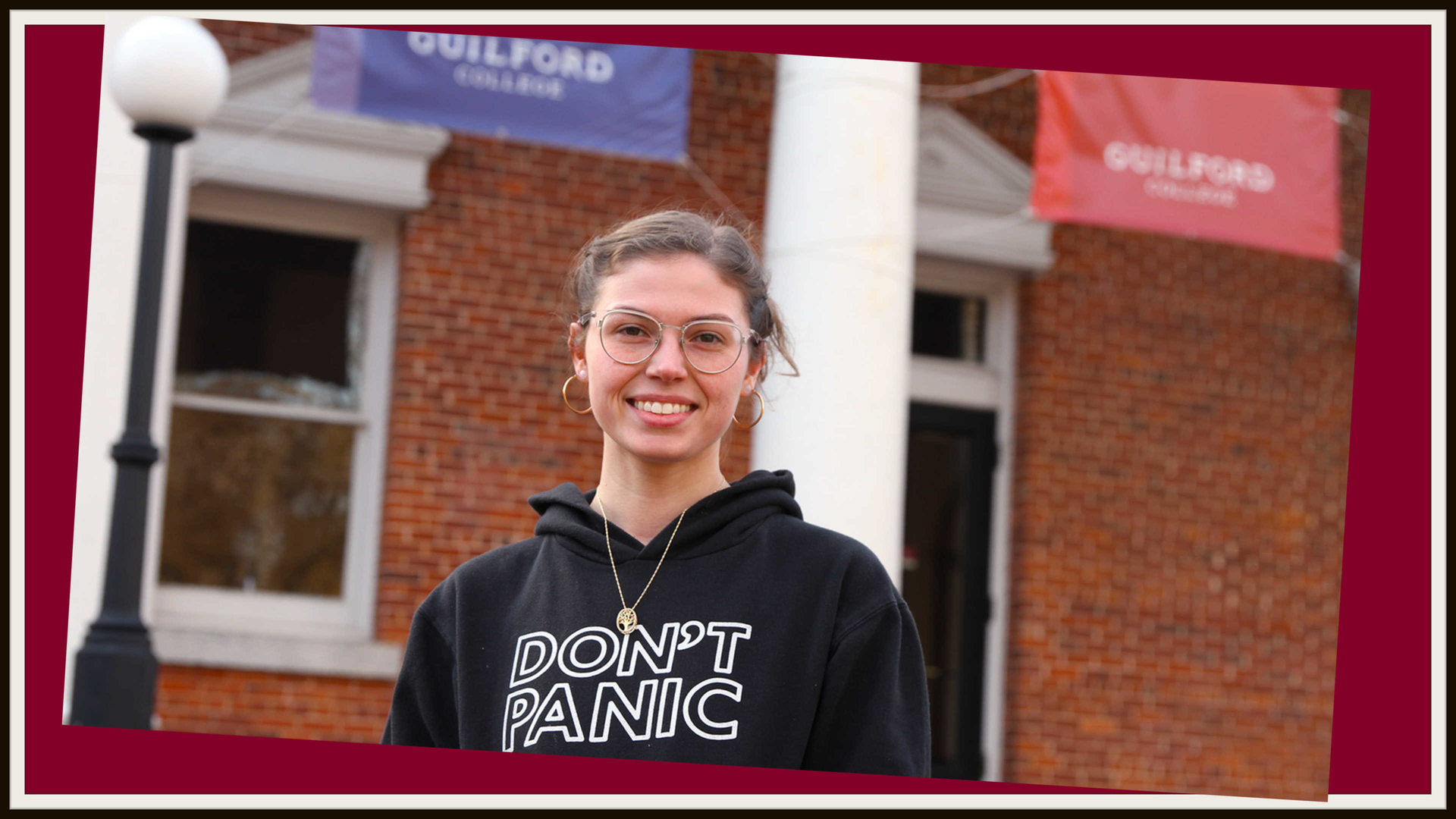 "What I will take with me when graduating is so much more than an education, it is a way of life. Guilford has taught me how to be mindful, respectful, and a well-grounded person. Guilford creates people who can take this mentality and run far and wide."
Written by Natalie Whitmeyer '20
Originally from Eden, N.C., and now living in Reidsville, Breanna was at first drawn to Guilford's accelerated pathway to a law degree, a partnership with Elon University School of Law. But, as they tend to do, things changed.
"As the time got closer to enroll in the LSAT I was not prepared," she explains. "And I had the Criminal Justice graduate program in the back of my mind."
Law school is still on the table for Breanna, just a little further down the road. In the meantime, she's taking part in Guilford's accelerated Master of Criminal Justice as an undergraduate. Breanna's background in Criminal Justice will prepare her for a future career in law by giving her the valuable insights as to what goes on in a law firm. 
Sparking Interests
"I chose Guilford for its small class sizes, but I've grown to love the discussion-based and writing-intensive part of my education," Breanna says. "Working out our thoughts in a group is such a helpful way to learn, especially since this is my preferred learning style."
She credits Guilford's wide variety of courses and supportive faculty for helping her pin down her interests. "I took an ethics class, which was most important in my opinion, because it helped me figure out what my interests are, my passions, and how I can use them to help others," she explains.
Breanna also credits Michael Costolo '11, a Visiting Assistant Professor of Justice and Policy Studies, for her love of the legal field. "Michael teaches in a way that makes me think deeper than ever," she notes. "The connection I made with [him] furthered not only my education but my general knowledge of so many different things in life."
Trailblazing Through Life
Breanna has maintained a part-time job throughout her entire educational career. She notes that her first year was the hardest because she was simply trying to find a balance between all of her responsibilities. "I have a big calendar and at the beginning of the week I write down all my assignments," she says. "Learning your limits and finding a balance is really important."
Now working part time at a local law firm, Breanna has more time to focus on her studies as her classes are only a couple of nights a week.
"I'm using it as a learning experience," she says. "I plan to go into law, and this job is a growing opportunity as well as a learning opportunity. I get to see how attorneys balance their work and home life. And I have the opportunity to accompany them in court, which gives me hands-on learning."
Breanna shares that her Guilford education has given her more than she ever imagined. 
"What I will take with me when graduating is so much more than an education, it is a way of life," she shares. "Guilford has taught me how to be mindful, respectful, and a well-grounded person. Guilford creates people who can take this mentality and run far and wide."
Are you interested in an undergraduate program that helps you achieve your law degree faster? Or are you planning a criminal justice career? Schedule your personalized visit to Guilford to learn more about Guilford's Elon Law Program and the Master of Criminal Justice. Contact the Office of Admission at 336.316.2100 or admission@guilford.edu to learn more.
---