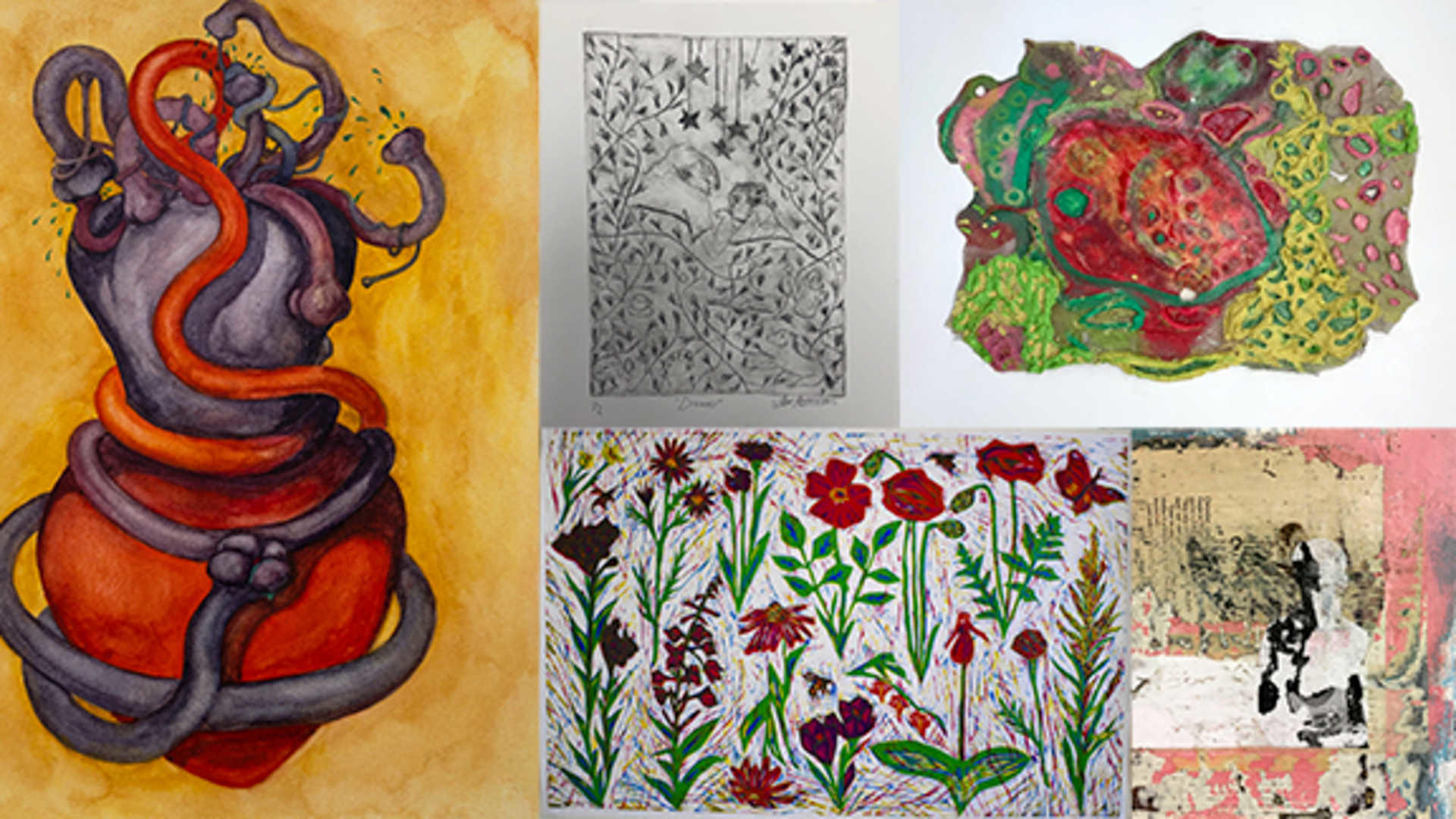 Guilford College art thesis students Annie Lattimore '20, Gloria Singleton-Kahn '20, Sophie McDowell '20 and incoming thesis student Willow Stevenson '21 recently had their art work accepted into the ArtSpace Raleigh online exhibition titled "FRESH". Assistant Professor of Art Antoine Williams also has art featured in the exhibit.
"FRESH" is a collection of new works by North Carolina artists with a focus on demystifying the process of creating an exhibition. In addition to giving local artists the opportunity to share their work, FRESH is also a fundraising exhibition for the Artspace Inspiration Fund to support exhibitions and art education programs. The exhibit runs online through June 30, with all of the pieces available for purchase.
"Having my work accepted into 'FRESH' had such a positive impact," says Annie Lattimore '20. "It has helped me have confidence that other individuals other than my art peers find my work interesting."
Annie's artwork presents the beauty in danger, using an abstract view of cancer cells as they would be seen under a microscope. Gloria's piece is part of her "Trust Your Gut" collection featuring images inspired by her battle with Crohn's disease, and Sophie entered one of her woodblock prints from her collection, "In Between Land." Willow entered a piece called Dreams, a drypoint etching carved into plexiglass with a screwdriver and printed using a metal spoon.
Learn more about the artists and their collections.
"All of the professors in the Guilford Art Department have been extremely supportive in regards to my creativity and art making process," Willow says. "They challenge me to do my best work and have given me the confidence to call myself an artist. The art department community at Guilford is a very inspiring place to be and is made so by the teachers."
All of the students echo Willow's sentiments, especially Sophie. "I cannot stress enough how important my art professors have been in my development as an artist. Specifically, Visiting Assistant Professor for Art Katy Collier is a tremendous inspiration for me. I feel so lucky to have been able to learn from her over the past four years...She is such a vital part of the Guilford College Art Department," she says.
The Honors Art Thesis is a rigorous program of independent work, group critiques, and a required professional practices course must apply during their junior year and maintain at least a 3.25 GPA.
 
---