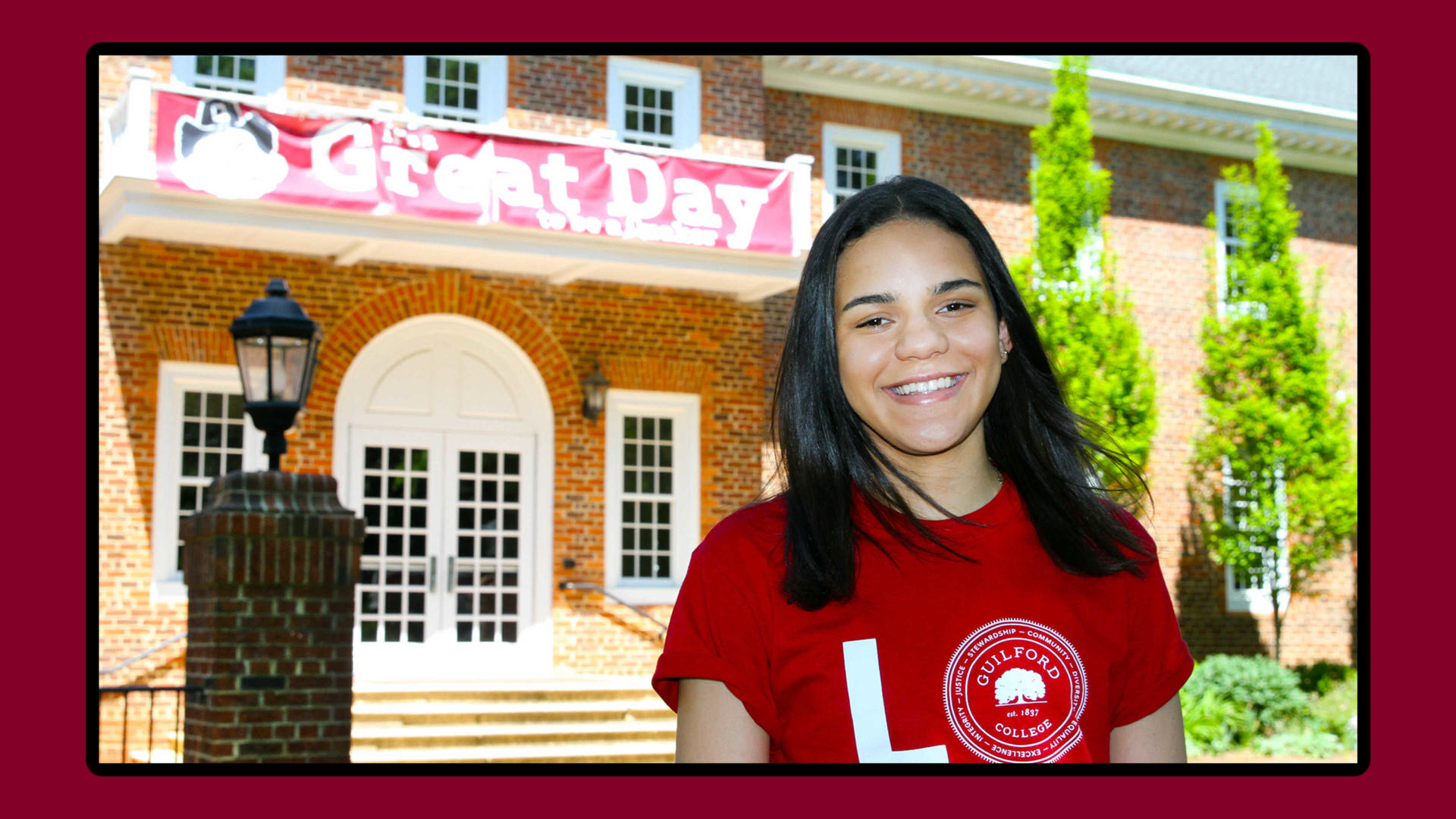 A native of the Dominican Republic, Marisabel Guzman Cruz '23 had her sights set on studying English at a young age. 
"My whole graduating class in high school in the Dominican Republic was 17 people, and I didn't want to be just a number," Marisabel says as she explains why she chose to attend Guilford College.
"When I was little, about 4 years old, I told my parents I wanted to learn English," she recalls. "Then I told them I wanted to go to college in the U.S., so they made an effort for me to learn English when I was younger."
Marisabel's dreams started to come true as she excelled in school. When it came time to apply to college, she concentrated on schools in North Carolina. The region was familiar because her sister was studying at Duke University in Durham. Having family nearby was reassuring since she would be far from her parents in the Dominican Republic. After Marisabel received many college acceptances, she chose Guilford for its small class sizes. 
[Learn more about applying to Guilford College as an international student.]
"My whole graduating class in high school in the Dominican Republic was 17 people, and I didn't want to be just a number," she explains.
Getting Acclimated
A double major in Psychology and Business, Marisabel plans to add Analytics as a third major and Economics as her minor. She's also a member of the College's Honors Program, a Principled Problem Solving scholar, and part of the College's Multicultural Leadership Scholars Program. 
[Read more about Guilford's new major in Analytics.]
With such a full academic and extracurricular schedule, support from her professors has played an integral role in Marisabel's success thus far. She notes that Honors Program Director Heather Hayton and Psychology Professor Lawrence Eisenberg have been of particular help to her. 
"Professor Eisenberg makes you participate, which I thought wouldn't be good because I was really nervous. When I first moved, my accent was stronger so I didn't want to talk in class," she says. "His way of teaching is actually what made me more comfortable in general because he would be like, 'Okay, Marisabel, what do you think?' randomly in the middle of the class, so you better be paying attention!"
Active on Campus
As a Peer Mentor in Guided Discovery, Guilford's personalized advising department, Marisabel uses her experience as an international student to help others. Her words of wisdom: "Put yourself out there. Join a club or program and get out there."
Marisabel has certainly followed her own advice by joining the rugby and cheer teams as well as the Active Minds and ROAR (Reaching Out for Animal Rights) clubs.
This spring, while at home in the Dominican Republic due to COVID-19, Marisabel interned virtually as a medical interpreter. This summer, she served as a TA and Peer Mentor for Level Up, Guilford's summer bridge program. And this fall she'll use her skills and talents in her roles as a residential adviser and orientation leader. 
Although it may be too soon to determine her career plans, whatever Marisabel's future holds, it's sure to be bright and full of promise.
Visit Guilford College to learn more about available scholarships, academic programs, and extracurricular activities. 
---