Ampofo Darko '04 credits Guilford's solid liberal arts curriculum for his success in academia.
"I still remember the experiments I did as an undergrad. It's what gave me some experience and was the reason I wanted to pursue graduate education."
I was able to integrate a lot of things into education, and I think I came out the better for it. A liberal arts curriculum is the way to go because it's about experience," says Ampofo, an accomplished Chemistry professor at the University of Tennessee, Knoxville. 
Experience: the Guilford Difference
At Guilford, Ampofo was a Chemistry major with minors in Environmental Studies and Mathematical Physics. He then earned a master's degree and a doctorate at the University of Florida.
"I was able to get my hands into a lot of things at Guilford. Perhaps I didn't get as deep of a knowledge in chemistry as someone who went to a more traditional system at a big school, but I think having that breadth of experience made me a better scientific writer. I know how to structure a good story out of my articles," he explains. "Whereas, I see in some of my students who don't have that background, it's more of a struggle. I'm really grateful for having that experience."
[It's a family affair! Read about Ampofo's wife, Megan Barolet-Fogarty '04, who he met at Guilford.]
Through the years, Ampofo and his wife, Guilford alum Megan Barolet-Fogarty '04, have stayed in touch with their Guilford roots. Since the College last checked in with him, Ampofo's life has become even busier. He has published a number of academic papers and is now collaborating with the defense wing of the U.S. Army. He is eligible for tenure in 2022.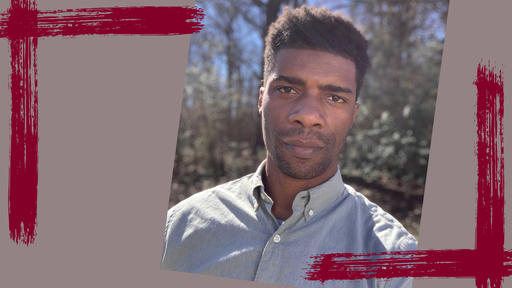 Collaboration: the Guilford Way
For the second time, Ampofo is collaborating with Guilford professors and students in the College's Integrated Research Lab (IRL). 
Recently, Guilford College Chemistry Professor Anne Glenn asked Ampofo for ideas for the lab. He mentioned one area that his team hadn't had time to explore, and the project grew from there. 
"They're helping me with my research project to build a rhodium catalyst. Rhodium is a rare earth metal found in catalytic converters. Together, we're figuring out how best to surround the metal center so that it can do what we want it to do," he explains "This exposes students as undergraduates to something that is actually a research project. And then for those who want to continue on to graduate school, it gives them that kind of experience. It's great."
The IRL was also around when Ampofo was attending Guilford. "I still remember the experiments I did as an undergrad," he reminisces. "It's what gave me some experience and was the reason I wanted to pursue graduate education." 
For students who want to pursue a doctorate in chemistry and teach, Ampofo advises striving to keep a work-life balance.
"You have to really want to do it, and don't let anyone tell you otherwise," he says. "It's difficult to get here, and then it's difficult to stay. The ones who do well are those who love what they're doing. If you want to be a university professor you have to find some research area that speaks to you. And then it won't seem like work."
Are you passionate about science, specifically Chemistry? Schedule your personalized visit to Guilford to learn more about Guilford's excellent science programs and to meet students who share your interests.
---