Follow Your Curiosity. Deconstruct Nature. Construct Your Career.
Discover the inner workings of nature as a Physics major at Guilford College. Let your curiosity fuel your course of study — and your outlook on creation. You'll celebrate those aha! moments when a piece of the puzzle fits into your understanding, making you see the world in a whole new light.
Physics majors land successful and satisfying careers as engineers through their knowledge of technology, computer programming, and instrumentation. Other options include teaching high school physics, where instructors are in short supply, or continuing studies in astrophysics and other fields of science.
Recent graduates have attended graduate school at a variety of institutions for astronomy, physics, brain sciences, computer science, educational leadership, engineering, mathematics, medical physics, security studies, and theology. Some Physics graduates are attending veterinary school, running software companies, teaching high school math and physics, and serving in Americorps across the U.S. Others are doing scientific research in academia and industry.
Why study Physics at Guilford? It's the study of how things work. It leads you to ask questions about the world around you. It encourages inventive thinking, making it a great choice for careers in medicine, engineering, finance, computer science, law, and journalism.
College Catalog
For more information about courses for the Physics Department, visit the online, searchable College Catalog. In addition to the Undergraduate Catalog, information includes academic department and major information as well as academic regulations and resources; admission standards and requirements; and tuition, fees and financial aid information.
Hands-on Learning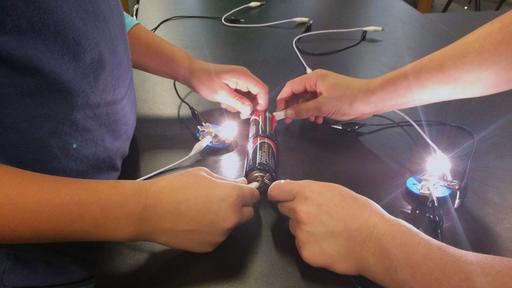 Guilford Physics students have honed their skills and opened doors to graduate study and careers during internships at the following organizations:
Oak Ridge National Laboratory
American Association for the Advancement of Science in Washington, D.C.
PROMPT: Panchromatic Robotic Optical Monitoring and Polarimetry Telescopes at UNC Chapel Hill
Patriot Biodiesel
Trufina Corp.
College of Wooster
N.C. State University
University of Idaho
Pisgah Astronomical Research Institute
Institute for Systems Research at the University of Maryland
N.C. A&T University
Cornell University
University of Virginia
Max Planck Institute for Space Physics in Germany
Various study abroad locations around the world
Stanford University