My name is Lideah Shivley '22, and I'm a Marketing and Social Media Management intern for Guilford's Marketing Department.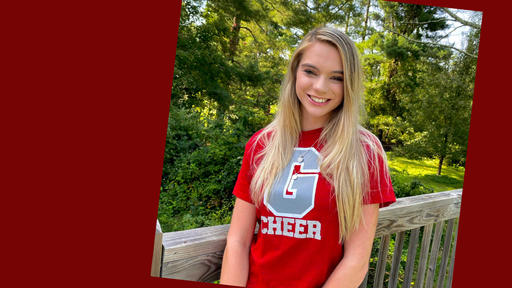 So I was a junior and still undecided on my major.
I had so many ideas of things I loved to do but didn't know what I wanted to focus on for my career. I was hoping an internship would clear my mind.
Guilford gave me the incredible opportunity to start and run the College Cheer Team. While running their social media pages it finally hit me. I loved creating and producing written content, as well as making digital art using photos, elements, and logos. The ability to start with a blank screen and select certain colors and components to make the design unique fascinated me. That's when I knew I wanted to look into marketing and social media communications. 
[Read about more student experiences on Experience Matters.]
I always wondered how my high school friends just knew what they wanted to do for the rest of their lives. It worried me about college and made me feel like I didn't have a passion like everyone else. Once I started my internship with Guilford's Marketing Department, however, I finally felt the same way. The statement, "you just know when you know," finally resonated with me. 
During my internship, I've been assigned to create social media templates for such interactive Instagram posts as Guilford College Bingo, fill-in-the-blanks, "Never Have I Ever" Guilford College edition, and polls and quizzes to promote student body engagement and interaction. Additionally, I was asked to write posts for such events as Financial Aid Night. 
I found I really liked reaching out to students and recruiting them for videos and content. I also enjoyed building relationships with other College departments, including OSLE, CAB, and Athletics by working with them on content. 
[To be featured on Experience Matters, submit your internship blog post to marketing@guilford.edu.]
I now have marketing skills for my resume, such as how to use the appropriate language for posting on professional social media. I also understand how to approach different audiences on each platform. And I know my work has a purpose, to support and promote something, and that's so fulfilling.
I am so grateful for the hands-on experience of my internship. In addition to experience, I've obtained communication skills, management abilities, and marketing strategies and techniques. My internship helped me find my passion for marketing! And it led me to feel confident about my English and Media Studies major and Communications minor. I'll be forever grateful to Guilford for helping me develop and frame my future. 
This semester, I'm the social media manager for WQFS and Guilford's Cheer Team pages, and I'm helping with the Guilfordian's social media. I have plans to build a career in social media marketing and human relations and then transition to law school. I've never felt so confident in myself! I know I'll be going into the workforce with creditable job experience and expertise in my field.
Little did I know that the answer to, "What is my purpose", was in the little things I was already doing and enjoying every day.
Are you interested in a career in marketing or communications? Schedule your personalized visit to Guilford's campus to meet your Admission Counselor and explore the College's many major offerings.
---