Know the Body, Know Health
Exercise and Sport Studies majors follow two distinct tracks that offer the thorough preparation they need for specialized graduate study or careers in a variety of exercise and sport-related professions.
The Sports Medicine track provides students with a strong science foundation focusing on human anatomy and physiology. Students explore the prevention, treatment and rehabilitation of athletes and other active populations. This course of study appeals to students who are interested in pursuing careers or graduate study in athletic training, physical therapy, occupational therapy or other rehabilitative and fitness career options.
The Health and Fitness track focuses on understanding the maintenance and improvement of physical health and fitness, while preparing students for a wide variety of careers in exercise, sport and health science. This track is for students interested in pursuing careers or graduate study in physical and occupation therapies, athletic training, personal training and health and wellness.
Guilford's bachelor of science in Exercise and Sport Sciences opens up many varied career opportunities, from coach and personal trainer to community health advocate and corporate wellness director. Our graduates have excelled in physician assistant programs, and they have built careers as directors of various physical therapy programs, exercise programming at the YMCA and the Department of Health and Exercise Science at Appalachian State University.
College Catalog
For more information about courses for the Sport Studies Department, visit the online, searchable College Catalog. In addition to the Undergraduate Catalog, information includes academic department and major information as well as academic regulations and resources; admission standards and requirements; and tuition, fees and financial aid information.
Hands-on Learning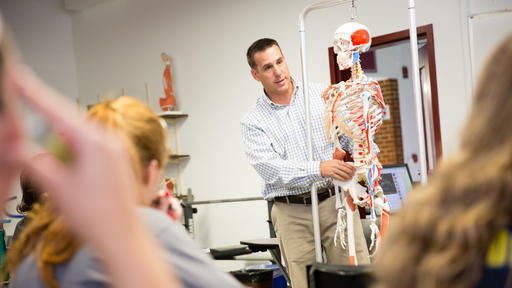 Exercise and Sport Science majors have built their professional network and opened doors to future careers during internships at the following:
Alex W. Spears YMCA
Velocity Sports Performance
Strength Program, Duke University Football
Triad Yoga Institute
Murphy Wainer Orthopedic Specialists