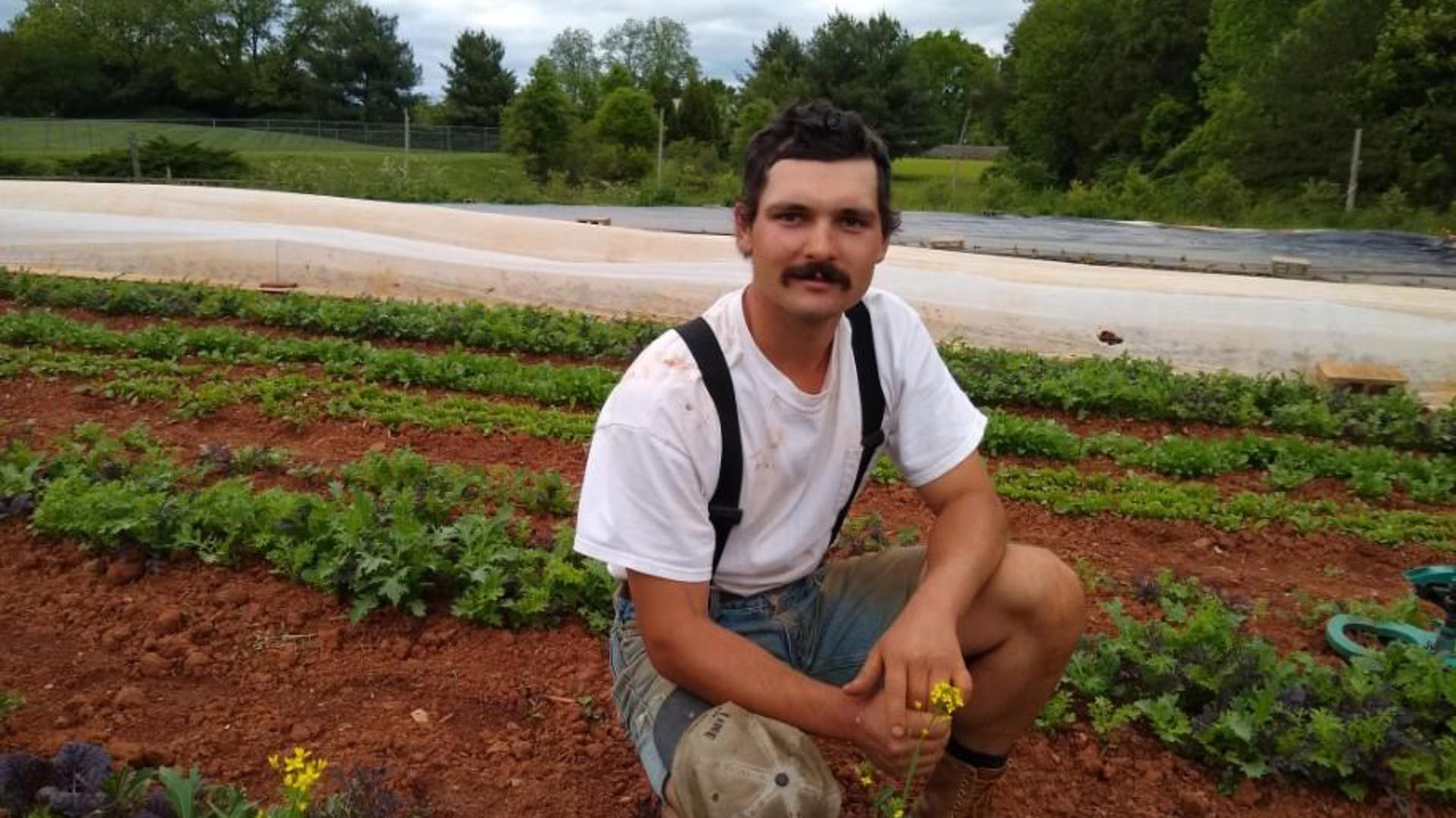 With a passion for sustainability, Guilford was the perfect place for Sustainable Food Systems major Will Bryer '19 to continue his education and start his career.
After transferring to Guilford College at the start of his sophomore year, Will quickly found his perfect role as the Sustainability Apprentice through a work-study position. Through this apprenticeship and his Sustainable Food Systems studies, Will learned a great deal about  sustainable, organic food production and increased his understanding of its importance. 
[Watch a video about the Sustainable Food Systems major.]
"The lessons of integrity, stewardship, and community, reminded to us by Guilford's Core Values, played a large role in my appreciation for the value and necessity of cultivating a sustainable food system — knowing that the work we do on the farm is something of which we can be proud, that not only improves the land but provides sustenance for our campus and community, is truly special," Will says. 
He also strengthened his strong foundation in the Quaker principles as a Quaker Leadership Scholar, a particularly valuable experience for a transfer student that allowed him to meet and interact with other students who shared Quaker values, some of whom continue to be great friends to this day. 
After graduating from Guilford in spring 2019, Will took on a full-time role at the farm as the Sustainable Food Systems Post Graduate Fellow. Despite learning a great deal during his three years as a work-study student, Will understood the distinct opportunity afforded by taking on managerial responsibilities at a place where he already had solid roots. 
"I have greatly appreciated the people with whom I have worked and knew that I could still learn much from them, so applying for the Post Graduate Fellow was a no-brainer," he says.  Working with Nick Mangili, the farm's manager, Will has continued his studies in sustainable food production. From planning the growing calendar and seed orders, to leading student and volunteer workers, he's learning first-hand what it takes to successfully manage and operate a small scale, organic farm.
[Watch a video about the College Farm.]
In addition to his sustainability studies and work on the farm, Will also minored in Sculpture, giving him a unique perspective of the relationship between agriculture and art. In these courses he created useful tools, such as a broadfork used for garden bed preparation and a bicycle-powered salad spinner used for the processing of harvested greens.
"Not only was I able to make various tools for physical farm applications, but I learned how to study and view three-dimensional objects and observe how each of the parts or sections related to the others and to the object as a whole," Will says. This gave him a unique perspective of how each of the smaller functions on a farm relate to the others and to the farm as a whole and helped him see how these functions can be viewed as a piece of art or as the practice of farming an art form.
Although the Sustainable Food Systems Post Graduate Fellowship is typically intended to last for just one year after graduation, considering the difficulties presented by the COVID-19 pandemic and the absence of students on campus, Will plans to continue in this role for the next year. He looks forward to a second year in this position because it will provide another year for him to continue his education and expand his outlook on the "big picture" of operating a year-round vegetable production farm.
"It might sound rather cliché, but my experience at Guilford has shaped my life by teaching me what it means to simply be a good person," Will says. "Having an understanding of where someone else is coming from and to listen to them, and for them to listen to what I have to say, was incredibly valuable. And I attribute this to the small and accessible class sizes at Guilford, but also to the culture at Guilford where everyone's ideas are valued and have a place."
---