Visualize Your Success in Art
In our image-heavy world, visual intelligence and literacy are increasingly important. Guilford's Art major supports these skills through studio time and study.
Learn philosophical and historical perspectives and develop your own ideas in small classes with people who love art as much as you do. Studio courses in Ceramics, Drawing, Painting, Printmaking, Photography, and Sculpture emphasize hands-on experience where you'll develop confidence and skills while working with faculty who are active artists and scholars themselves.
Immerse yourself in the art you're most passionate about by studying abroad, interning at art galleries, and completing a senior thesis. The senior thesis is an honors opportunity for Art majors to dive deep into their art practice. If accepted, you'll have the freedom to craft your own curriculum, decide the direction of your work and have your own personal studio for the entire year. Enjoy consistent support from all Art faculty, including group critiques with the other senior thesis students, and prepare to present your work in the senior thesis exhibition, write a resume and apply for exhibitions and graduate school.
The bachelor of arts and minor in Art give students a well-rounded art education for success in a variety of pursuits.
College Catalog
For more information about courses for the Art Department, visit the online, searchable College Catalog. In addition to the Undergraduate Catalog, information includes academic department and major information as well as academic regulations and resources; admission standards and requirements; and tuition, fees and financial aid information.
Hands-on Learning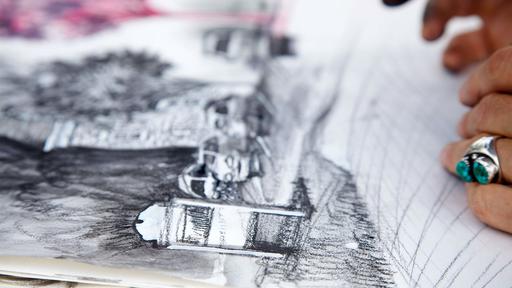 Guilford Art students have completed internships that in many cases opened doors to careers at the following:
Philadelphia Museum of Art
Clothing design, Philadelphia
Three Dogs Pottery
Center for Visual Artists
Reynolda House Museum of American Art
Southeastern Center for Contemporary Art
Museum of Modern Art
SITE Santa Fe