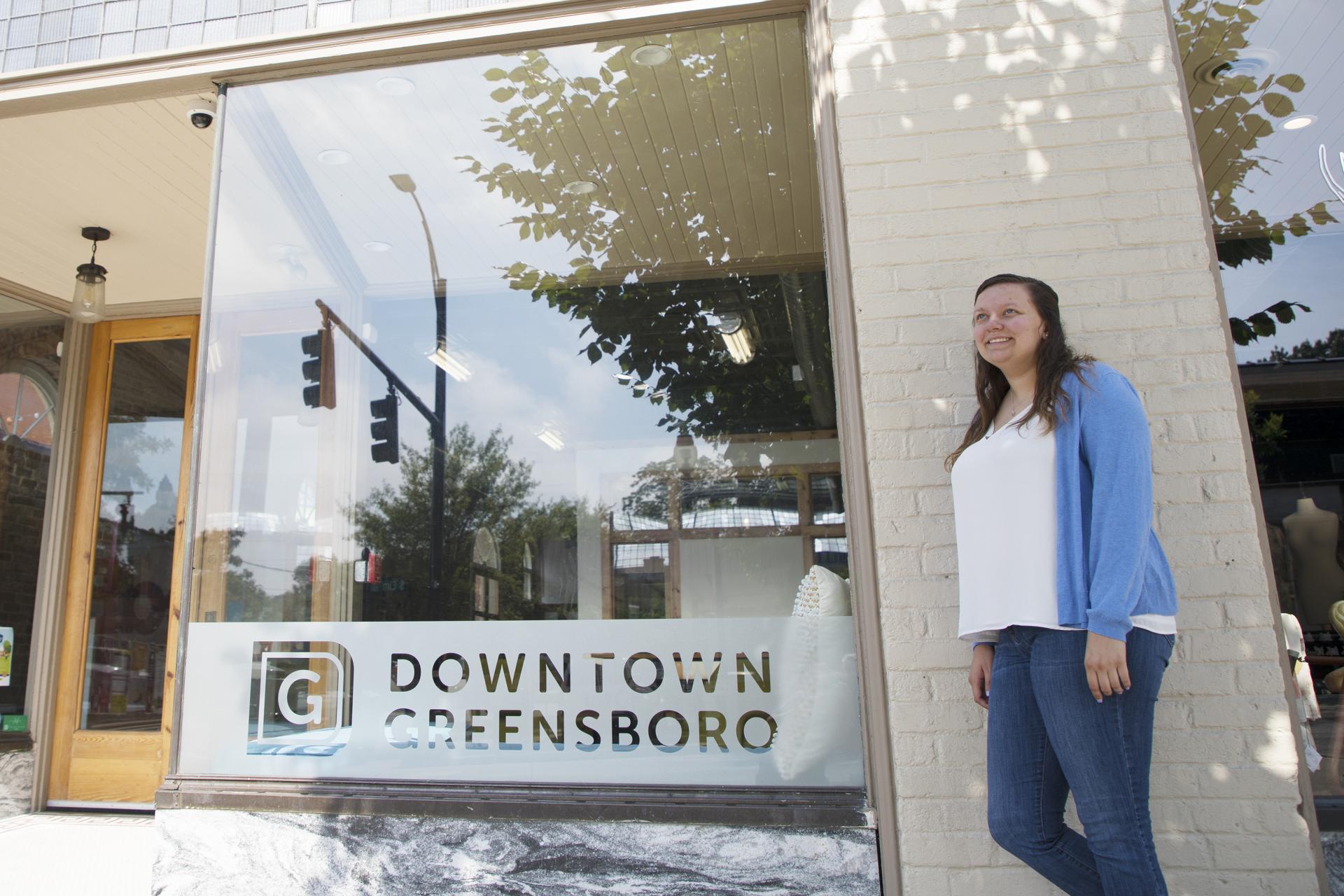 Elisabeth Marshall '18 is getting an internship and a show as the Fun Fourth Festival Planning Intern with the Opportunity Greensboro Fellows Program, which centers on better preparing talented college students by offering them leadership development opportunities.
The Fun Fourth Festival is a two-day community festival in downtown Greensboro. Elisabeth, reporting to Downtown Greensboro Inc. Events and Social Media Manager Julia Strandberg, is responsible for everything from hole-punching parking signs to meeting with local business owners to go over the logistics of street closures during the festival. 
"I'm learning a lot of new skills and how to apply them," Elisabeth says. "Professional communication skills and opportunities for networking and how to be successful at it, for example. I'm also learning that even though my role seems minor, it's still important." 
Elisabeth landed the internship after a rigorous application process. More than 500 people applied for the positions with Opportunity Fellows, which is supported by 43 local businesses. The businesses win because they're connected with bright, young talent. And the students win because they receive paid experience and marketable skills. 
The Opportunity Greensboro Fellows Program has been extremely eye opening and one of the most rewarding programs I have ever been apart of. It's comforting to know that my community is investing in my professional development. I have learned so many things and have met and networked with so many people, I will be taking these skills with me everywhere I go.
A Sport Management major with minors in Business and Communications, Elisabeth isn't sure which direction she'll go after graduation. She does know that her experience with Opportunity Greensboro is preparing her for whatever career she chooses.
"I'm gaining a lot of professional experience," she says. "They offer many professional development workshops and networking events, and they even paid for all of us to get our Leonard Kaplan Leadership Institute CCL Leadership Essentials Program Certification from the Center for Creative Leadership."
Elisabeth will spend the summer gaining all she can from some of Greensboro's top professionals, as well as a group of her peers. "I'm trying to absorb everything," she says. "I'm learning and experiencing everything I can and keeping these new experiences in mind as I to pick a professional direction, or at least get closer to figuring it out."
Interested in learning more about internship opportunities and Guilford's approach to academic advising? Schedule a personal visit to meet Guided Discovery staff and take a tour of campus!
---