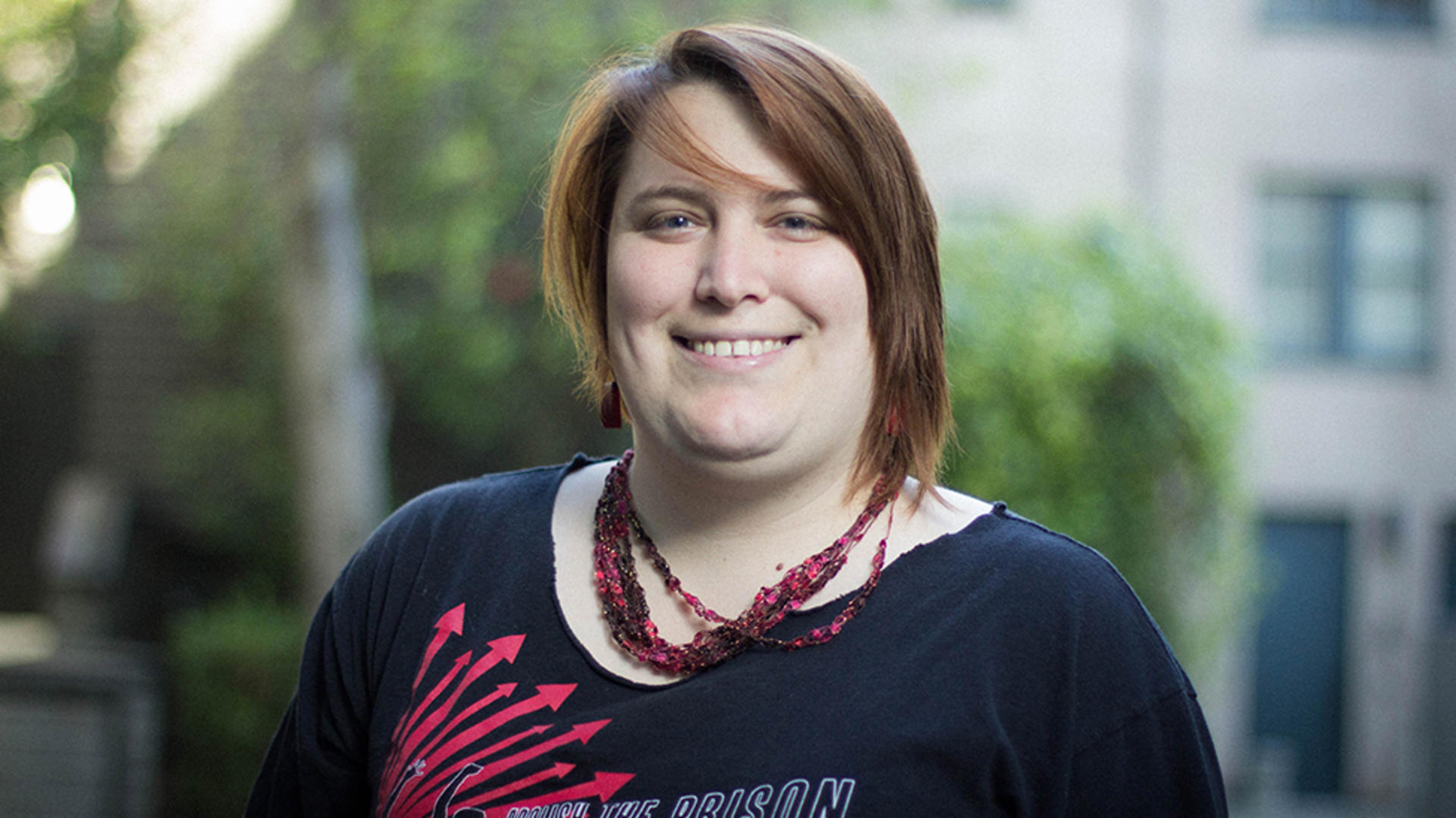 Jess St. Louis '13 is making voices heard and fighting oppression as the director of communications, evaluation and research at the Human Rights Network in Atlanta.
Jess St. Louis '13 is the director of communications, research and evaluation at the US Human Rights Network in Atlanta. In her role, she's responsible for external communications for the website and social media accounts, communications strategy, oversight of fundraising efforts, and a plethora of other design and communication responsibilities. 
Born and raised in Atlanta, Jess returned home after college and later became involved with the US Human Rights Network. She has a thorough understanding of how she's realizing Guilford's Core Values through her work.  
"When I think about my work, I think about how am I growing a community that is invested in working toward a people-centered human-rights movement. We center our work on the conditions people are facing and the groups of people most directly impacted by human-rights violations. That means that we have to really think about what justice is. How are we — at Guilford and elsewhere — working to fundamentally dismantle systems of oppression?" 
Growing at Guilford
During her time at Guilford, Jess majored in Community and Justice Studies and Women's, Gender, and Sexuality Studies. "Community and Justice Studies gave me an education around anti-oppression, community building, facilitation, restorative justice and participatory research,  which I saw as skills that would help me in my organizing work. A series of powerful professors led me to Women's, Gender, and Sexuality Studies. They taught me an incredible amount of material but did so in a way that facilitated personal growth and transformation."
She also worked at the Greenleaf Student Cooperative as a barista and led on-campus organizing efforts in response to North Carolina's Amendment One. Through her courses and extracurriculars, she developed meaningful relationships with faculty and staff. 
"The Multicultural Education Department staff, especially, were really invested not just in my transformation and integrity of living into and practicing my values, but in my well-being." 
It's those relationships, along with Guilford's unique regional and individual history, that Jess believes makes her Guilford education as so impactful. 
"Guilford gave me an edge because of really amazing and influential teachers who were able to help me gain and synthesize knowledge to advance the work I wanted to do. Guilford also exists in Greensboro — a city with an incredible legacy of movers and shakers working for racial and economic justice and a community of people working to expand on that legacy in the here and now."
Update from Jess, 9/26/2017:
"As I prepare to move back to North Carolina, I am so glad that I returned to Atlanta not long after graduating from Guilford. In addition to being a powerful place to be personally, professionally Atlanta was the right place to be as I grew in my leadership as a communicator within social justice movements. My time at the US Human Rights Network was so powerful, and as I begin to work with other groups around the country — I will always bring with me the lessons and commitment to advance a broad, intersectional and transformative human rights movement."
Inspired by Jess? Schedule a visit to Guilford to learn more about who we are and how we can help you make a difference. Envision yourself in Atlanta someday? Hear from other Real Guilfordians of Atlanta on what they do, how they got there, and why they love living in the city.
---