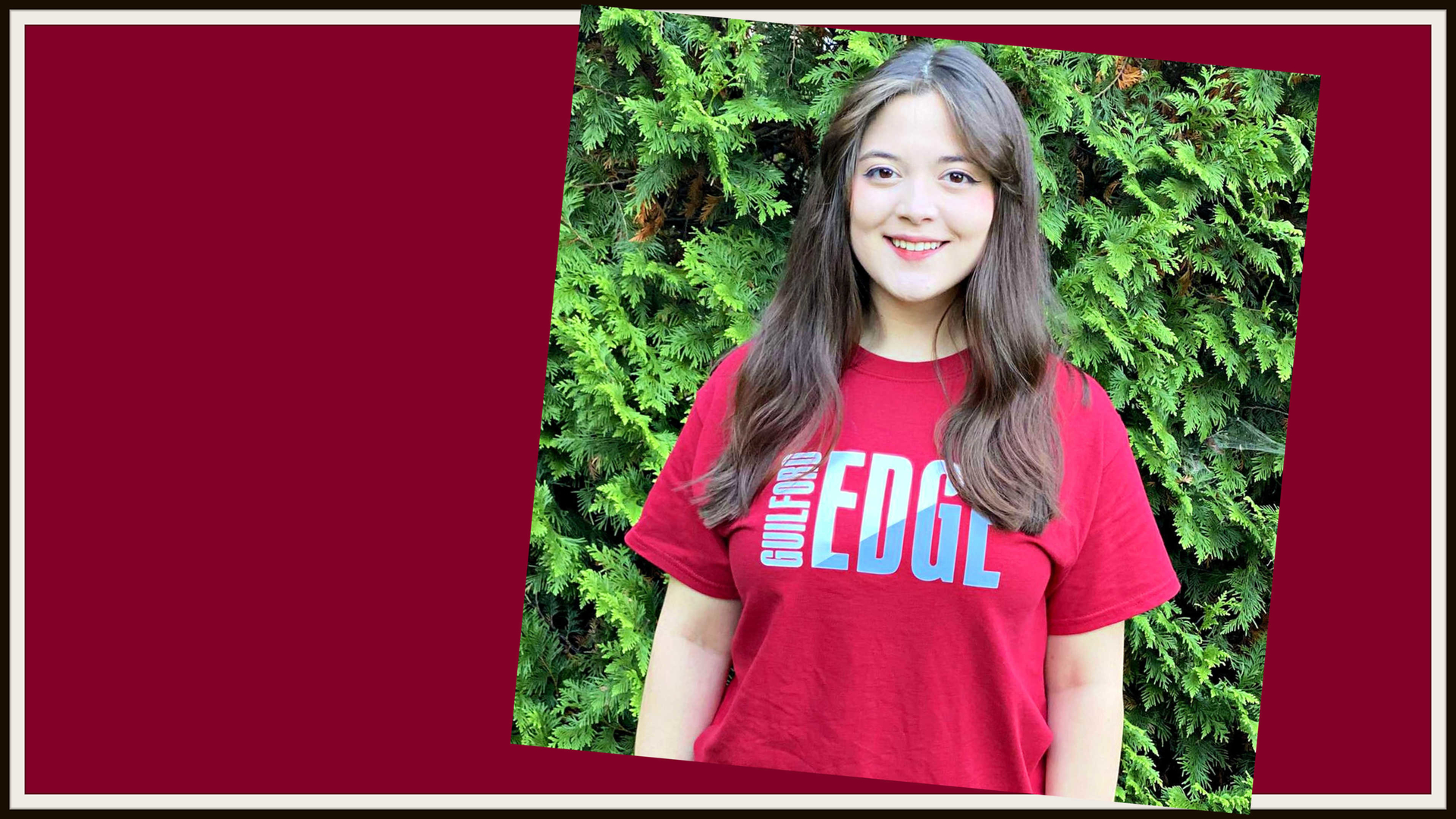 Life has a way of throwing dizzying curve balls at you. Despite her youth, Liz Dizon '22 knows this well. All set to move away from her Stokesdale, N.C., home to attend a major art school, she suddenly needed to stay close by for family reasons. Fortunately, Liz knew Guilford College well through the dual-enrollment program that she was in at New Garden Friends School. While there, she grew to love Quaker values.
"Overall, I have to say that the kind of heartfelt and extensive support that Guilford College's faculty gives to their students is unlike anything I've experienced."
Japanese Immersion at Guilford
Liz has always enjoyed learning about languages. She also grew up interested in Japan's artistic landscape, including fashion, anime, and graphic design, so she gave Guilford's Japanese classes a try. 
"My professor, Hiroko Hirakawa, made one of the hardest languages for English speakers to learn seem so simple and logical. Every lecture was engaging in that it was both light-hearted, fun, and challenging," she says. "I grew addicted to the classes, so I decided to take on the Japanese minor. When the major was approved I immediately took it on, too."
Liz has been trying to travel to Japan since the spring, but the borders have been closed. However, she plans to go after graduation once the country reopens with confidence. "In the meantime, I am virtually studying abroad at Kansai Gaidai University this semester and loving it," she says.
Individual attention from Guilford professors have made a world of difference in Liz's college career. She notes Hiroko's influence as an academic adviser who goes above and beyond for students. Mark Dixon '96, her Experience Design professor, helped Liz discover her passion for XD.
"Overall, I have to say that the kind of heartfelt and extensive support that Guilford College's faculty gives to their students is unlike anything I've experienced," she says.

Designer Dreams
Through her year-long internship acquired through Guilford College, Liz realized that she wants to pursue UX design as a career, blending it with her love of Japanese culture. 
Learn more about internship opportunities at Guilford College.
"Once I feel comfortable at a future job in product/UX design, I'm hoping to go to Japan for study or a long vacation. Someday, I would like to work for one of the large companies in Japan in their UX design sector," she says.
Some of her recent design projects include a logo, T-shirt, and flier for the Soy un Líder college-preparation conference held on Guilford's campus. She also designed logos for the Center for Principled Problem Solving and Excellence in Teaching and the Quaker Leadership Scholars Program.
What advice would she like to pass on to the next generation of language students? 
"Find ways to immerse yourself in the language, whether it be by watching shows in that language without translations, translating song lyrics, or connecting with native speakers through apps like HelloTalk," Liz says. "Despite half of my college career being online, I feel that I've had a full experience of intellectual, professional, and personal growth. I don't think I would be who I am now without the influence of the people at Guilford. The community is what really drives this institution toward excellence, and I am so grateful to be a part of it."
Are you interested in becoming a foreign language major at a North Carolina college? Nearly 100 percent of Guilford's Modern Language Studies majors study abroad. Find out where your passion for international travel can take you during your personalized visit to Guilford College. For more information, contact the Office of Admission at 336.316.2100 or admission@guilford.edu.
---