Kelly L. Taylor '15 arrived at Guilford in a not-so-typical way.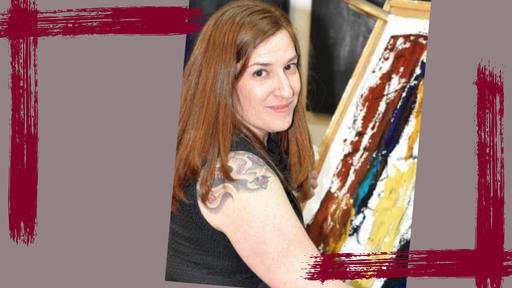 In 1999, she moved to Greensboro from Boston with her husband and two children to be closer to her father. Though Kelly didn't set out to continue her studies, the warm glow from Hege Library beckoned her as she passed by night after night. 
"I thought, 'If I ever go back to college I'm going to go there.' It was a gut instinct. I was going through the divorce process and wanted to go back to school. At an open house event, I said, 'Hi, I want to sign up for classes,' and it all fell into place."
Kelly was initially interested in pursuing a degree in English education, but the artist inside her was pulling her in another direction, notably during a painting course with Professor Adele Wayman. 
"You have to formally apply for the Education Studies major, and I just never seemed to get to that formal application. So after a few semesters I thought maybe that's not what my major should be," she says. Kelly ended up graduating with honors in Art and English, with a minor in Education Studies.
Her studies at Guilford have served Kelly and the Greensboro community well. She works as an instructor teaching adult and children drawing courses at Art Alliance in Greensboro. She also works as a curator and continues to create and sell her art in person and online.
Her medium is oil paints. She employs them to create still-life paintings of vintage and antique items, recently including a series featuring vintage sock monkeys. She also does work on commission, including painting clients' pets and recreating vintage photographs of family members.
Developing Her Voice
During her years studying at Guilford, Kelly noted a number of influential professors, including Roy Nydorf and Adele Wayman, who helped develop her voice. 
"They're very influential in my artwork," she says. "In the ed program, I really grew to know myself with Julie Burke, as well as with Rudy Gordh in my math-appreciation course. I was never strong in math, and it was interesting to find the connection between art and math. It blew my mind."
Kelly certainly realized her dream of spending hours in Hege Library. She interned with former Director Terry Hammond in the College's permanent Art Gallery. Other activities included an alumni art exhibition and seminar, working as a teacher's assistant in art classes, and curating a show of alumni artwork housed in the Admission Office. Kelly also worked as an assistant in the Facilities Department during the recent residence-hall renovations.
In addition to her work at Art Alliance Greensboro, Kelly shows her work at and helps coordinate the open-air gallery at the corner of Elam and Walker streets in Greensboro, where residents walk by on their way to the farmer's market. This concept is key for her goal of "integrating art with everyday life." Kelly also notes the wrought-iron fence there that's reminiscent of Jackson Square in New Orleans where artists show their work. "It's fun to bring the work out to the people instead of keeping it in a gallery, where it can be intimidating," Kelly says.
Her advice for budding artists? "Focus on your work and be open-minded. If you work at it, your art will grow and improve. You're not just born with talent. It's most important to focus on the quality of your work."
Would you like to combine your passion with teaching? Schedule your personalized visit to campus to meet with faculty, staff, and students who share your interests.
---