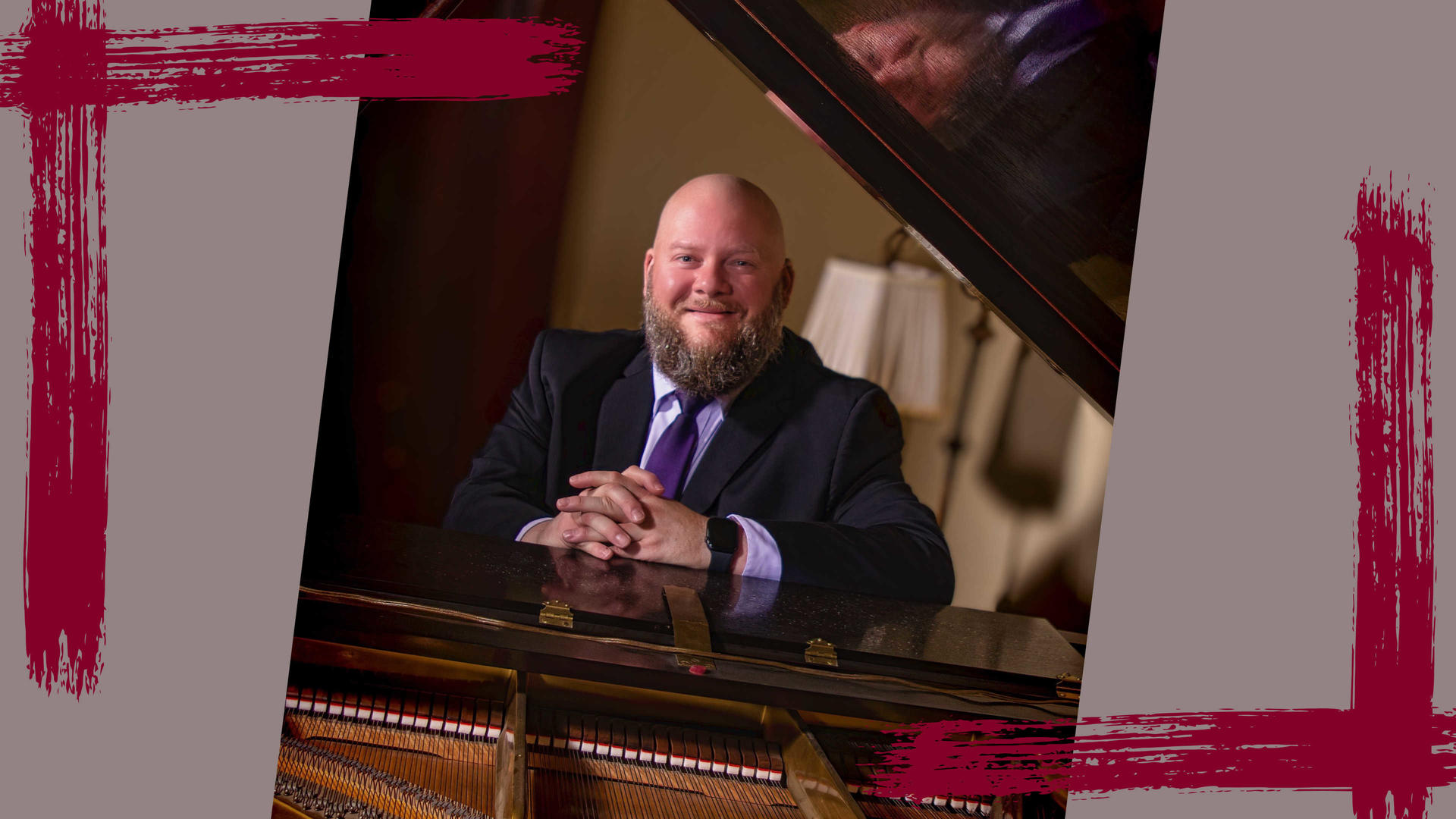 The formal musical education of Matt Reid '16 began at the tender age of 5. However, he doesn't recall any particular interest in taking piano lessons at the time. 
"I was forced to actually," he says with a laugh as he recalls his mother Becky Trantham's and grandmother Betty Brookshire's decision to have him take lessons with Betty Jean Parham, a local church pianist in their town outside Asheville, N.C. "It didn't take long for me to fall in love with playing." 
Matt took lessons from Betty Jean for 10 years and traveled to perform with church and gospel groups. He also attended the Stamps-Baxter School of Music in Nashville, Tenn. 
Key Changes
By the time Matt arrived at Guilford, he intended to pursue a degree in Health Sciences until a jam session with some jazz students. Drew Hayes, the Music Department Chair, invited Matt to join a combo. Then the other students encouraged Matt to major in jazz piano performance. And the rest is history.
"When I went in, as far as jazz goes, I was self-taught since I didn't start playing jazz until I was in my 20s. So when I got to college I had to go back and relearn jazz theory and technique," Matt recalls. "Studying at Guilford improved my knowledge and skills by leaps and bounds." 
His Guilford experience also led him to N.C. Central University's renowned music program. There he earned a master's degree in jazz studies and had the opportunity to perform with such big names in jazz as Branford Marsalis and Branford's brother Delfeayo Marsalis.
Full Swing
One of the highlights of Matt's time at Guilford was traveling to Philadelphia and New York on a recruiting trip. Because Matt had some experience, he was asked to memorize and perform "Blue Rondo à la Turk," a particularly challenging piece by Dave Brubeck. It was his first time performing jazz music. "At the start I was not a big fan, but after learning all the complexities of it I began to love Brubeck. That was a big thing that I achieved and was pretty proud of because that's a really hard song."
Matt said all of his professors were very supportive across the different areas of musical study. Retired Professor Tim Lindeman made a particularly big impact on Matt during his studies of classical music, theory, and piano. Matt now works with many of his mentors as an adjunct professor at Guilford where he teaches jazz piano and combos. 
He's also an adjunct at N.C. A&T University where he teaches jazz history, arrangement, and composition while directing the jazz ensemble. Matt has been active in the Greensboro jazz scene, directing youth ensembles and performing with various groups. And he performs in the John Coltrane Jazz Workshop for middle- and high-school students in High Point, N.C.
As an educator, Matt is highly invested in aspiring musicians and notes the variety of career opportunities in the industry now, such as business, performance, and recording. He also encourages — admonishing when warranted — his students to practice often and take music seriously. 
His first instructor, Betty Jean, would approve.
Are you interested in becoming a Guilford College Music major? Learn about a variety of opportunities, including the new Recording Track, at your personalized visit to campus to meet Guilford College Music Department faculty and your Admission Counselor.
---