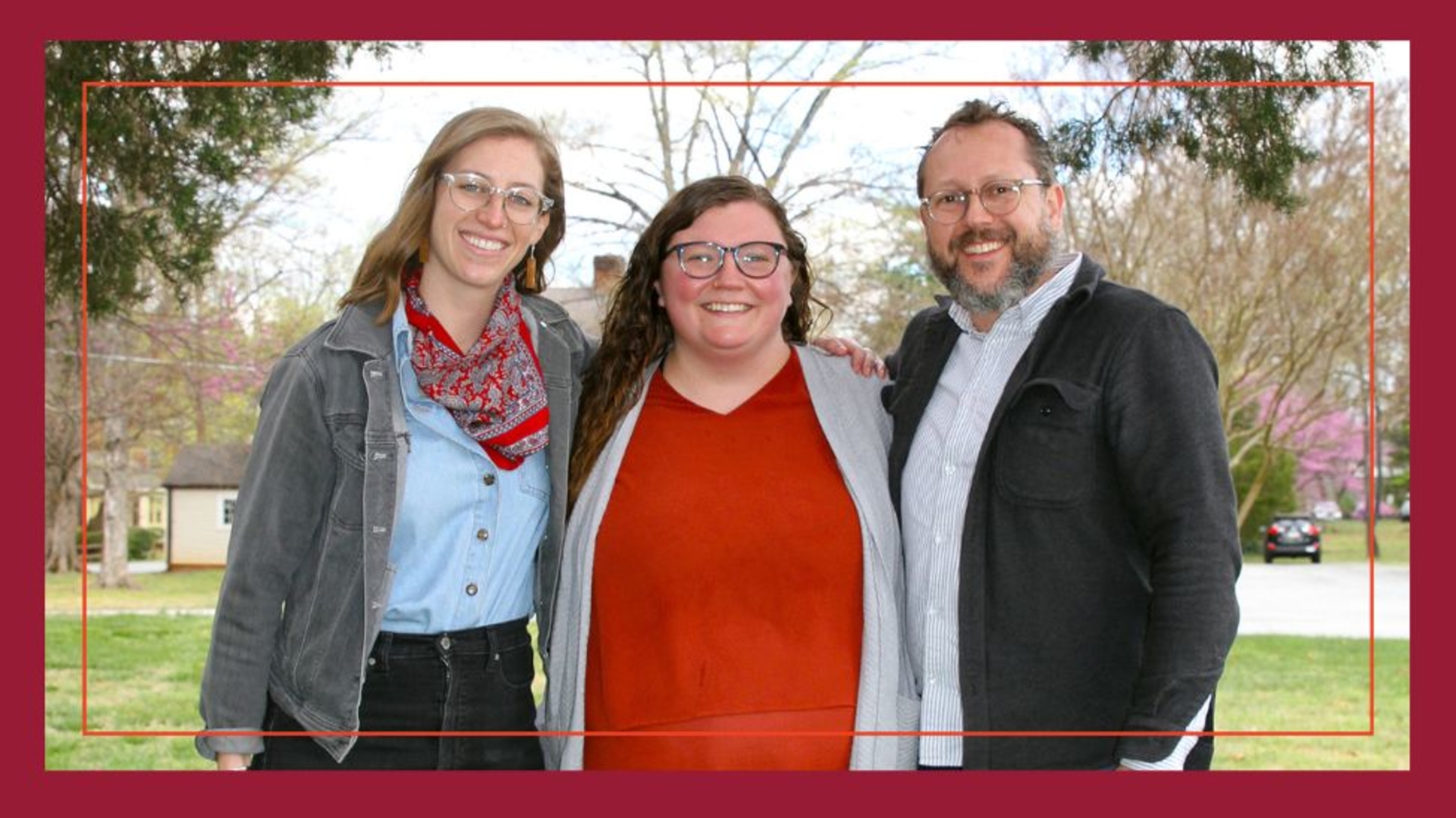 What is Friends Center at Guilford College? Is it only for Quaker students? Of course not! It's for everyone — just like Guilford is for all of us. Read on to learn more about this program that supports Guilfordians on campus — and beyond.
"If we see the Quaker foundation of Guilford College as the wisdom tradition of the school, it's a resource that's always there for people to draw from and find sustenance."
Caption: Friends Center staff standing outside; from left are Liz Nicholson '12, Meagan Holleman, and Wess Daniels.
In the spring of 2022, Guilford College suffered a tragic loss when Ahmad Brewington '23 passed away. Within a few days, Friends Center organized a vigil and memorial service for students, faculty, and staff to honor Ahmad.
 
"People needed a safe space to grieve and find support," says Liz Nicholson '12. "This is just one example of the vital role the Friends Center plays. We build community, help people connect, and provide tools for support and healing."
 
Liz knows this first hand. "When I was a student, Friends Center nurtured me so much and was a big part of this community I cared about so deeply," she says. In her current role as director of the Quaker Leadership Scholars Program (QLSP), Liz helps build community among a group of about 30 participants, as well as among other students, faculty, and staff.
A Foundation of Quakerism
Friends Center opened its doors in 1982 as one of the many projects inspired by President Bill Rogers. The idea was to create an organization dedicated to strengthening the connection between the College and the wider community of Friends. This included providing information and continuing-education opportunities for alumni and reaching out to Quaker pastors in the area to develop relationships.
 
"At that time, the demographics of the staff, faculty, and even students were shifting," says Wess Daniels, William R. Rogers Director of Friends Center and Quaker Studies. "There are a lot of things that make Guilford College a Quaker institution, but up until then, having a large presence of practicing Quakers on campus was a big part of the College's identity. As Bill saw that shifting, he looked for ways to continue to build on the College's Quaker traditions."
 
President Bill tapped Judith Weller Harvey to direct Friends Center. She held workshops for Quaker pastors and met with leaders in the Quaker community to build relationships. Max Carter followed Judy in the director's role for more than 20 years. Today, Wess continues that outreach, communicating regularly with Quaker leaders all over the world to share ideas and strengthen communities.
An Evolving Institution
Over time, the priorities and mission of Friends Center grew to encompass more than outreach to the greater Quaker community. In many ways, Friends Center has evolved to become the soul of the campus.
 
"If we see the Quaker foundation of Guilford College as the wisdom tradition of the school, it's a resource that's always there for people to draw from and find sustenance," Wess says.
 
Some of the many ways the College community can find that sustenance include:
Building relationships: From one-on-one encounters with students and staff at the Friends Center, to workshops and classes that focus on interpersonal skills and community building, the center teaches positive ways to work with others. "We're a place where people can show up and just be themselves, talk about what they're struggling with, and build community," Wess says. "We work on building relationships across religious traditions, which has always been important, but is definitely important now in our society."
Exploring one's faith: "Part of the Quaker belief is that there is God in everyone, regardless of race, gender, or religious background," Wess explains. Friends Center encourages this tradition in many ways, including through the center's multifaith collaboration, which is championed by Meagan Holleman, Friends Center's Multifaith Coordinator and Student Chaplain. "We work with religious leaders on and off campus to make sure everyone finds the community and support they need," he says.
Learning tools for success: From creating clearness committees to learning processes of discernment, there are many practices central to the Quaker faith. Guilford students can learn these to help navigate the complexity of becoming an adult. "You don't have to be a Quaker to be involved in Friends Center," Liz says, "and we have many tools and resources to offer the wider campus."
 A Focus on the Future
Cultivating leadership qualities and community outreach in a way that's rooted in the Quaker faith is an important aspect of what Friends Center provides. This comes together in a personalized way for members of QLSP, which was started in 1992, and serves students of all faiths who are interested in social justice, religion, and spirituality.
 
The group, made up of about 8 to 12 students per class, works on spiritual practices, community building, and leadership skills. Students meet weekly to build community, and they're required to take one module per semester about Quaker practices and history. They're also required to do community service, and they often join Bonner Leaders in programs that support the greater community.
 
"Being a part of QLSP has enhanced my educational experience," says Liz Poole '23. "I'm learning about life, spirituality, and community outside of day-to-day classes. It's an intentionally created community where we're encouraged to ask questions of ourselves and others that aren't part of the College curriculum. It has made Guilford a place where I can seek spiritual safety and rest."
A Significant Heritage
Through all of the activity, teaching, and meetings taking place at Friends Center, one thing remains central to its mission. "Having this Quaker heritage is significant and is just as important today, if not more so, than it ever was," Wess says. "It's important for us to continue to change, adapt, grow, and be connected to our community, all while not losing ourselves and our Quaker identity."
 
Over the years, Friends Center has become a diverse program, reaching out to many people in many ways, across cultural, racial, and economic differences. "Friends Center provides a space for people to pause, slow down, and reflect on how our lives are lived," Liz says, "and send them out with better tools to create meaning and change within their communities."
Prospective students are invited to schedule their personalized visit to campus to learn more about Guilford's Quaker history during a campus tour and meeting with the Office of Admission. The College also offers parents, alumni, and friends of the College the opportunity to give in support of Friends Center's mission to provide programs that nurture servant-leaders both at Guilford and in the wider community.
 
---