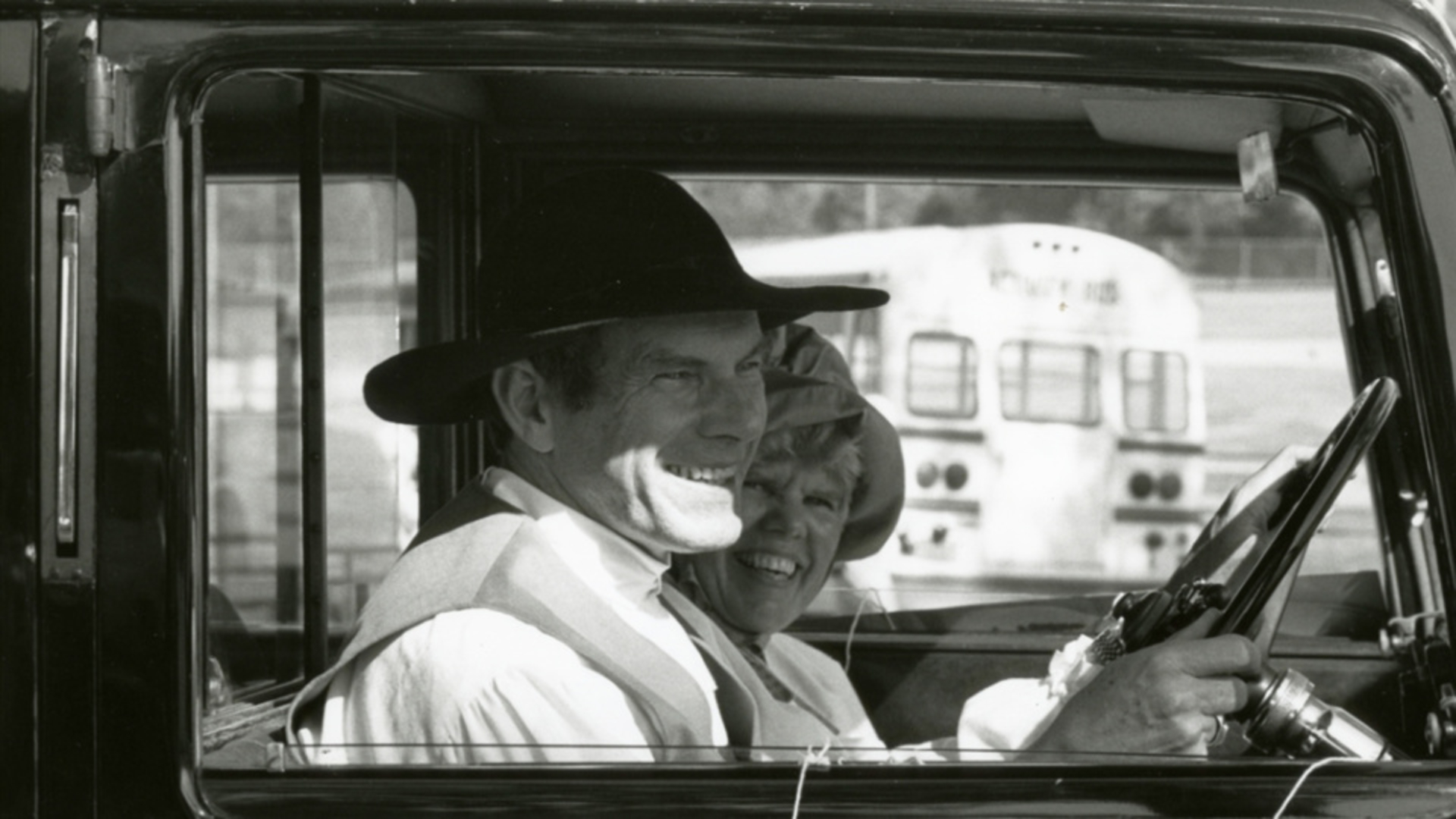 Bill Rogers, who died July 15, 2022, is remembered for expanding Guilford's reach and for raising its stature and academic reputation. He served as the College's president for 16 years.
Tribute to President Bill Rogers [VIDEO]
Tribute to President Bill Rogers [VIDEO]
Bill Rogers, who died July 15, 2022, served as Guilford's president for 16 years. Read more about his tenure at Guilford College.
[Bill is pictured above, driving a 1936 Rolls Royce in an archive photo from Homecoming.]
As he so often did during his Guilford College presidency, Bill Rogers once invited a group of students back to his house after they'd spent a morning trampling around a neighborhood reservoir hoping to catch a glimpse of some nesting eagles.
Only this time was different. This time one of the students failed to wipe his shoes outside, leaving behind a path of muddy clay footprints across a previously immaculate rust orange carpet. As Max Carter, hired by Bill as Director of Friends Center, tells the story, the student was horrified at the mess, a reaction shared by everyone but Bill.
Instead, Guilford's president sat the student down and removed his shoes before retreating to the kitchen. A few minutes later, Bill returned with a towel and bowl of water, knelt in front of the student and began washing his feet. The room was silent.
"Bill never said a word," Max recalls. "He just took that wet cloth and wiped his feet clean."
Max remembers the moment "as very reminiscent" of Maundy Thursday, the holy day in the Christian tradition near the end of Lent when Jesus took a towel and a basin and washed his disciples' feet. "I sat there thinking this is what servant leadership looks like," Max says. "This is how you serve as a leader. Students to this day who were present recall that because it taught them something about humility, and about how you interact with others, how you respect others, but also how you teach a lesson."
Bill died July 15 at the age of 90 at Well Spring Retirement Community in Greensboro after a period of declining health. The family will hold a memorial service on Friday, July 29, at 2 p.m. at the Virginia Somerville Sutton Theatre at Well Spring.
A Legacy of Growth
During 16 years as president, Bill helped Guilford hire respected faculty, tripled Guilford's endowment from $6 million to $17 million, and reinvigorated the Quaker ethos on campus with the creation of Friends Center, the Office of Campus Ministry, and the Quaker Leadership Scholars Program. But what students, staff, and faculty say they'll remember most about Guilford's sixth president are those countless displays of humility and fellowship — and lessons imparted through both.
Watch a slideshow of former President Bill Rogers through the years at Guilford College.
Beth Voltz '91, a Raleigh attorney and Guilford trustee, remembers Bill walking up and introducing himself to her the morning of her first-year orientation, the start of a friendship that continued well beyond graduation.
"He knew when parents sent their kids to Guilford they were doing more than just sending them off for an education," she says. "They were entrusting their care to the school. Bill took that trust very personally and very seriously. He didn't just know our first names, he knew our lives."
William Raymond Rogers was born in 1932 in Oswego, N.Y. His father was a Baptist minister and his mother was a homemaker. Bill was valedictorian of his high school in Philadelphia and graduated magna cum laude from Kalamazoo College in Michigan in 1954 and magna cum laude with a Bachelor of Divinity degree jointly from the Chicago Theological Seminary and the University of Chicago in 1965 in Religion and Personality Studies. He studied at Tavistock Institute of Human Relations in London in 1966.
Few thought Bill a likely candidate to replace Grimsley Hobbs '47, who announced in 1979 that he was stepping down as Guilford's president after 15 years. At the time, Bill held the tenured Parkman Professorship of Religion and Psychology at Harvard University, where he had a joint appointment in the faculties of the Divinity School and the Graduate School of Education.
However, in addition to a formidable curriculum vitae, Bill was a Friend, one who had watched from afar as the state's Quaker communities slowly fractured in the decade following the Vietnam War. When the College made the offer of the presidency, Bill was reluctant. Only after visiting the campus with his wife, Beverley, and meeting with students and faculty did he see the College's potential.
"He knew when parents sent their kids to Guilford they were doing more than just sending them off for an education. They were entrusting their care to the school. Bill took that trust very personally and very seriously. He didn't just know our first names, he knew our lives."
Career Risk
Leaving Harvard's steeped ivy reputation for Guilford was a huge risk for Bill's career, Max says. At the time, many colleges and universities in the South were looked down on by academic leaders in the Northeast. "The assumption back then was that if you go south of the Mason-Dixon Line — unless you're going to Emory (University) — you checked your brain at the border, that you lost all credibility." 
But after taking the job in 1980, Bill picked up where outgoing President Grimsley left off. Over the next 16 years, the longest tenure for any Guilford president since Clyde Milner, Bill was instrumental in hiring acclaimed faculty and modifying curriculum in some departments. He led the charge to broaden the scope of the Administration of Justice program established in the 1960s to what is now the Justice and Policy Studies Department. In 1981, he helped champion a Sport Studies Department — the first of its kind in the nation at an undergraduate institution — emphasizing sport management and sport medicine.
Bill's arrival at Guilford came at a time when some conservative Quakers in North Carolina were still at odds with other Quakers over the Vietnam War and other cultural differences. He embarked on a number of trips that took him to Friends Meetings across the state and nation, hoping to bridge those differences, strengthen existing ties, and let others know more about Guilford's Quaker-based mission and values. Those meetings led to the creation in 1982 of Friends Center, whose mission is to connect Southern Quakers to the College and help strengthen and nurture Quakerism on campus.
Under Bill, the College's international and interdisciplinary programs grew, the three-story Bauman Telecommunications Center was constructed, and the Hege Cox Library expansion was completed.   
 
Those accomplishments and others during Bill's tenure were not made with a heavy hand. Bill wanted to build on the participatory governance ethos already in place when he arrived at the College. Robert Williams, who recently retired from the College's Economics Department, says Bill brought with him to Guilford an innate gift of transparency and building consensus on decisions that would impact the College's future.
"A lot of us looked at the Bill Rogers years as Camelot," says Robert, who arrived at Guilford in 1978. "Everyone had a place at the round table. Your ideas may not have been approved in the end, but they weren't automatically squashed either. Bill listened and wanted to hear from everyone."
Within a few years, Bill helped propel Guilford's reputation nationally. Guilford was written up in The New York Times, U.S. News and World Report, Changing Times, and Seventeen, and most notably, the first edition of the book Colleges that Change Lives.
In 1983, when the College announced its first major capital campaign, Bill hit the road, traveling more than 25,000 miles across the country to raise money for QUEST: A Sesquicentennial Commitment for Guilford College, coinciding with the 150th anniversary of the institution's founding. The $13 million raised, which nearly doubled its original $7.85 million goal, helped fund the 30,000-square-foot addition to Hege Library and endowments for student aid and faculty salaries.
Bill and Bev
Warm and outgoing, Bill was quick to spread Guilford's success to those around him. That often included Bev, who chose to set aside her teaching career to devote her time to Guilford and her husband's presidency.
Students and faculty remember Bev as much the face of the College as her husband. The two were practically inseparable, enjoying lunch with students and attending concerts and Quaker sporting events.
"They were always together," recalls Wendy Lavine '89. "It was never just Bill. It was Bill and Bev walking the dogs or Bev and Bill inviting students over to Ragsdale. He was not this mythical head of school living in some castle. He was always out on campus and he knew everyone's name."
At times it was hard to tell when the couple were formally representing the College or just out on the town. Bill was a passionate supporter — and frequent participant — of events on and off campus. He was a member of the city's Chamber of Commerce, the Moses Cone Health System, and the Greensboro Symphony Orchestra. He also sang in Greensboro Opera Chorus and Greensboro Choral Society. In 1986, he was president of the city's Rotary Club. 
"They did everything together," Robert says. "You rarely saw one without the other close by and worked so well as a team. Bill was a really good steward for Guilford and was serious about it. But whenever Bill was being a little too serious, Bev would come in with some irreverent joke that would make him lighten up."
Wendy remembers a winter snowstorm blowing into Greensboro her sophomore year. This was years before the internet and email, but Bill and Bev got the word out to students that Ragsdale was open for snow cream and fellowship. Within hours, Ragsdale was packed and inevitably, says Wendy, Bill pulled out his guitar.
Robert says Bill was "something of a renaissance man." He was an artist, a musician, a woodworker, a classic car enthusiast, and a sailor. "There really wasn't anything he wouldn't try," Robert says. "He loved all sorts of creative outlets."
One of those loves was woodworking. Before coming to Guilford, Bill fashioned a love seat out of a felled elm tree. When Bill accepted the position at Guilford, the seat accompanied him to Greensboro. A front loader moved the massive piece of wood into Hege Library where students still use it today. Even after retiring in 1996, Bill would drop by the library, a can of wax in hand, to polish his work of art. 
Rogers created a pen-and-ink drawing of a majestic black oak that once filled his office window outside New Garden Hall. That drawing would be the inspiration for the College's emblem still in use today. For years he illustrated the school's Christmas cards with sketches of buildings or religious symbols that went out to alumni and benefactors.
That love of art led Bill to create the Guilford College Art Gallery at Hege Library. The collection is not limited to just one room. Statues, sculptures, and paintings are scattered throughout the library. "Bill wanted students to be surrounded by art when they were studying," Robert says. "He loved aesthetics. If it was pleasing to his eye, he wanted to share it — especially with students."
In addition to Bev, Bill is survived by his children, John and Dana Rogers, Susan '83 and Bill Apple, and Nancy Glassman; grandchildren Hope Von Gunten, William Benjamin Rogers, Rebecca Rogers, Katherine Howell, Will Howell, Hanna Glassman, and Max Glassman; and sisters Jean Morgan and Dianne Lytle.
Memorial gifts may be made to Guilford College, 5400 W. Friendly Ave., Greensboro, NC 27410; Well Spring Retirement Community Benevolence Fund, 4100 Well Spring Drive, Greensboro, NC 27410; or New Garden Friends Meeting, 801 New Garden Road, Greensboro, NC, 27410.
---