President Kyle Farmbry shares an updating on staffing changes to his office.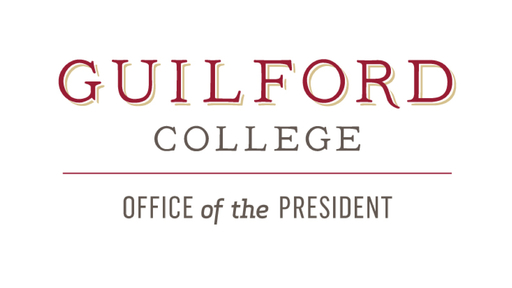 Colleagues,
I'm writing to let you know about some administrative changes taking effect in early June that are designed to help us better support current work as well as emerging initiatives at Guilford College. I want you to be aware of these changes and invite you to welcome these colleagues to their new roles on the President's Office team.
Meredeth Summers will be Chief of Staff as of June 6. Since December she has had the title Senior Executive Administrative Officer, and during Jim Hood's ('79) interim presidency she was Executive Administrator and Assistant Secretary to the Board of Trustees. For the past two years, Meredeth has had a wide range of duties managing the day-to-day functions of the President's Office and supporting the Administration and Finance area. As Chief of Staff, many of Meredeth's responsibilities will be the same. However, the title better reflects the role she has in managing daily operations and being a key conduit between the College administration and external and internal constituents. Meredeth has been a tremendous asset to Guilford since her arrival in 2011, holding leadership positions in Advancement and later, Conferences and Events. You may know that she is also the parent of a recent Guilford graduate. I am very grateful to her for helping me acclimate to the Guilford community since my appointment last October and staying on top of a huge volume of activities since then.
Ashley Raper will be Special Assistant to the President for Special Projects as of June 1. Since August, she has been Director of Annual Giving and has capably managed a year of fundraising initiatives, including Giving Tuesday in November and Day for Guilford in April that generated more than $700,000 for the College. In her new role with the President's Office, and in partnership with Advancement, Ashley will develop and coordinate third-stream revenue and entrepreneurial initiatives, corporate and foundation sponsorships and grants and community partnerships, as well as special projects aligned with the strategic plan. She has been active in our area both professionally and with nonprofit boards and organizations for many years. You may know that she is the parent of a current Guilford student. I am very pleased that she is willing to transfer her talents to this new position that will support a range of activities designed to strengthen Guilford's position as an "anchor" institution within Greensboro and the Triad community. Advancement is now searching for a new Director of Annual Giving.
Finally, beginning in August, we will have up to three Presidential Fellows supporting the work of the President's Office, Advancement, and Communications and Marketing. These are recent Guilford graduates who will be pursuing master's degrees at the College. In exchange for tuition remission and housing, they will work up to 20 hours per week in one of three administrative offices that are operating with fewer professional staff members than before. Not only will the students gain invaluable practical experience, but the important work of these offices will be supported. It's a win-win situation for the students and our professional staff. We are in the final phase of the selection process and will announce the first class of Fellows soon.
I am proud of the team we are building not only within the President's Office but across campus as we enter a new fiscal year and approach what promises to be an important and productive academic year at Guilford.
Warmly,
Kyle Farmbry
President
---