Caleb Bausman '19, a double major in German and History, is originally from Arlington, Mass. He initially discovered Guilford through the book Colleges That Change Lives.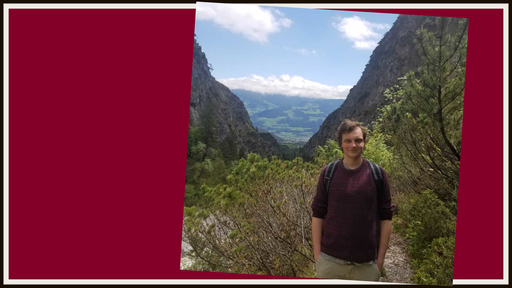 By Natalie Whitmeyer '20
Editor's Note: Caleb is one of five Guilfordians currently living, learning, and working in Austria via the Fulbright Program. To read more about them, visit the main Guilford in Austria, a College Tradition page.
Caleb says he chose College because of its small size and low teacher-to-student ratio. He knew he would get the personal attention he needed to succeed during — and after — college. Guilford's heavy focus on writing also intrigued him. And he had heard great things about Dave. 
"The department that has undoubtedly had the greatest impact on my life since graduation is German. When I say German, I mean Dave Limburg," he explains. "Dave's methods are quite original. I did not learn German from a dusty old textbook but from one which he lovingly created himself. It was full of well-thought-out methods for learning German and plenty of hand-drawn cartoons. Guilford German is more than just classes. It's weekly speaking sessions, picnics, and movie nights organized through the German Club."
Caleb also recalls enjoying classes with History Professor Tim Kircher. He loved Tim's teaching style, too, which emphasizes discussion and class contributions, as well as a heavy focus on period-specific literature.
"On top of my two majors and the core requirements, I also took multiple classes on Religious Studies and English literature," he says. "I enjoyed all of them, especially Heather Hayton's class on Milton's Paradise Lost and Jill Peterfeso's class on Mormonism."
Caleb was continuing his studies in History at the University of Innsbruck in Austria, but there were some complications with the program. He currently plans to return to the U.S. to work in a full-time position. He's hoping to find something that incorporates his language skills and his experience abroad. 
"Despite you-know-what (COVID-19), it has been an overwhelmingly positive experience, between socializing with Austrians and other foreigners, getting to travel, and learning to ski again," he shares. "The work itself was also an absolute joy. I felt like more of a cultural ambassador than anything else."
Schedule your personalized visit to Guilford to learn more about the College's study abroad offerings. You can also begin your application or contact the Office of Admission for more information— 336.316.2100 or admission@guilford.edu.
---