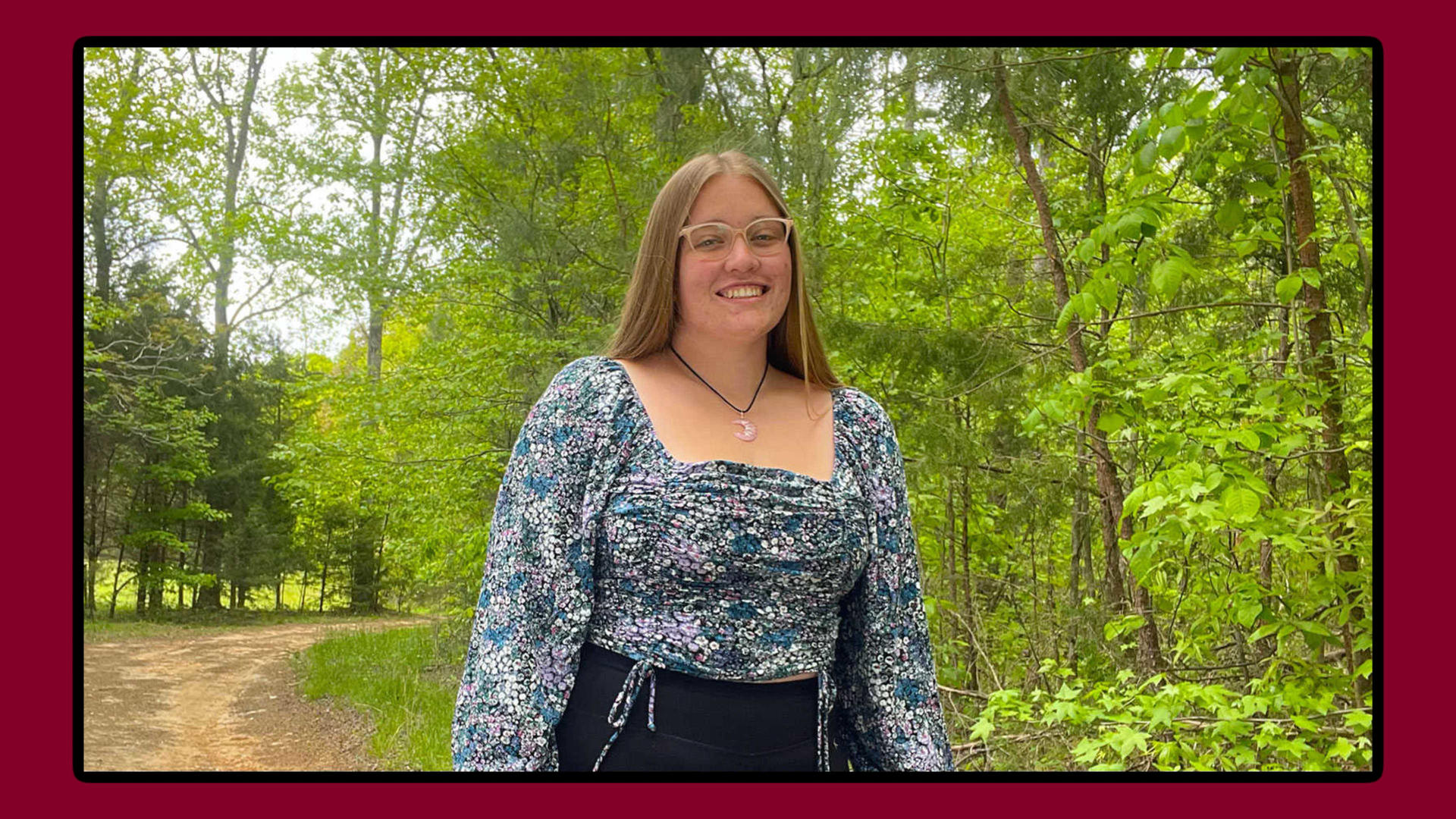 Beulah Gullion '22 has a detailed long-range plan. After graduating from Guilford, the History major and Quaker Studies minor plans to get her master's degree at George Fox University Portland seminary. Instead of a pastoral focus, she'll concentrate on developing the knowledge and skills she needs to work in community service such as at Urban Ministries. She then plans to return to school to get another master's degree in public history.
"I would have a nonprofit Quaker ministry type job, maybe with Friends United Meeting, and then have a teaching position where I work with museum studies," she explains. And Beulah isn't ruling out a PhD. "So I can write books when I'm old," she says.
A Winding Road
How did Beulah arrive at this career trajectory? It started with a British history project in high school. She didn't expect to study history when she headed to Surry Community College in Western North Carolina, but the past was calling her name. She received her associate's degree and then transferred to Guilford.
[Learn how apply as a transfer to Guilford College.]
As a History major, she's focusing on late American history from about 1800 forward. Her capstone research project last year focused on Lyndon B. Johnson's role in the Civil Rights Movement and how he handled violent riots during his presidency. 
Inspired by the events of summer 2020, Beulah presented a 30-page research paper to Guilford faculty and staff via Zoom. This fall, she'll begin her senior thesis, which involves studying a Quaker pastor and his support for LGBTQ rights.
Quaker Roots
Because of her Quaker upbringing, Beulah is involved in the Friends community and with various Quaker circles. She has worked consistently for Quaker Lake Camp and is involved with Guilford's Quaker Leadership Scholarship Program (QLSP).
"QLSP focuses on allowing students of all religious backgrounds — or none at all — to learn about the Quaker practice while focusing on service and getting students to help the community," she explains. 
Beulah encourages community college students to transfer to Guilford versus a public university. Noting the school's Quaker values and all the support she's received from faculty and staff, she says, "It's easier than you think."
Are you interested in learning how to transfer to Guilford College? Contact the Office of Admission at 336.316.2100 or admission@guilford.edu to meet your dedicated transfer counselor, and schedule a visit to campus to meet more transfer students like Beulah.
 
---