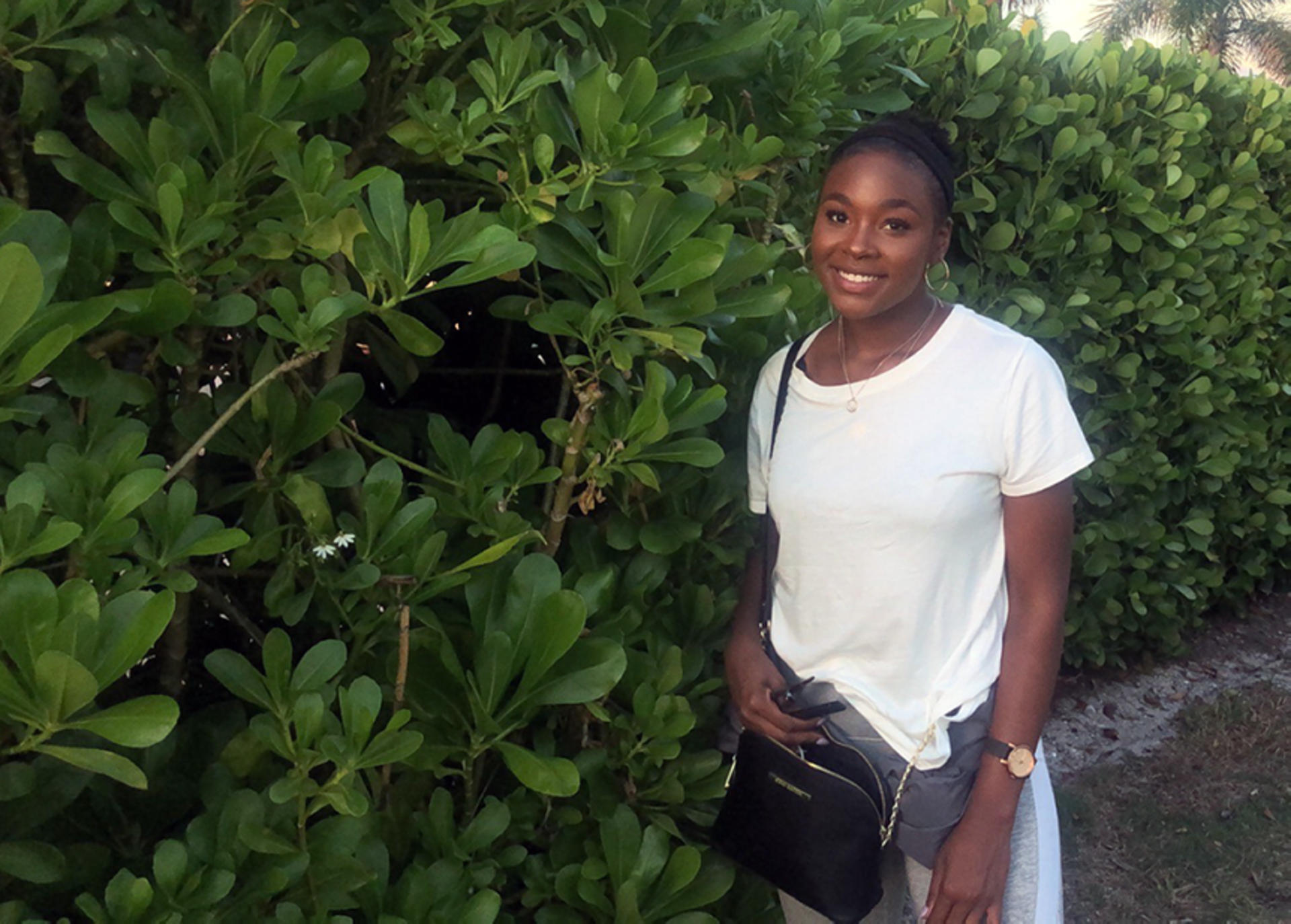 Sarah Michelle Boyce '23 spreads light and smiles wherever she goes, building positive relationships with everyone she meets. With a passion for community she found her new home at Guilford. "It just turned out to be the perfect school for me," she says.
A North Carolina native, Sarah Michelle grew up in Hickory where she was the president of her school's first Gay-Straight Alliance. She was excited by Guilford's inclusive community and felt encouraged by Coach Charlotte Dixon-Graves. Charlotte not only gave Sarah Michelle the opportunity to further her lacrosse career but gave a black female a platform to play, which is rare in the lacrosse community, Sarah Michelle says.
"If people saw the community within Guilford, where people are not just tolerant but are comfortable and okay with human rights, they could apply that to our outside world," she says. "We live so comfortably with each other — everyone is celebrated at Guilford — and it's very peaceful."
Sarah Michelle values the relationships she's built at Guilford. There's the housekeeping staff in the Athletics building who are always there during her morning practice. There are also the Dining Hall employees, a number of professors, her Guilford Guide, and many others. 
She says it's those little connections every day that she looks forward to, and she credits her time as a student athlete with giving her the opportunity to cultivate these unique friendships. "That's the heart of a small school like Guilford," she says.
A People Person
Building relationships has been part of Sarah Michelle's life for a long time. She's an active member of Elevation Church in Greensboro and often volunteers in the day care and nursery. Her volunteer work exposed her to children with special needs at an early age. Sarah Michelle quickly realized that teaching these children was her passion and decided to major in Education Studies at Guilford. 
She's already had multiple internships working with children, and she has ideas for improving special education. Sarah Michelle hopes to one day own a facility where she can offer programs for children and adults, educating parents on living their whole life with a special-needs individual.
A Blessed Life
Her hard work and dedication to the community have been noticed. Sarah Michelle has received multiple scholarship awards, most notably the Hickory High Class of '80 Alumni Foundation Scholarship — an award that she says means a lot to her. 
She says she's thankful for all of the financial support and feels blessed to receive any money that helps pay for her education. "It would be so amazing if one day I could have my own scholarship that I give to a Guilford student," she says.
Sarah Michelle looks forward to continuing her studies, playing lacrosse, and cultivating even stronger relationships over her next three years at Guilford. She will also take on a new role with the Student-Athlete Advisory Committee Board as Director of Diversity and Inclusion for the 2020-21 school year.
"I love the education I get here and the people that are here. It's the school that I was meant to go to," says Sarah Michelle.
---