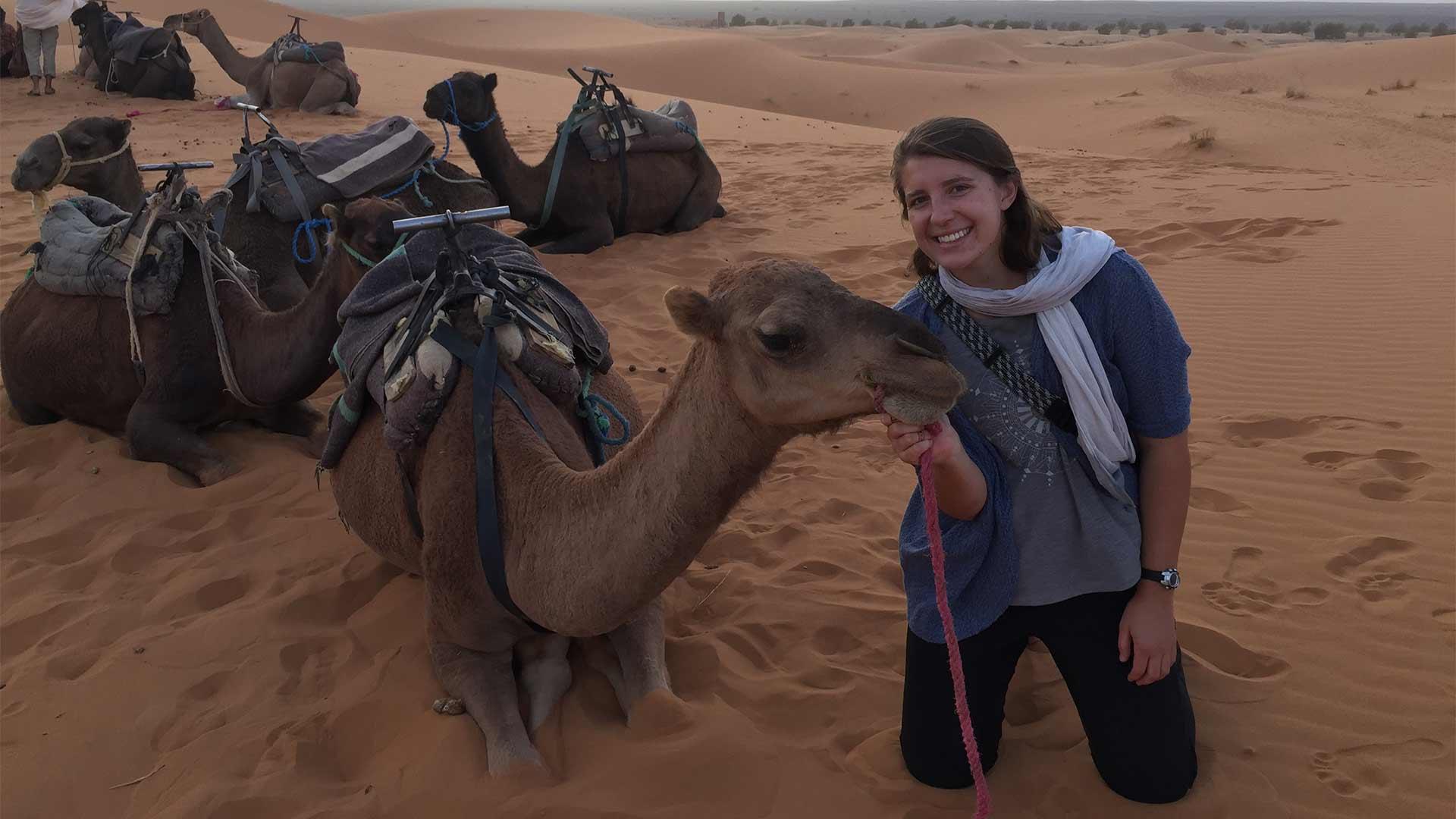 Hello friends! My name is Katie Claggett, and I'm in my third year at Guilford College. My major is Sociology and Anthropology and my minor is English! Besides my studies, I spend my time on campus as a member of the Quaker Leadership Scholars Program, athlete for the Biohazard Ultimate Frisbee Team, tour guide for the Office of Admission, and volunteer with the Every Campus a Refuge program. 
 
This semester I am studying in Rabat, Morocco, through an affiliated program called the School for International Training. My academics focus is Multiculturalism and Human Rights. These past few months, I have explored international standards for human rights while studying cultural realities in this country. The lectures give insight to social movements, aspects of culture, and methods of research. Excursions around the country supplement our lecture material and provide unique opportunities, such as riding a camel in the Sahara Desert! My experience culminates in an independent study period, where I will research a topic of my choice. Reflections of my time here in Morocco are ongoing and continuous, however, in general I feel positively challenged through this learning experience. 
As I spend my days here interacting with kind locals and drinking mint tea, I consider my own levels of awareness. I credit the Guilford community for encouraging me to question how my identities can carry privileges, and how to better navigate in a space with these insights. Engagement with Guilford College has empowered me to consider difficult topics such as positionality and systemic oppressions, and to apply this knowledge while engaging in a study abroad experience. 
Overall, studying abroad is an exceptional opportunity to explore different ways of understanding our world. At the very least, students can pursue a foreign language and hone communication skills. I look forward to sharing more insights from my experiences!
Are you a Guilford student who has studied abroad or will soon? Become a blogger! Contact the Office of Marketing to learn more. Catch up — read all posts from Beyond Friendly.
---