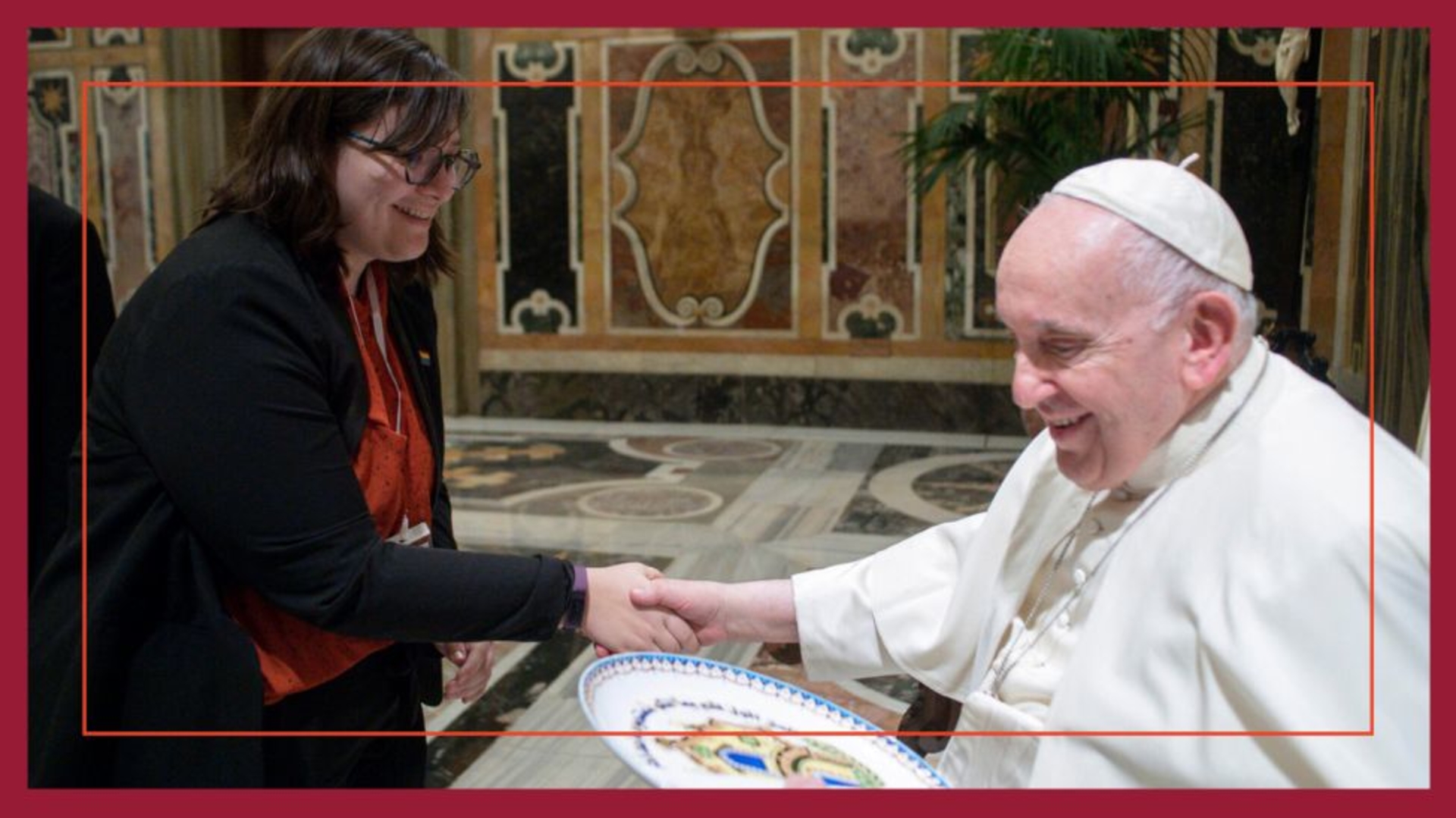 How a Gift from Guilford's ECAR Ended Up in the Hands of Pope Francis
 
When Kathleen Herbst '19 showed up at the Vatican on Thursday with a handcrafted gift for Pope Francis from Guilford's Every Campus A Refuge (ECAR) program, she figured she'd hand it off to someone in the Pope's entourage.
Instead, Kathleen, ECAR Program Coordinator and Outreach Specialist, found herself giving the plate — painted by an Iraqi refugee and former ECAR guest — to the Pope himself.
"It's still a little hard to believe, but you know what?" says Diya Abdo. "That's how ECAR operates. We believe things will happen, that they will manifest into the universe. I think the Pope was as surprised at our gift as Kathleen was in giving it to him in person."
Diya is Guilford's Lincoln Financial Professor of English, and she founded ECAR in 2015 with a goal of persuading American colleges and universities to provide temporary campus housing to refugee families.
 
Diya often cited the Pope's plea for every Catholic parish in Europe to take in refugees from Syria as her inspiration for founding ECAR, and she thought Guilford College — and other colleges and universities — could answer the Pope's challenge using resources on their own campuses.
 
Since ECAR's inception, 10 campuses have started their own ECAR chapters. Diya says she expects that number will grow in the coming months as more schools learn of ECAR and its mission.
Exactly how a hand-painted plate made its way from Greensboro and into the hands of Pope Francis is as long as the 4,720-mile journey it took to get there, but Diya and Kathleen offer up a truncated explanation.
Earlier this month Guilford hosted the ECAR Gathering, a three-day "anti-conference," as Diya calls it, designed to bring together colleges and universities in North Carolina and Georgia to adopt an ECAR chapter. One of the team-building workshops at the gathering gave attendees the opportunity to create Arabic calligraphy on ceramic plates. 
Ali Al-Khasrachi, a Greensboro artist who once ran a printing and design shop in Baghdad, led the calligraphy workshop. Ali, his wife, and their three children were guests of ECAR after fleeing Iraq in 2017.
 
Ali designed the plate that Kathleen later packed and took with her to Italy for another refugee-support conference. Some of the attendees at that conference visited the Vatican on Thursday for a scheduled private audience with the Pope.
 
Kathleen, who only had a few seconds to meet the Pope and give him the plate, shared that story with him. "Very kind, thank you," she says he replied when given the plate.
 
The plate contains the Biblical verse of Matthew 25:40 that Pope Francis quoted in 2015 and inspired Diya to create ECAR: Whatever you did for one of these least brothers of mine, you did for me.
Kathleen says she hopes her encounter with the Pope, however brief, supports Ali's artistic endeavors. She also says the meeting celebrates "the on-the-ground, often unacknowledged, truly important work (of) people supporting their newly arrived neighbors. Whether that's an airport welcome, helping with a move, sharing tea, or any countless other actions, and recognizing the ways that we each, as individuals and as communities, owe it to one another to fully appreciate the humanity of those around us."
---