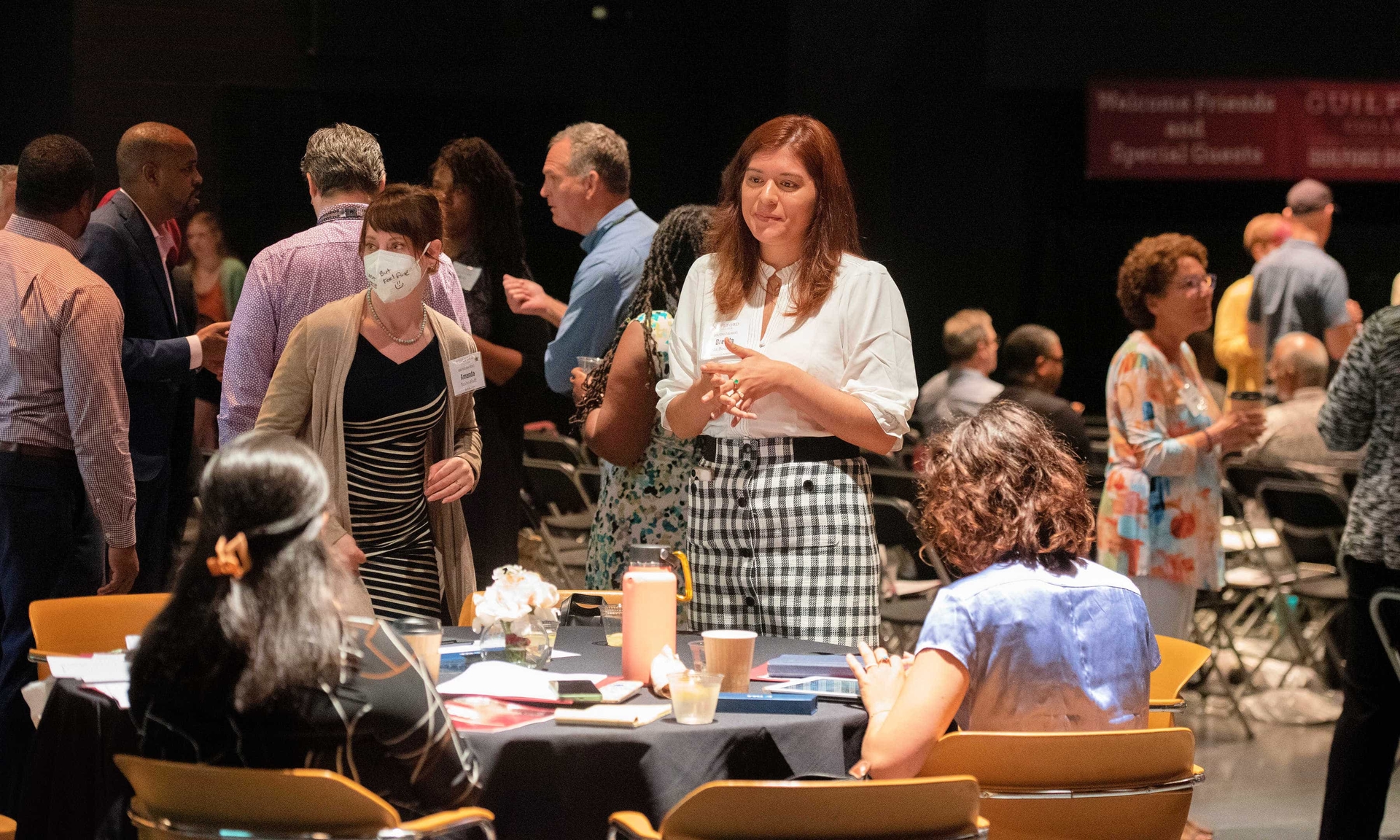 Dialogues attendees get an up close glimpse of how they can make economic inclusion a reality in Greensboro and beyond.
"We need to partner to make sure that the individuals in this community are skilled and trained to be able to take advantage of these opportunities that we're bringing here."
Guilford Dialogues attendees spent the first day learning about the daunting but important issue of economic inclusion. On Thursday, the second day of the three-day conference at Guilford College, the nearly 200 participants got a glimpse at one possible solution.
A panel of four local city and nonprofit leaders discussed how community organizations can help foster economic inclusion and offered a perfect example close to home: east Greensboro.
For decades, residents of Greensboro's east side have endured food and health-care desserts, sagging home values, and a decline in growth as an increasing number of residents choose to live elsewhere.
But Thursday's panelists said that recent headlines signal a reversal of fortunes for the area. They discussed how each organization is mobilizing to align areas of expertise with the needs of marginalized residents.
Within the past year, Toyota, regional grocery chain Publix, jet startup Boom Supersonic, and seed and pesticide maker Syngenta have all announced significant investments in Greensboro that will bring more than 5,000 jobs to the Triad, many paying $60,000 up to $120,000. It's the hope of Marvin Price, Executive Vice President of Economic Development for the Greensboro Chamber of Commerce, that many of those jobs go to residents of east Greensboro.
"Now we need to partner to make sure that the individuals in this community are skilled and trained to be able to take advantage of these opportunities that we're bringing here," he said.
Marvin said that the chamber has worked with local and state government officials to offer financial incentives to those companies for every job offered to a resident in east Greensboro. But he was quick to add that incentives only go so far.
A $135 million bond referendum championed by the chamber and recently approved by voters allocates $30 million for housing. The city wants to use those dollars to build affordable housing throughout east Greensboro and other areas, make homeownership easier, and make some neighborhoods more attractive to buyers.
"We partner with the city and the county to make sure we recruit companies that understand the values of the east side of town, to make sure that there's equitable growth for everyone that's coming through and that those residents benefit. This is not charity. The companies are going to win, but the citizens in these impact zones are as well," he said.
The chamber is partnering with Guilford Technical Community College and GuilfordWorks, a local nonprofit organization that collaborates with local businesses, schools, and state agencies, that is developing adult-focused training specific to the needs of the companies expanding to Greensboro. GuilfordWorks even has a mobile career center that goes out into the community to inform residents of potential careers and the training that's required for them.
"We're out in the communities letting people know what's coming in the way of jobs and what's available with training geared to those jobs," Marvin said. 
He and other panelists said they are always looking for volunteers — individuals, churches, civic groups — to help with those efforts. "This is why we think something like Guilford Dialogues is so important to our city," he said. "We want to partner up with people and agencies to get folks the training. Economic inclusion is very much a grassroots effort and that's what we're doing on a daily basis."
Guilford Dialogues is the creation of Guilford College and first-year President Kyle Farmbry. The College invited more than 50 leaders from a cross-section of fields, generations, viewpoints, and regions to Guilford to speak on relevant social problems and strategize on values-based solutions.
This year's theme, Building Strategies for Economic Inclusion, features speakers and interactions to map out challenges, develop strategies and form partnerships for building economies that can better include all races, genders, newcomers, workers, and organizations.
---