Nita Tyndall '20, originally from Durham, N.C., graduated with a second bachelor's degree at Guilford in German after completing a degree in English at UNCG. Initially interviewing for a job on campus, they instantly fell in love with Guilford. They started auditing German classes and eventually decided to go for a degree.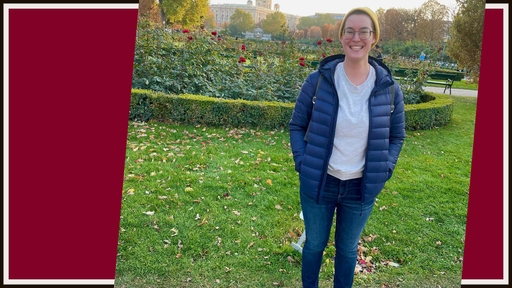 By Natalie Whitmeyer '20
Editor's Note: Nita is one of five Guilfordians currently living, learning, and working in Austria via the Fulbright Program. To read more about them, visit the main Guilford in Austria, a College Tradition page.
"As a second bachelor's student the only courses I took were in my major, which means the only professor I ever had was Dave Limburg. But to be honest, even if Dave hadn't been my only professor, he still would have made the greatest impact on me," Nita says. "I've never met someone who cares so much about his students. He made learning German extremely easy and fun and was very accommodating, especially to me as a non-traditional student who had work deadlines on top of homework deadlines."
For current students, Nita has some valuable advice. "Say yes to joining clubs or going to events you wouldn't normally go to. Hang out with people you wouldn't normally hang out with. There really isn't a college like Guilford and it's an absolutely wonderful place to experience so definitely enjoy every second of it while you're there."
Nita currently resides in Wieselburg, Austria, where they are teaching until the end of May. 
"I've been most surprised by the dialect!" Nita says. "I knew it was going to be different, but I had no idea how different it was from German. One other thing that surprised me is how many similarities there are to North Carolina. I teach at a farming school, and a lot of my students have agricultural backgrounds, so they have a lot of expertise in farming just like a lot of my family does."
Nita also is an author and has a second book coming out next year, a historical set in 1930s Berlin about a girl who joins a resistance movement. Once returning to the U.S. they hope to continue writing full time.
Schedule your personalized visit to Guilford to learn more about the College's study abroad offerings. You can also begin your application or contact the Office of Admission for more information— 336.316.2100 or admission@guilford.edu.
---