---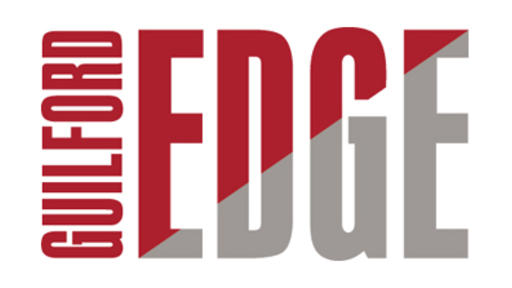 Your Guilford Edge Has Arrived
We have totally re-imagined the Guilford educational experience with you and your individual aspirations in mind. It's truly all about you. Our goal is to provide you with exceptional, practical preparation to thrive in doing what you love. Get ready to go places at Guilford — we can take you anywhere!
---
---
First Impressions
First-year students share their experiences with collaborative learning, Guided Discovery, and life on campus.
---
Diyaa Kaufman '23
Diyaa Kaufman '23
"It [Initiate course] helped me develop relationships with other first-year students, which was very beneficial for me. I met a lot of people that I would not have interacted with otherwise, and I'm still connected to them."
Starlynn Mendez '23
Starlynn Mendez '23
"I'm so glad Guilford is everything I expected college to be like. Here, you don't only make friends, but also family."
Erika Batres '23
Erika Batres '23
"This first semester has been an extreme change for me, but thankfully Guilford College offers free counseling for all students. Being a Bonner Student has also helped me get involved in the community and create new, effective and healthy relationships."
---
Making an Instant Impact
Each academic year begins with an intensive three-week term focused on a single course topic, fully immersing students in unique, highly collaborative learning experiences on and off campus. Some students venture into the community, including walking in immigrant shoes through Guilford's Every Campus a Refuge program. Others venture into the world, like living in Alnwick Castle, which you may recognize as Harry Potter's Hogwarts! A 12-week session follows, continuing the collaboration between departments, students, and faculty. Extended class periods allow for in-depth conversation, extensive lab work, and significant time for reflection.
---
---
EdgeFest Kicks Off the Fall Semester!
EdgeFest Kicks Off the Fall Semester!
Festivals like Burning Man, Coachella, and Lollapalooza take months, often years, to design. At Guilford, a group of first-year students recently had 12 days to plan the inaugural EdgeFest.
Inspired in India
Inspired in India
Deep in the heart of India, a group of students spent three weeks immersing themselves in local customs and exploring the ins and outs of health care and nonprofit business systems in a new country.
News Skills, "Write" People
News Skills, "Write" People
During the newly implemented three-week session at Guilford, students in the Journalism Bootcamp class had the opportunity to learn the ins and outs of the changing industry of journalism, directly from a former journalist.
Due South
Due South
Students are regularly inspired by their professors to go out into the world and make change. At Guilford, collaborative relationships have students inspiring professors, too — and breaking down barriers through experiential learning in social justice.
Prisons, Partnerships, and Progress
Prisons, Partnerships, and Progress
Students collaborate with the N.C. Department of Public Safety and Norwegian prison officials to find solutions to improve the criminal justice system.
The Parenting Dilemma
The Parenting Dilemma
New 12-week course — "Psychology and Philosophy of Parenthood" — prepares students from a variety of majors to make informed familial decisions in their professional and personal lives.
---
Diving Right In
The Guilford Edge is poised to make its mark all over the world. And Fall 2019 provided a great jump start!
---