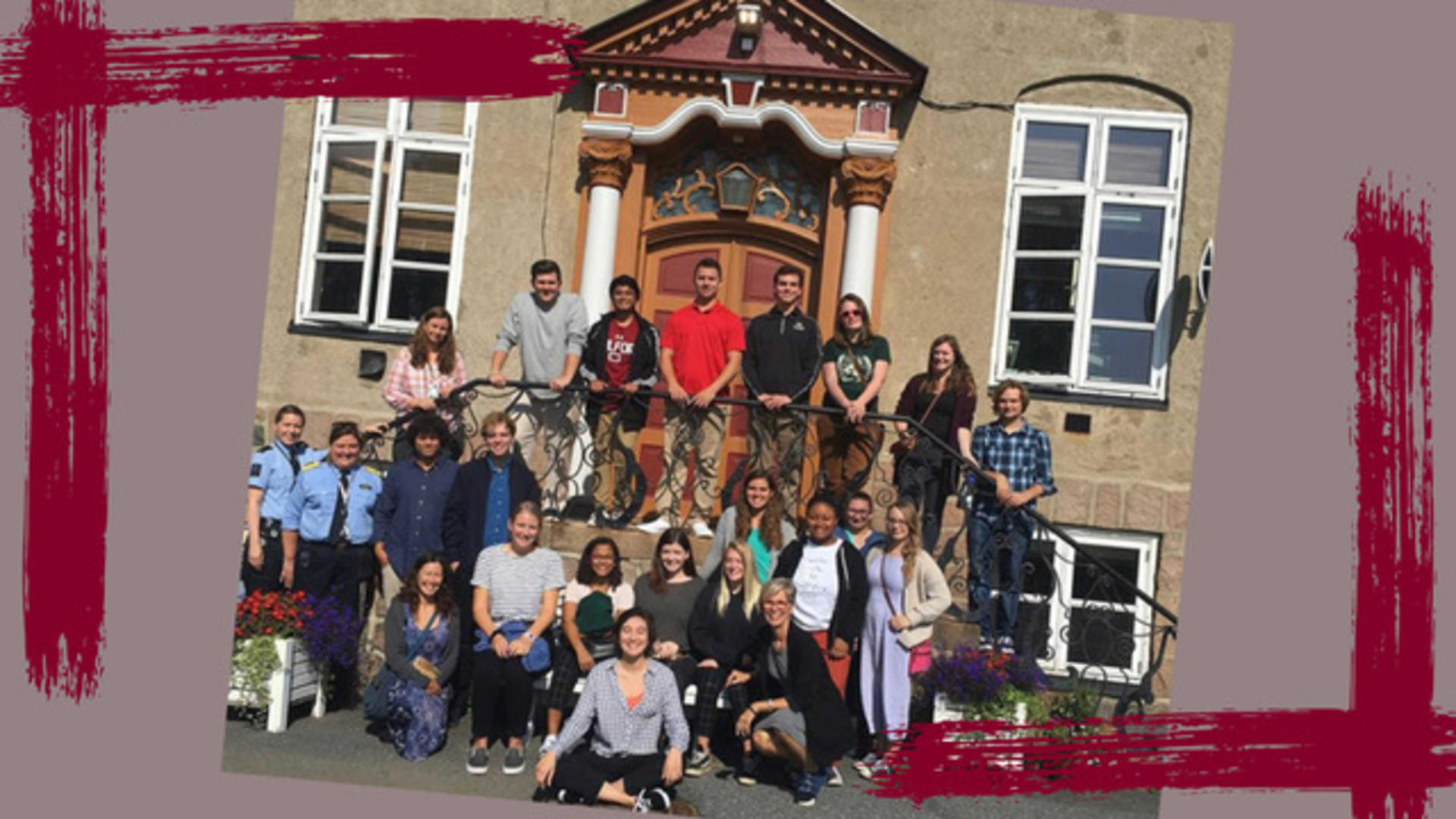 This fall, the Guilford Edge opened the door for students to get an inside look at two very different criminal justice systems. They spent three weeks traveling across North Carolina and Norway to do an intensive study on prisons in different parts of the world. 
 
Professor of Justice and Policy Studies Sherry Giles and Professor of Psychology Eva McGuire tasked 18 students with understanding the strengths and challenges of North Carolina's prisons, compared with those in Norway. 
A direct result of the Edge's new focus on cross-disciplinary curriculum, this class embodied that spirit with collaborative learning and team-based, real-world projects. The study of psychology and restorative justice informed the students' interactions with those incarcerated and gave them a more holistic view of the policies and processes within each justice system.
Thanks to the College's strong relationship with the N.C. Department of Public Safety (NCDPS), built via the Wiser Justice Program, officials welcomed the opportunity to work closely with students to develop solutions that could improve their facilities.
"We're very fortunate and grateful for the openness and willingness of leaders from both prison systems to share their work and support this course," Sherry says. She has been teaching restorative justice for years and saw this course as an excellent experiential learning opportunity to prepare her students for their vocational paths in community and justice studies and criminal justice.
Learn more about students' Edge experiences.
"I could see that these officials were good people trying to do their best... It added a level of nuance to my understanding of prisons. I learned how North Carolina prisons have changed and what the officials see as the biggest challenges."
Partnering with NCDPS
The class first met with the NCDPS leadership team to gain a better understanding of their policies and goals for future improvements. 
"There's a strong desire within North Carolina's leadership to really think about how we help people transition back into society…They really do have a genuine desire to make things better for everyone," Eva says.
Students learned that North Carolina prisons experience many of the same issues as prisons systems across the U.S. — high incarceration rates, negative mental-health outcomes for inmates and correctional officers, a lack of funding, and high staff turnover rates.
Seeking Solutions
After visiting three N.C. prisons, the class traveled to Norway, which has spent the last 30 years reforming its prisons, to get another perspective. Students had the opportunity to visit a number of Norwegian prisons where reform has been highly successful.
"In Norway, [many] believe that the only punishment for a crime should be losing your liberty, but there should be no extra punishment," Cade says.
Norwegian officials taught students about their current work to transform oppressive societal structures that create crime-conducive environments and to prepare those incarcerated for re-entering their communities as healthy, functioning members.
"One woman talked about how this particular contact officer had become so important to her and that she saw her as a role model. She felt that she could talk with her about anything and that it had helped her to change," Sherry says about one inmate's experience in Norway's Bredtveit prison.
Students were exposed to the daily life of those on all sides of the equation — speaking directly with those incarcerated, correctional officers, and prison leadership. They left understanding an important Norwegian belief: People are more than the crimes they commit. 

"I stood next to people on death row for murdering babies. I waved to a lady that killed three of her husbands. Offenders are just people like you and me. You are not defined by your lowest moment," says Tony Batchler '20, a double major in Psychology and Justice and Policy Studies double who hopes to one day work as a counselor with those who have been incarcerated.
Looking to the Future
When students returned, they shared their research and potential solutions with leaders of the NCDPS, including Todd Ishee, N.C. Commissioner of Prisons.
"Knowing that their work was going to be seen by North Carolina officials added an important element to the class," Eva says. Students were excited for the opportunity to apply their new knowledge to help solve real-world issues so close to home.
"I'm interested in social change and want my education to help me become the most impactful activist possible," Cade says.
NCDPS was intrigued and receptive to the students' ideas. The commissioner was impressed and says he plans to share their ideas and findings with directors across the state. 
"We asked what [NCDPS] would take away with them and it was uniformly positive," Sherry says. "And students talked about how it had been transforming for them and had changed how they look at justice and what justice means."
Did you know that the Guilford Edge offers students the chance to study abroad — or within the U.S. — during each three-week session? In many cases the travel expenses are covered as part of tuition. To learn more, schedule your personalized visit to campus today.
---