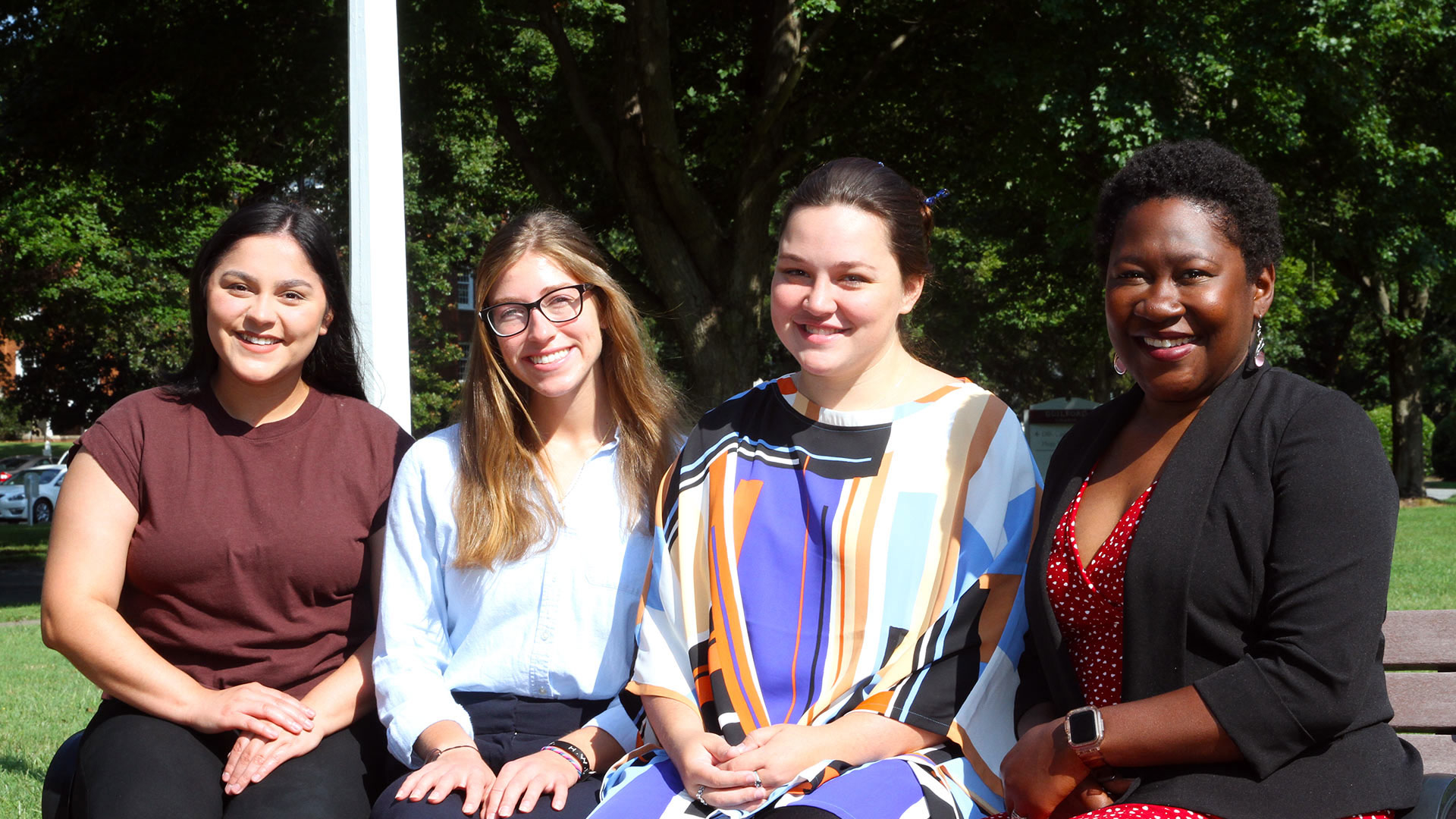 New Admission team members Alejandra Garcia '23, Grace Calus '23, and Riley Hall are joining Whitney Smith, in her third year.
Guilford's Admission team embarks on its travel season this week with three new members joining in the recruitment of the next class of students for the College and one member now living and working in a major territory for prospective students.
New Admission counselors Alejandra Garcia '23 and Riley Hall joined the team along with Presidential Fellow Grace Calus '23, and they will recruit in North Carolina and in other nearby states.
Daniel Bratcher '20 is now based in Annapolis, Md., covering Northern Virginia, D.C., and Maryland areas, and he will extend his recruitment into New England, expecting to visit 200 schools between now and November.
Entering her third year, Whitney Smith is transfer admission counselor, and she helped increase the number of transfers from 33 to 42 in the past year.
The renewal of the team was necessitated by staff career moves earlier this year. Jalen Pearson was named Director of Admissions at Greensboro College, his alma mater, and Jacob Cutshall was named Executive Director of Admission at Tusculum University (Tenn.).
"It is great to walk into New Garden Hall every day and feel the energy," says Kyle Wooden '11, Associate Vice President for Enrollment Management, who recruits extensively in the Triad and surrounding area. "The new folks joined about the same time and are working well together and are being creative, bouncing ideas off each other."
He adds, "In the travel season counselors are visiting four or five high schools a day. It's jam-packed, full-go."
Alejandra worked in Admission as an undergraduate student. She transferred to Guilford from Greene Early College in Snow Hill, N.C., and will recruit in the Triangle,  eastern North Carolina and Greenville/Spartanburg in South Carolina.
Riley is a native of Greensboro and a recent graduate of UNC Asheville, the state system's public liberal arts university. She will recruit western North Carolina, Charlotte and the coast of South Carolina.
Grace, a Criminal Justice master's student who as a fellow works part-time in Admission, will cover north central North Carolina and Granville and surrounding counties, where she grew up. In addition, she will work with the Guilford Admissions Ambassadors Network.
Marisabel Guzman-Bowen '22 is working part-time with international admission and campus visits after maternity leave. Kyle is looking to fill one additional position.
David Hildreth, Lincoln Financial Professor of Education Studies, is continuing as faculty-in-residence in Admission. One of his objectives is to get Guilford faculty colleagues in front of students in academic success classes at Guilford Technical Community College.
Admission has open houses planned Oct. 14 and Nov. 10, with more than 100 students expected to be on campus each day. High school seniors are eligible to have on-site admission decisions with the provision of a transcript.
---