Jameson Lynch '20, a double major in German and Political Science, is originally from Wales, Mass. He first learned about Guilford from his high school English teacher, who told him Guilford would be his perfect fit. "She wasn't wrong!" he says. He says he also primarily chose Guilford because he wanted to study abroad.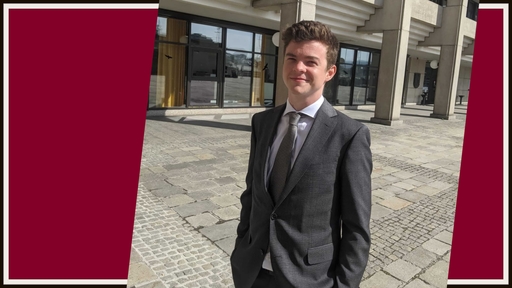 By Natalie Whitmeyer '20
Editor's Note: Jameson is one of five Guilfordians currently living, learning, and working in Austria via the Fulbright Program. To read more about them, visit the main Guilford in Austria, a College Tradition page.
At Guilford, Jameson was a member of the German Club, and he notes Professor Dave Limburg, Political Science Professor Ken Gilmore, and Munich Professor Leo Brux as his mentors.
For current students he has one main bit of advice: "If you want to study abroad — just do it! When you want to learn another language it's easier when you're communicating with locals."
Right now he's working as an English teaching assistant for two secondary schools in Vienna. He's also studying for an OSD language certificate in preparation for graduate school. While abroad he's learned something unexpected about himself. "While living here I've learned that I don't pronounce English words as clearly as I hoped, but I'm improving!" he says.
Jameson's next goal is a PhD in German — "My concrete goals are to speak better German and then maybe write a book," he says, — and he was recently accepted into the doctoral program in German at the University of Wisconsin in Madison. He'll be joining Dave's daughter Elin — who was also a USTA — and three other Guilford German grads who are either currently working toward their doctorates or have recently graduated with their PhD.
Schedule your personalized visit to Guilford to learn more about the College's study abroad offerings. You can also begin your application or contact the Office of Admission for more information— 336.316.2100 or admission@guilford.edu.
---